Boozing with Bacon: Molly Parkin and John Maybury on Soho Alcoholics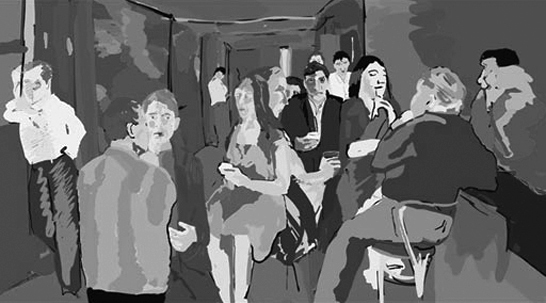 This conversation took place at the Portobello Film Festival directly after a screening of the documentary Moll (2006), directed by her first ex fiancé Malcolm Hart, and preceded a screening of John Maybury's Love is the Devil (1998)
Molly Parkin: I didn't give up alcohol, it gave me up. With John, our big link was Andrew Logan of The Alternative Miss World, but more importantly, in our view, The Colony. The one who was very pivotal, well in fact two people were very pivotal to both of us, and that's Francis Bacon and Dan Farson, who was rather pivotal to you. Those early years of Dan Farson and his television interviews, I don't know if anyone remembers, he was just so groundbreaking. But then the booze got to him. He was wonderful with you – you were only a young art student, we were old codgers. When you meet people, as I met John, totally on the same wavelength, like meeting an aspect of yourself, and when you come together in the Colony, groups of people come together, all with that affinity for each other. And if you're a creative person, it feeds directly, intravenously, into the work. And we just worked together recently because John has just been making this… well you can say…
John Maybury: I've just been making a new film about Dylan Thomas, so I'm not straying too far from my general subject matter of dysfunctional artists. Another film about really fucked up people who have great depth, creatively, and use alcohol as a bridge to get to that creativity, and Moll plays an incidental part in a scene in the Blitz in London – her direction was to hold her drink like this (gestures holding drink with hand over top) so the dust from when the bomb went off didn't go into the glass. I don't want to digress into that, for me what was interesting, I was watching this film, I'd never seen this film before, and I was blown away by the honesty and the gall of this woman, to talk about things that are so raw and so honest, not in a kind of Oprah Winfrey crappy TV show way, but just as a matter of course, and what's strange about all the people I've encountered along the way is that there is a strange kind of ladder, a family tree that connects all of us, which has been passed down through generations. I am a Londoner, I've grown up here all my life, but I first hit London proper when I was 15, and I've been hanging around London, whatever that is, ever since. But I met people twice my age, four times my age, I continue to meet people half my age, or less than that, and there's a strange currency which is just passing the baton, moving information on. It's not about your genetic families, but there is an inherited family that exists in London, and that family comes from all over the world, every place, bringing every kind of information to the table. And it's up to you to step up and take the baton from those people, and share the information again.
MP: This discussion is called 'Boozing With Bacon'. Some people when they enter a room, or even a building, the electricity ignites, you just can't put a finger on it. I know that I was meant to meet James Robertson Justice because he was larger than life (well he played Lancelot Spratt in Doctor in the House). I gave him my virginity, my cherry, in a bow, I offered it to him, I was pleased to do so. And I learnt an enormous amount from that man. I said "Do you reckon because I'm Welsh Valley, Romany, Willesden Welsh, as it were, with the appropriate voice that goes with that, d'you reckon I should have elocution lessons?". That was the only time I ever saw him angry. And he taught me how to love every single aspect of myself, which is what we have to do, not to adapt to… It really upsets me, especially as I've got grandchildren, reducing to size zero – why would beautiful women want to do that. You have to take yourself, love exactly what's there. Me myself, in that gutter, the gleeful side of me kicked my heels in the air and still thought what I great time I'm having here. I didn't care that people were looking askance, I'd give them a wink. I think I offered myself to them. But how foolish of them, with their briefcases, not to lay down beside me in the gutter, that is what I thought. Poor bastards, I thought, they don't know how to live. And when I met Francis, and I met him first with Muriel Belcher, we were both part of the coterie, though you were very intimidated by him, you said, you were still an art student.
JM: I was a 16 year old art student – exactly what he wanted to meet!
MP: He liked mother figures, though he was about 23 years older than me. But you would've brightened his eye, that's for sure.
JM: Dan Farson is a very interesting lynchpin in all of this. Love is the Devil is based on his memoir The Gilded Gutter Life, which is his memoir of Bacon, unofficial, but far more interesting and far more true than any of the other serious memoirs of Bacon by Michael Peppiatt or David Sylvester, and it actually deals with the visceral qualities of who Francis Bacon was, and I think this is where it all ties together. We've just seen a very visceral film about Molly, exposing, not in a horrible confessional way, but in a very English, Welsh, British way, a very visceral and real way. I think its in our nature, wherever we're from, to talk about stuff just how it is, and not to embroider that, or embellish that. We're all prone to embroidery as a matter of course, to gloss ourselves up a bit, but Daniel Farsons' memoir does celebrate a very honest story about the gutter life. That doesn't mean you're a piece of shit, doesn't mean you're nobody. Quoting the super cliché of Oscar Wilde, there's something very magical and beautiful about London, and the best people lie in the gutter and do look up at the stars. If it's not Francis Bacon it could be Syd Barrett, a whole lexicon of extraordinary people in London. Molly is one. It's all up for grabs. There's a virtuosity about being a Londoner, and living in London, and the fantastic thing about London is that anyone who comes here is a Londoner. You don't have to be local, you don't have to be born here, if you can live and survive here, in my opinion you're a Londoner. Certainly that's what Love is the Devil is about, it's what Moll is about. London has a currency. Portobello has that currency.
MP: What we represent is that it is wonderful to embrace the whole human canvas. The darks and the shadows, in the best paintings, the tonal thing will run through your life. And to overcome – the thing – it feeds directly into your work. I've found it. Poets, musicians, writers, painters, filmmakers… What was amazing about Francis, sober, drunk or hungover, he said that "I always have the sense that in a moment something absolutely marvellous is going to happen". Even if you're in the total shit, a beautiful dragonfly can settle in the ordure, so you're looking at the colour on the wings. And when tragedy strikes, there's always something exquisite that comes out of it. When I saw Love is the Devil, it took me out of myself, disturbed me unutterably, because this had been my world, the Colony and all that, on a daily basis, and I couldn't wait to get up in the morning to get up and go over to the Colony to see Francis. Francis and I were kindred spirits. He wanted to paint me. I'm fed up of people wanting to paint me and photograph me – I'm the one who does that I didn't want to be the placid object, I could never be a model. And I said shall we just have a bit of a drinky fist, that seemed then most important thing, and then it never happened. I've just painted him. When I walked home after seeing this film I longed to be back, I wanted to be in the Colony I thought "What is your life now, Molly, bloody sober and fucking celibate, what's the point?". And then it struck me that they're all dead, everybody in that film was dead. And it shot through me "But you're alive, Moll" and Francis seemed to be saying to me "Just get on with the canvases, Moll". And Jeff Nuttall, when I went to his funeral, there in that poets church, he said the same thing. "Where's the jazz, Moll? C'mon, get a move on". And that is what the film did for me – it got me off my arse. And the best works of art energize you to produce your own, to create the symphony that you want to hear played in your life. John was trained as a painter, like me.
JM: All these worlds did interconnect, like a lace, from Dan Farson to Derek Jarman, Molly Parkin to Andrew Logan, Trojan to Johnny Rotten. I'm here singing the praises of London, actually. There's a complexity and a richness, all these people have brought things to the table. My film Love is the Devil, which Molly says is her favourite film, though I know she prefers Gone With the Wind...
MP: Rebecca.
JM: I must say, as we're in Portobello, we should be watching Performance.
MP: That house in Performance was where I had my wedding reception, because I'd slept with the father and the son!
JM: We digress. Anyway you're going to watch my film, I'm afraid, which is all filmed in the East End, funnily enough, because we couldn't afford the real locations! It's a tribute to a generation, our generation.
MP: Can you just say, the people you've chosen to film – this is Francis Bacon, you're just finishing Dylan Thomas, and then you're going onto Aleister Crowley, how wonderful is that.
---
The Portobello Film Festival continues until 21st August 2007. More information about the documentary Moll can be found here.
Robert Chilcott is a writer and filmmaker. He lives in London.