Alice in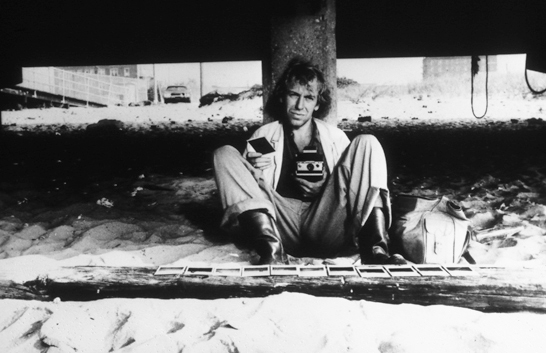 Alice in the Cities, 1974
After its recent acquisition of rights to the Wim Wenders back catalogue, Axiom Films will this month release the much anticipated Alice in the Cities. Following the NFT's comprehensive Wenders retrospective earlier in the year, Alice… offers a sound reminder of cinema as an art form born of instinct – a cinema of the senses.
In the hope that he will find inspiration for an article documenting a 'sense' of America, journalist Philip Winter travels across its great landscapes perpetually photographing moments of interest. As his creative motivation dwindles he decides to return home to Germany, at which point he meets Alice and her curiously detached mother. As the three attempt to return home, Philip and Alice become separated from the mother who, upon failing to meet with them, disappears and leaves the pair to travel without her.
Separated into two parts – Winter alone in America and then with Alice travelling through Europe - Alice… represents Wenders at his most biographical. Recalling the years that the director spent discovering an America based on images from his childhood, Winter is Wenders' most direct characterisation of himself - expressing the same combination of fantasy and dissolution with a country that became overwrought by its own iconography. Though to some degree Wenders writes himself into a number of his own films, Winter is one of the few who seems able to creatively channel his introspective nature, either through photography or writing.
In trying to capture the image of a young boy at a gas station, Winter not only acknowledges the stark and disappointing reality of America that has dawned on him, but also the impossibility of 'capturing' a moment at all. As he drives away glancing at his Polaroid, he utters to himself:
"They never really show what it was you saw"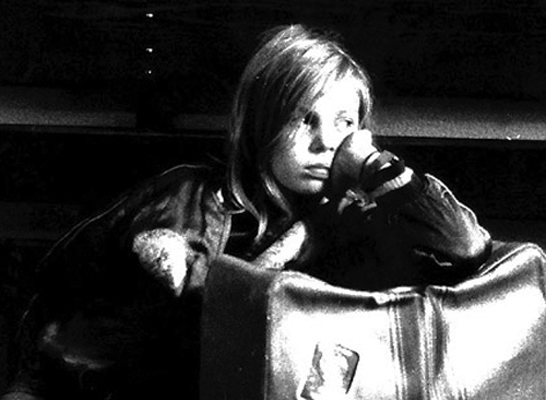 Alice in the Cities, 1974
Despite his need to continue photographing, Winter also expresses a painful futility with his repeated attempts to encapsulate the images that move him - his enthusiasm for the immediate perpetually met by the contradiction of recreating it. Both Winter and Wenders share the same concern and this is something that the structure of Alice… seeks to challenge – the notion that an art form based on images is restricted by narrative. Wenders' consistently returns to the theme of motion and progression, often illustrated in his characters' emotional distance from their surroundings. It is as though Winter's compulsion for the moment and the need to keep moving is a reflection of Wenders' reluctance to piece his work together in formulaic narratives.
For Wenders, the cinema he creates is an assimilation of his perspective on life itself. Rather than isolating a prolonged moment that happens - that which he refers to as a story with a beginning, middle and end - he emphasises his view of reality as a collection of events always happening. Like a series of non-sequiturs that feature the same characters, Alice… refrains from any sense of causality or resolution.
In The Celluloid Highway: The Cinema of Wim Wenders, Alexander Graf strikes upon this as one of the most prevalent aspects of Wenders' work in that he suppresses the degree to which narrative becomes the overriding quality of his films. Wenders repeatedly expresses this notion of narrative as something too overwhelming to exist without overshadowing the elements that give it context. This is perhaps most clearly illustrated in Paris, Texas, wherein his commitment to the most basic and least distracting form of narrative structure not only reaches its most extremely linear, but also combines his foremost cinematic preoccupations – image and characterisation.
Despite their differences in structural discipline, both Paris, Texas and Alice… offer a similarly profound and specific reflection of Wenders as a filmmaker. Directly mirroring Wenders' reluctance to linger in any given moment, Winter begins to tell Alice a bedtime story, sending her to sleep before he reaches the end. The story remains unfinished for Alice which is indicative of the cinematic ideals most common to Wenders and evident even in some of his earliest work – Joseph Bloch in The Goalkeepers Fear of the Penalty appears trapped in a state of perpetual contemplativeness, unnervingly separate from his environment and in constant motion. In a scene of remarkable likeness to Winter's story in Alice…, Paris, Texas' Travis begins to tell his ex-partner the story of their break-up. Paralleling the fundamental differences between Paris, Texas and his other work, Wenders allows Travis to complete his story which, at least in part, offers an uncommon yet satisfying sense of resolve.
Alice in the Cities, 1974
Though Paris, Texas seems like a departure from the instinctive yet theoretically rigorous nature of Wenders' previous work, it also represents a distinctive shift of ideals – exchanging his disquieted cinematic concerns for a narrative structure that embraces his earliest passions and genuine intrigue for both the America landscape, and American cinema. Watching Alice… it becomes clear that Wenders exorcises both his adulation and distaste, not only with America, but also with American cinema's treatment of image and narrative. In extension of this, he is pointedly critical of the increasing infiltration of commercial culture. He illustrates this early on in Alice…, as Winter sits in his hotel room watching Young Mr. Lincoln – made by one of Wenders' cinematic idols, John Ford – the film is interrupted by commercials, prompting him to leap from his bed and throw the television set to the floor.
Featured as part of the newly released Alice… DVD, Wenders reinforces this disdain in an interview with Mark Cousins, stating that his love for the landscape of Monument Valley had been destroyed by its growing popularity as a tourist attraction. Catering to public demand and transformed by the 'theme park' mentality, the once awe inspiring mountains had disappeared for Wenders – the introduction of civil amenities eroding and ultimately prohibiting any real engagement with one of the world's most recognisable icons of freedom.
Alice in the Cities, 1974
The element of motion and travel is central throughout Wenders' work and Alice… re-iterates the notion of time passing in a familiarly relentless fashion – repeated shots from car windows and aeroplanes all echo his fascination with landscapes and images. This relationship between imagery and movement is something specific to his body of work that lends it a particular timelessness, and it is this that continues to challenge what we may call the road movie aesthetic.
Where Alice… stands apart is in its delicate balance between an appreciation and criticism of the factors that have shaped Wenders as a filmmaker – neither Wenders nor Winter can entirely ignore the instinctive allure of a country that appeals so much to the imagination and yet is the source of such frustration for both director and character. As polemic as it is poetic, Alice… also represents a filmmaker at his artistic peak, drawing together the stylistic elements that would become his most recognisable without sacrificing the virility and enthusiasm that set his work apart.
---
Owen Armstrong is a projectionist and filmmaker. He lives in London.