I Long for Stalin and I Want Good Violence
Revue, 2008
The indoctrinating power of Soviet propaganda was recalled in three films at this year's Trieste Film Festival. Predstavlenje (Revue, Sergej Loznica, 2008) was full of large gatherings, people cheering and ploughing the land with great gusto and kitsch stage productions about farmers' collectives. During one such turgid theatre production the camera sweeps through the auditorium to show the audience reaction after a swipe at the Tsar. There is loud laughter and clapping apart from two or three people who remain unmoved, their hands clasped in their laps. Government information footage details the de facto illegality of keeping animals and feeding them on waste bread such as stale bread from a bakery you may be working in. This offence was taken very seriously and the Council publicly embarrassed the culprits.
Bam – Raudtee Ei – Kuhugi (Bam – Railroad To Nowhere, Jouni Hiltunen 2008) follows the team who built the track between Lake Balkal and Amur (4300km) between 1974 to 1984 and shows where they all are today. The railway was Brezhnev's brainchild. It was a line built by elite youth to connect communities both with each other and to the natural resources of Siberia. The project presented a real opportunity for pomp, sentimentality and celebration during the works and on completion, with several songs commemorating the events lodged in the collective memory of the people. A documentary not only for train spotters but also for those interested in seeing a classic example of communist collective enthusiasm.
See You at the Eiffel Tower, 2008
Screšča Pri Ajfelovata Kula (See You At The Eiffel Tower, Valentin Valčev, 2008) is a strange mixture of homage to a film-maker and propaganda film. It tells the story of American photographer Marion Michelle (aka Marion Koblitz) who became the lover, camerawoman and screenwriter of the Dutch Marxist filmmaker Jores Ivens. Ivens and Michelle made a monumental journey through the 'new' Eastern European Communist countries in 1949 in order to make a glossy documentary (De Eerste Jaren, The First years) about their progress. Screšča Pri Ajfelovata Kula is punctuated with footage of Ivens' 1949 documentary, De Eerste Jaren, showing both the youthful film-makers as well as the raging furnaces of steel works, the determination of collective farmers and all those who were enthused by the Communist system. Valentin Valčev returns to the locations and the people of the 1949 documentary. It is the promise of the contemporary filmmaker, to the 93 year-old Marion Michelle, to retrace her steps, which provides the story with pathos. Valčev faithfully tracks down and interviews people who remember her. He discovers that all that remains of the steelworks is rubble. Eventually he returns to Michelle's flat on the outskirts of Paris and presents her with his findings. These touching sequences show her relishing contact with old friends, albeit via the screen and though saddened, she seems to accept that little has remained of the energetic emergence of a new system that she and Ivens had thought they were witnessing. Valčev brings her a brick from the steelworks and says goodbye to her in her garden. The audience is left with a feeling that this really was the fulfilment of a promise and the end of a chapter of history. It was no great surprise to learn in the titles that Marion Michelle died soon after the documentary was completed.
Moving on to present day communism and the forces that are trying to topple Putin's regime, The Revolution That Wasn't (Aljona Polunina, 2008) gives a depressing insight into the Russian government's political opposition. This film was judged the winner of documentaries in competition. The Revolution That Wasn't , follows members of the banned National Bolshevik Party who are trying to instigate a revolution that will bring about 'The Other Russia'. Although they pay lip service to democracy, they admit that they will need the death penalty when they take power. Protest marches are punctuated with war-like slogans such as "Let my blood flow into the blood of the party" and "Yes death! Yes death!" repeated over and over and accompanied by physical movements that Hitler's SS would have felt comfortable adopting. Anatoly, a veteran of the Party, decides to seek solace in spirituality by becoming the caretaker of a small church for a Russian orthodox priest. Here, too, there is no respite from fear, anger and aggression as the priest holds court. He readily states "The Russian Nation needs violence. I long to live under Stalin's rule. I love Stalin's regime, I lived under it until I was 12. I long for Stalin. I want all pederasts to be isolated and all murderers shot or hung. Here that's what we need! We need violence! What a pity Putin has too little of Stalin in him – it's long overdue to clamp down…". It makes you wonder why the leaders of the Russian Revolution considered the Orthodox Church to be its archenemy!
The Revolution that Wasn't, 2009
Another film with political restlessness at its core is Mostar United (Claudia Tosi, 2008). Mostar United depicts the Bosnian town of Mostar that became divided after the bitter war in 1992 and shows how football coach Mensud Durakovic is trying to teach a new generation of children at the Velez football school how to live together again without hatred. We follow Durakovic in his daily struggle to uphold fair play above all else, even when he and his team are subject to the racist and religious abuse from the opposition's supporters. A sympathetic pat on the back by another coach at the end of a harrowing game is a small indicator that his efforts are being recognised, but that there is a long way to go before the rifts are healed.
For a glimpse of politics where humour, good will and love outweigh the negative, Občan Havel (Citizen Havel, Pavel Koutecký, Miroslav Janek, 2008) is a triumph. The film is spiced with Havel's colourful language. His wife is omnipresent and he is proud that at international dinners she can be quite useful: "She's worth two F-18 fighters, they always seat her next to Chirac. He's French after all and so he forgets to bitch about America!" The documentary presents a veritable insight into the development of the Czech Republic from 1992 (both in the internal and the international arena) over a period of thirteen years. Václav Havel is shown as an extraordinary man whose talent for diplomacy, his unwillingness to compromise his principles (regardless of the possibility of political damage to himself) and his yearning to lead with the heart, make him unique in the cut-throat world of politics.
Blind Loves, 2008
The audience award went to a film depicting love and life amongst the blind, Slepé Lásky (Blind Loves, Juraj Lehotský, 2008). A mixture of documentary and staged flights of fancy representing the inner life of the blind protagonists, gives an insight into their imaginations which more than compensates for the lack of eyesight.
Carmen Meets Borat (Mercedes Stalenhoef, 2008) starts out as a documentary about Carmen from Glod in Romania, who wants to move to Spain to find love and a new life. She dislikes the man her father wants her to marry and dislikes Glod, where the people are bad, whereas in Spain she says: "88% of Spanish people are good." Half way through the making of this documentary, the Borat movie team descends on Glod (it is the 'Kazakh' village that Borat leaves behind in order to go to America) and when Stalenhoef continues filming she is intermittently asked for money by the villagers. Glod inhabitants discover that the Borat team has underpaid them and made them look like fools. The documentary about Carmen takes a new direction and follows the arrival of a swanky American lawyer who persuades Carmen's family that they can sue Twentieth Century Fox. Throughout the various twists and turns, the daily life of Glod is closely observed and it is possible to see the hopeless poverty of some compared to the successful entrepreneurship of Carmen's family.
The Caviar Connection, 2008
Life at its limits is the topic of Kavijar Konekšn (The Caviar Connection, Dragan Nikolić, 2008). Two brothers try to maintain a family's subsistence from fishing in the Danube. There are fights with other fishermen over demarcation lines and often he who gets up earliest wins. More often than not their nets are empty and they dream of catching beluga to make a fortune out of their eggs. The dream is finally over with the European Union announcement that it is illegal to fish beluga. Kavijar Konekšn shows the bleak struggle for survival in a world where rules are on the increase whilst natural resources are on the decrease. Long, sweeping shots of the misty horizon where it joins the water, add to the feeling that this stretch of water is now cold and barren.
More bleak still is the documentary La Mère (The Mother, Antoine Cattin, Pavel Kostomarov, 2007). This documentary is about Lyuba, mother of nine children, who battles against dire poverty to bring her offspring up in a happy environment. She has run away from an abusive husband to live in the countryside to work on a farm. As a child she was sold by her mother to a man for a bottle of alcohol, so she is determined that her children should grow up happy and safe. The camera observes at close range the mother and eldest daughter working in the cowsheds and the antics of the children in the house. Drama comes in the form of Sasha, a small boy who is abused by one of Lyuba's colleagues and the marriage of Alessia, her eldest daughter. Despite their hardship Lyuba wants to help Sasha and adopt him as her tenth child. She seems capable of limitless love and affection. Alessia's new husband is jailed for beating up a woman and Alessia is left to cope with her first pregnancy alone. La Mère is a dire view of contemporary Russian poverty and social deprivation, which is often fuelled by alcohol. It is hard to imagine how any of Lyuba's children will free themselves from this cycle. Although the film is shot in colour, it leaves a palette of greys and browns in the memory. It is a story so gripping and full of pathos that at times it has hard to believe that this is reality not fiction!
Both Mein Halbes Leben ((Half) The Time Of My Life, Marko Doringer, 2008) and Existence (Istnienie, Marcin Koszalka, 2007) are intense reflections on life. The first shines a spotlight on someone who has reached the middle of his life (thirty) and the second on someone who is at the end of his life. Doringer spent months with a camera strapped to his head, following his friends' lives in order to try and discover more about why his life at thirty seems to have gone nowhere. What emerges is a portrait of spoiled middle-class youth that have everything apart from a sense of purpose. Istnienie on the other hand shows an eighty four year old actor (Jerzy Nowak), who seems to be content with what he has achieved in his life, but now wants to tie up the loose end of what is to happen to his body after he dies. Nowak seems quite unperturbed that his body will be handled like a slab of meat for two years after his date of death when he donates it to medical research. It is his sense of being at peace with himself and thus unperturbed about his physical self that presents such a contrast to the main character in Mein Halbes Leben who is obsessed with the physical reality of having nothing to show after a thirty year existence on earth.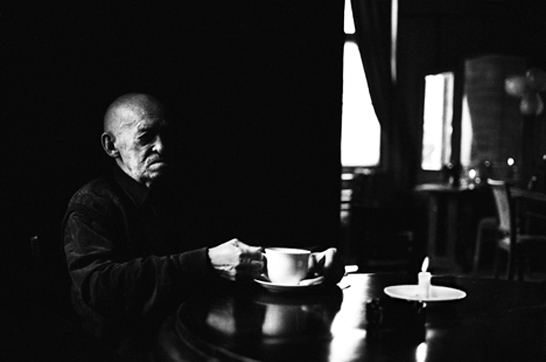 Istnienie, 2007
One of the highlights of the festival was another rare offering from Belarus, a country labouring under "the last dictatorship in Europe." Last year Alpe Adria screened Plošča (Kalinovski Square, Jurij Chaščevatskij, 2007), a shocking indictment of the way President Lukashenko's government handles peaceful dissent. No doubt with people like Lord Bell advising this regime, such negative publicity will soon be a thing of the past. This year we saw Galeria Ady (Ada Gallery, Vladimir Kolas, 2008), a film about Ada Raichonal, a farmer's wife (and holocaust survivor), who organises artists to come to her village to paint and exhibit in the open air. To co-ordinate an art exhibition in most free countries would be a simple thing. To do so in a village in Belarus is evidently a Herculean task. Here, any motivation people may have had to do anything has long been eroded by a combination of government rules and regulations and continuous diatribes by Lukashenko on the radio which numb the brain. Ada Raichonal is tireless in her efforts to invite artists and cajole neighbours into helping to clean a house where they can stay. The villagers are apathetic and cannot understand why they need these arty types on their patch, painting things which they themselves see every day. However there is a gradual transformation as the artists descend and set up their easels and canvasses on street corners and in the farmyards and fields. We see close-ups of villagers chatting whilst being sketched, basking in the unusual attention. The final result is a crescendo of landscape and portrait-filled canvasses that shine with the beauty of the surroundings and the potential of the people as they glide across the cinema screen. I saw members of the audience with tears streaming down their faces as the auditorium lights were switched on and several approached the director with glistening eyes and thanked him for presenting a film with such beauty and hope. It is an extraordinary achievement for a documentary such as this to emerge from a country with such a bleak political and economic landscape.
---
Elke de Wit is an actor and writer. She lives in London.