Being Hal Ashby
Hal Ashby
As one of the giants of the Hollywood New Wave in the 70s, Hal Ashby did his job as a director too well. The key films he made – The Landlord, Harold and Maude, The Last Detail, Shampoo, Bound for Glory and Being There – had a openness and generosity that defiantly put an obvious directorial signature into the background so that viewers forgot they were watching big name stars like Julie Christie, Jack Nicholson, Warren Beatty, Shirley Maclaine or Peter Sellers and became immersed in the messy struggles of characters who mirrored the concerns of their audiences. Without consciously trying to do so, Ashby achieved the ideal of making personal films that could bear comparison to the many New Waves crashing against the shores of international cinema.
In his long awaited biography, Being Hal Ashby, published by the University of Kentucky Press, Nick Dawson eloquently tracks the journey of a man who spent his childhood in a dysfunctional Mormon family in Utah as far removed from Hollywood as one can get. Despite dropping out of high school, Ashby came to Los Angeles and managed to work his way up through the studio ranks to become an editor with William Wyler and Norman Jewison. With the latter, Ashby forged an intense friendship and contributed to the success of In The Heat of The Night, The Cincinnati Kid and The Thomas Crown Affair. Jewison produced Ashby's directorial debut, The Landlord, which garnered enough attention to get Harold and Maude made by a Paramount production house then run by Robert Evans.
Ashby's career in the 70s reflects a very different filmmaking climate in mainstream Hollywood. Low to medium budgeted features were a routine part of the major studios allowing subjects – politics, intimate human dramas, literary adaptations, etc. – to co-exist with bigger budgeted star vehicles. Dawson's biography eloquently details that filmmaking period as well as a career that flourished during those times and alas ended when studios moved towards the ubiquitous Blockbuster model.
I talked to Dawson about his original impetus for writing the biography and why Ashby's career has a resonance for the personal filmmaker of today.
Harold and Maude, 1971
Lee Hill: Hal Ashby is a director who was big in the 70s, but not exactly someone on the cultural radar for someone who came of age in the noughties. What led you to deciding to pick him as a subject for your first book?
Nick Dawson: Though during the process of writing the book I became a huge fan of Ashby's work, I approached the book as a biographer rather than a fan. I became fascinated with Ashby's life after reading about him in Easy Riders, Raging Bulls and, on discovering out there wasn't a biography about him, fancifully thought I might have to write the book if I wanted to find out about him properly. In 1993, after writing about Ashby while studying English and Creative Writing at the University of Warwick, my biography tutor, Carole Angier, took me seriously when I semi-jokingly said I wanted to turn my biographical sketch into fully-fledged book. The fact that there was a mountain of archival material in L.A. and lots of people who'd known who were still alive and keen to talk made the proposition of writing this too good to turn down.
LH: Biography is very labour intensive, how did you manage the logistics and costs of such a huge project?
ND: As Ashby was perceived as such a commercially unfriendly subject, I knew from day one that I would have to write the book on spec and commit fully to it, both in terms of time and money. I spent periods living with my parents in Edinburgh to save money on food and rent, and spent all my savings on research trips within the UK and, later, on living in L.A., where I did the bulk of my research. I was fortunate later to become writer-in-residence at a school, a job designed to allow time for writing. In a way, the cost and logistics are not as important as being sufficiently dedicated to the project and being single-mindedly focused to the detriment of pretty much everything else. If you're obsessive and driven enough, then you'll find a way to make things work out so that you get closer to completion, one awkward step at a time.
LH: You managed to score some great interviews for the book including the reclusive Warren Beatty. Was there any single approach to your success at achieving this?
ND: I was very fortunate to have as my subject a major cultural figure on whom there was not an existing biography because, as a result, people were very keen to talk to me about Ashby. They knew nothing of me, but Ashby's name alone opened a lot of doors that might otherwise have stayed shut. With Beatty, I tried for a long time before finally getting to interview him. Perseverance was very importance in this instance, as was making apparent to him my dedication to the Ashby project. Also, I don't think it hurt that I showed my in-depth knowledge of Ashby by once emailing him with unpublished comments he'd made about Ashby and his importance to him. I don't think that there is generally one approach that works, but showing enthusiasm for your subject and not giving up easily certainly help a great deal.
LH: Hal Ashby is kind of symbolic of the whole "Indie/Studio" debate? Where would you place Ashby in that continuum?
ND: In Hollywood in the 1970s, Ashby was able to work with much of the freedom of an independent filmmaker while working with a studio budget. It was an environment in which he and many of his contemporaries thrived creatively, but nevertheless he regularly would set up his own production companies in order to further distance himself from studio politics and a commercial sensibility. Ashby was an idealist who believed in creative freedom and he embarked upon his ill-fated three-picture deal with Lorimar – which gave us two great movies, Being There and Lookin' To Get Out, but set his career on a downward slide – largely because of the breathing space and artistic autonomy he was promised. In the latter stages of his life, he talked about decamping to the mountains and having his own set-up there where he could work in a vacuum.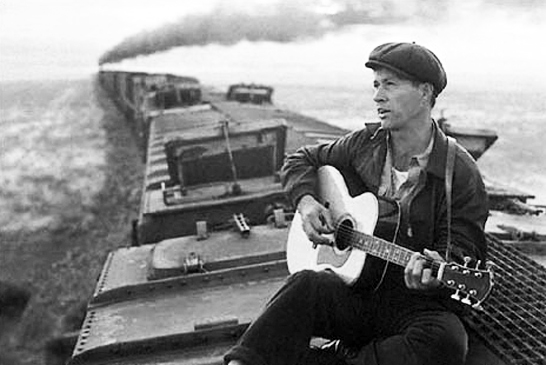 Bound for Glory, 1976
LH: Is there one Ashby film that seems to embody the contradictions of the man (or that one can argue his most autobiographical picture?
ND: I think that, in many ways, the protagonist Ashby related to most was Woody Guthrie in Bound For Glory, as they shared a hobo sensibility, restlessness and a feeling of rebellion. Ashby also rode the rails and slept rough on the side of roads and, like Guthrie, had few qualms about leaving behind women and children who depended on him when he felt stifled by them. Throughout the 70s, from The Landlord through to Being There, he made films about men in search of their place in the world and this was a reflection of Ashby's own feeling that he never quite fitted in. And though Ashby had an outsider mentality, his great strength as a director was his ability to sympathize with all of his characters, to find the common ground between him and them, which resulted in his films having such a great humanist feel to them.
LH: Obviously your book is one way of ensuring that Ashby is kept alive for a future generation, but can you point to his influence on filmmakers who came later?
ND: Though Hal Ashby is not well known to the average filmgoer, over the past few years his name has been cited numerous times by the current generation of filmmakers, who grew up watching his movies. The most obviously influenced are directors like Wes Anderson, Alexander Payne, Cameron Crowe and David O. Russell, and numerous other filmmakers, like Judd Apatow, Zach Braff, and Brett Rattner, cite him as having made a big impression on them. Jeffrey Blitz, the director of Spellbound and Rocket Science has said that Ashby does "a wonderful job of keeping one foot in the real world but allowing a kind of deadpan comedy, that still has a lot of affection for his characters, to come through," and movies with that particular kind of narrative approach are, particularly in indie filmmaking, very prevalent at the moment.
Shampoo, 1975
LH: Aside from the health issues, can one cite a single reason or factor that Ashby's career run out of steam after such a great string of films from Harold and Maude to Being There.
ND: There are a number of factors that led to Ashby's career going into decline: the politics and commercial focus of the Hollywood studios in the 1980s which hindered all of the New Hollywood directors, Ashby's inflexible nature, and Ashby's persistent problems in post-production. While he is legendary for his drug use, drugs very seldom hindered his work; it was rather his reputation as an addict (enthusiastically fostered by the studios executives and producers who he had alienated) resulted in him being seen as unreliable and a loose cannon and made him something of a pariah. He wasn't helped by the fact that three of his movies (Lookin' To Get Out, The Slugger's Wife and 8 Million Ways to Die) were all taken away from him in the editing room, which was foolhardy as Ashby, an Academy Award winning editor, could always get much more out of his own footage than anyone though. Ultimately, though, Ashby himself opted to go on hiatus after 8 Million Ways to Die and was due to make three movies back-to-back when he was diagnosed with pancreatic cancer in 1988. I am convinced that, had he not got ill, he would still be making important, prescient and vital movies today. And still, no doubt, battling the system.
---
Lee Hill is a writer based in London and the author of A Grand Guy: The Art and Life of Terry Southern.