Shadows of Sergei Paradjanov
Colour of Pomergranates, 1968
The current festival devoted to the films and art of Sergei Paradjanov in London and Bristol is the most comprehensive ever mounted in this country and was a long overdue celebration of this most persecuted and visionary of directors. Those two attributes imply a martyrdom that was belied by Paradjanov's joie de vivre, as evidenced by the vivacity and inventiveness of his films, the prodigality of his gifts and the spiritual generosity and conviviality of his daily existence, clearly visible in the intimate photographs taken by his friend Yuri Mechitov, mounted in an exhibition at the National Theatre.
Paradjanov was born Sarkis Paradjanian to Armenian parents in Tbilisi, Georgia in 1924 and studied film under the great Soviet director Alexander Dovzhenko. His films have a claim to be the most original and colourful in cinema, surpassing the chromatic delirium of Ivan the Terrible and the exotic treasures of Pasolini's Medea and A Thousand and One Nights, all of them avowed influences on his work. From the beginning of his career, Paradjanov was able to express this decorative impulse even within the constraints of the socialist realism which were imposed upon him, generating in his 1958 collective farming musical The First Lad stupefying levels of kitsch even by the standards of the genre, with smiling shopkeepers hurling bolts of bright cloth across the screen and luridly attired accordion playing tractorists pursuing maidens with flowers blazing from their coiffure, smocks rioting with embroidery, against the ennobling backdrop of the electrification of the Ukrainian sunflower fields.
This was one of many revelations in the Paradjanov retrospective, complete save for a couple of lost short documentaries, a phenomenal programming achievement by Elisabetta Fabrizi, the BFI's Head of Exhibitions, who also commissioned 'Retrospectre', Matt Collishaw's response to Paradjanov in the BFI Gallery. Paradjanov dismissed his early made- to-order Ukrainian films as "rubbish", but they aren't, and exhibit clear continuities with his quartet of classics Shadows of our Forgotten Ancestors (1964), The Colour of Pomegranates (1967), The Legend of the Suram Fortress (1984) and Ashik Kerib (1988). Andriesh (1954), his debut feature, elaborated from lost student short A Moldovian Fairy Tale is a superb childrens' film by any measure, a rollicking tale of village heroes pitched against a demon with a penchant for ravishment, petrification and invisibility, an accomplished dress rehearsal for the supernatural demon of Shadows a decade later. Ukrainian Rhapsody (1961) is a wartime melodrama as lush and strange as Sirk's A Time to Love and a Time to Die with a fantastical coda where the warbling heroine parades in front of a mirror in a succession of elaborate costumes that prefigures the iconic kitsch of Kenneth Anger, and Flower on the Stone (1962), a brooding black and white drama set in the Donbass coal fields that Paradjanov was ordered to complete when the original director was jailed after one of the film's actresses was killed in a fire scene, and whose audacious plot, twists the audience's sympathies with the revealing, if ultimately damning portrait of an underground community of Pentecostal evangelists. Clearly there was scope for visual flair in the stolid Socialist Realism genre and a gifted director could stamp his personality, though their hackneyed melodramatic postures suggest that for actors it was an uninspiring swamp.
Shadows of Forgotten Ancestors, 1965
The highlight of the festival was a day-long symposium at BFI Southbank organised by Rhidian Davis of the BFI and introduced by festival organiser and Tarkovsky collaborator and author Layla Alexander-Garrett. Doyen of Soviet film studies Ian Christie, introduced as a household name throughout Russia, discussed whether Paradjanov's description of himself as "a fortunate man" was justified and outlined the historical context which doubly damned Paradjanov as, in the wake of Kruschev's thaw, Flower on the Stone was criticised for being formally retrograde, and then as Brezhnev clamped down again in the sixties, Paradjanov's outspoken letters to the authorities led to his arrest on trumped up charges of trafficking and for his alleged homosexuality – he often lamented that he was "an Armenian, living in Georgia, and imprisoned in Ukraine". The Colour of Pomegranates, which had a massive budget by the standards of the Armenian film studios, was recut for release by Sergei Yutkevich, veteran of the radical period of Soviet silent cinema, an action often considered a mutilation, but which was in fact an act of friendship which allowed the film to be released, and the subsequent 'director's cut' cannot be considered definitive.
The issue of Paradjanov's homosexuality, rightly or not, was not considered worthy of consideration by the symposium, although his work has been claimed as a significant flowering of queer cinema. His Caucasian supporters are apt to cry that the 'insult' of homosexuality is nonsense, protests that carry a whiff of homophobia, but to challenge which at best disrespect local sensibilities and at worse mitigate the obvious outrage of persecuting sexual preferences. There is however clear evidence that Paradjanov was bisexual. He was married twice, his first wife a Muslim, victim of an honour killing for marrying a Christian, the second ending amicably but which resulted in a much-loved son, Suren. Certainly, like Eisenstein, the other gay genius of Soviet cinema, Paradjanov's films transcend sexuality, but its drives in self-expression must be deeply significant.
Nouritza Matossian, Britain's leading authority on Armenian culture, author of an acclaimed biography of Arshile Gorky and collaborator with Atom Egoyan on Ararat his complex study of the Armenian Genocide, explained that at the beginning of the 20th century, Armenians formed the majority of the population of Paradjanov's home town of Tiflis, as it was then known and were predominant in the cultural life of the city. As an exile from Armenia for most of his life, Paradjanov constructed a symbolic Armenian homeland in his films, and the Armenian practice of bricolage extended to his gathering of scraps in the prison yard during his long periods of incarceration to continue his creative output with raw sketches of convicts and guards and a profusion of brilliant collages.
A first round table discussion was dominated by humorous and illuminating anecdotes by Uri Mechitov and Roman Balayan, an Armenian director and student of Paradjanov, also the subject of a concurrent retrospective at the Ciné Lumière, many starring the recently deceased Tarkovsky leading man Oleg Yankovsky including Dream Flights (1982), a cult film of personal crisis in the suffocating twilight of the Soviet era. Both claimed that Paradjanov was ironically a dedicated, if impish, Soviet subject. Paradjanov claimed that Lenin was his favourite actor and twisted Lenin's slogan that "Communism is the power of the Soviets plus electrification" substituting 'Paradjanovication'. Paradjanov's admiration for and friendship with Tarkovsky was also remembered. It was Ivan's Childhood that gave Paradjanov the confidence and inspiration to develop his own style, a compliment returned by the dedication of Ashik Kerib to Tarkovsky, and Paradjanov worked an iconic photograph of the two friends sitting at his dinner table into one of his most moving collages.
The second half of the symposium was a treasure trove of scholarly erudition. Elisabetta Fabrizi, preferring The Colour of Pomegranates' original title Sayat Nova, the name of 18th century Armenian troubadour whose biography is represented in the richly artistic tableaux that make up Paradjanov's masterpiece, unpacked the art historical influences on this film as well as Legend of the Suram Fortress and Ashik Kerib (the so-called Caucasian Trilogy), notably the Persian miniatures beloved of the director whose flattened overhead compositions of figures and landscape are reproduced in the film and the conventional schemes of saints pictured in Russian icons, symmetrically placed and facing the viewer in front of a flat background field to create a reverse perspective whose vanishing point is found not within the painting, as in post-Renaissance western art, but is the spectators themselves, with the mystic identification that that implies, and illustrated the radical change in Paradjanov's visual language that preceded the film with images from his documentary about painter Hagop Hovnatanian (1965) and by referring to his unfinished fragment, Kiev Frescoes (1966), which was also projected in the BFI Southbank lobby, an unsettling sequence of visions that prefigures the style of Sayat Nova in the modern dress of the post-war era, convincingly defining Paradjanov as a modern artist in the surrealist tradition (which would not have been lost on Louis Aragon and his sister-in-law, Paradjanov's friend Lily Brik, who led the outcry of international cultural luminaries, which also included Fellini, whose affectionate letter Paradjanov fashioned into a collage exhibited at BFI Southbank, that successfully petitioned for his release from jail) and an important figure in the international avant-garde, an argument supported by further comparisons of Paradjanov's work to that of Leger.
The Legend of Suram Fortress, 1986
John Riley, who has written extensively on music in Soviet cinema and had recently chaired a discussion about Paradjanov on Resonance FM gave an absorbing analysis of the use of sound collages in Paradjanov's work, with a close reading of a scene in Kiev Frescoes in which the hermetic meaning of the images is further complicated by asynchronous, non-naturalistic sound and witty displaced musical quotations: a pale, disturbed young man nibbles on a single blonde hair as an anthem about the motherland warbles on the crackling soundtrack, then the slam of a piano, the surrealist classics of sewing machine and dismembered piano, and only then the plangent tones of Debussy's The Girl with the Flaxen Hair. Paradjanov's method was compared with the collage effects in the compositions of Charles Ives and Alfred Schnittke's quotations of passages from other composers' works. Schnittke scored Andrei Khrzhanovsky's politically contentious animation The Glass Harmonica (1968) whose pictorial style was likened with Magritte, evidence of comparable modernist experimentation on the fringes of Soviet cinema contemporary with Paradjanov.
Eastern European film specialist and director Daniel Bird then stated the urgent need for the preservation of Paradjanov's films which have been left extremely vulnerable since the dissolution of the USSR and Goskino, the state committee for cinematography. Paradjanov's films were fitfully released abroad during his lifetime and copies are now widely available, but the archives and regional studios where the negatives have been kept have either closed or been starved of funding so that these precious originals may be lost or damaged, such as in the fire at the Georgian film studios in which some of the original soundtrack of one of the films was lost. The films themselves, notably The Colour of Pomegranates, do not necessarily exist in their definitive versions and it is not clear from Paradjanov's intentions precisely how he meant them to be shown. Over two hours of rushes from the film are kept in Yerevan, including striking images of naked nuns, and which were once shown, public service broadcasting at its most magnanimous, on Italian Rai 3's all night film show Fuori Orario by maverick programmer and cinephile angel Enrico Ghezzi and recorded by astounded fans, this reviewer included. The production process of each film was explained in revealing detail, up to Paradjanov's final film Confession, a scenario in which the ghosts of Yerevan rise up against the destruction of their cemetery, but of which only a single was shot, an elaborate funeral procession on the steps of Paradjanov's Tbilisi home. After only two days of filming, he was taken ill, never to recover, dying in 1990. This was only one of many unrealised scripts written by Paradjanov in prison or while prohibited from working, collected in a volume entitled Seven Visions whose only English translation was itself translated from French translated from Russian, including a film about Hans Christian Andersen, a version of Lermontov's poem The Demon, and the allegorical drama of imprisonment Swan Lake: the Zone which was directed by Paradjanov's cameraman Yuri Illienko with a grim bleakness in stark contrast to his own style.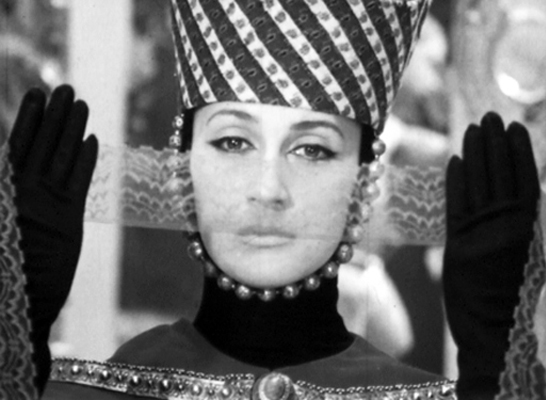 Colour of Pomergranates, 1968
Patrick Cazals' Sergei Paradjanov - The Rebel was one of four documentaries on the director shown during the festival, and of these probably the most rounded introduction to his work, in which Cazals had privileged access to Paradjanov during the shooting of Ashik Kerib, interviewing him at his home and recording him at work, as well as an impressive array of interview subjects including Eduard Shevardnadze, totemic actress Sofiko Chiaureli and Pierre Bergé who with Yves Saint-Laurent had the cunning plan of persuading the authorities to release Paradjanov from jail to take up a work experience post at their fashion house. From this experience Cazals, also author of one of the few books on Paradjanov, shared with the symposium his identification of Paradjanov with the Oriental caravanserai, where nomads and their flocks sought shelter, culture and commerce at this crossroads of the world, listing the bestiary to be found in his cinematic zoo.
The participants of the symposium reconvened for a final discussion whose themes included the concept of authenticity in Paradjanov's work, and whether it could be compared to Eisenstein's manipulation of his sources. Shadows of our Forgotten Ancestors has been prized as a record of the vanished Hutsul culture of the Carpathians, its use of the local language a rare departure in Soviet films, and yet those shadows may be illusory as some of the rituals depicted in the film were pure invention. It was argued that Paradjanov was a primitive artist, his work classified as raw in Claude Levi-Strauss' binary system of the raw and the cooked, although the sheer technical bravura of many of his sequences, the kaleidoscopic complexity of his images and the sophistication of his sound design might suggest the opposite. These issues, together with anecdotal evidence of Paradjanov's perpetually mischievous spirit left the proceedings delightfully open, a man who insouciantly contradicted himself, and a body of work that while illuminated as never before by this remarkable occasion, resists fixed interpretation.
---
The Paradjanov Festival continues in London and Bristol until May.
Paradjanov's short films can be seen here.
James Norton is a researcher and producer working in arts television in London.
Special thanks to Glaz Multimedia.