Two Men with Flowering Branches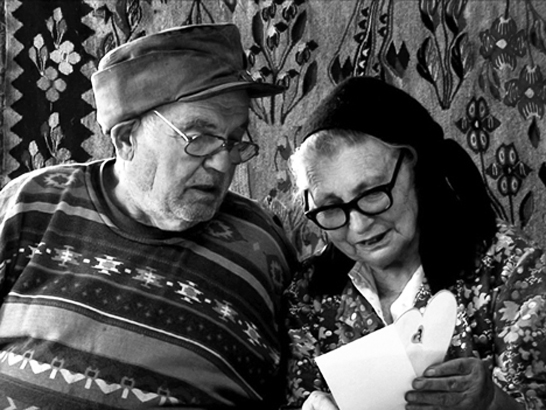 Constantin and Elena, 2009
The first reaches up to smell the blooms
in Prospect Park, N.Y., Spring 1950
a rare moment of colour
between nights walking out the loneliness
and finds that for now
he is exiled even from the scent of lilac
The second was already old (so he says)
when he married 54 years ago
his belly is like a big cheese
(or so his wife tells him)
and as he climbs the hill
to the tractor driver
turning the earth of his field
he stops on the way
to smell the apple blossom
of one more year
The first man is Adolfas Mekas, filmed by his brother Jonas; an image that appears in the first reel of Lost, Lost, Lost, his 1976 assembly of a quarter of a century of footage, described as 'some images, some sounds, recorded by someone in exile', before he learned how to turn his estrangement into a process of continual belonging through the recording of the moment.
The second occurs in a recent film from Romania, Constantin and Elena (Dascalescu, 2008), about an ageing couple who have been at home in a village, together, through most of their lives. Their joys derive from family and familiarity, from re-use – a wooden cot fetched from the attic now serves the third generation (at least) of the family – and the film is warmed by walls of woven rugs, by reminiscence and the couple turning over the fabric of their marriage. Their story is one of contentment through being happily bonded to a person and a place.
The two films bookended one day at DocLisboa (the Mekas as part of a retrospective), where films featuring themes of exile, displacement and unofficial migration were predominant. They are stories of movement that take place between the flowering branches of these two scenes.
The Forteress, 2008
Sometimes the journeys end with the authorities, as in Fernand Melgar's The Fortress (2008), a snapshot of the lives of those waiting for the State's decision inside a Swiss centre for asylum seekers. Beginning with a Securitas guard allowing us through a gate, it is a film of screens, doors and fences, the building shown continually jutting into the days of the centre's inhabitants. Hope appears like the occasional shaft of sunlight that slants into the stairwells and corridors, warming rooms, melting chocolate. It is a film that makes you aware of the many different types of currency among migrants: the currency of stories or smiles, a shared prayer, fatherly advice, even a trick with a pack of cards. It makes you aware too of sounds such as the showery pattering of fingers at a keyboard, translating stories from places beyond pain into the neutral words of a report on a computer screen. A young Somali talks of extreme hunger leading him and other passengers to eat a child who had died on board their small, crammed boat as they crossed to Europe. A priest sympathises but his story is rejected for lacking detail and sounding second-hand. His application for asylum is refused; we see no more of him. The centre's interviewers have had to become judges of stories, judges of eyes, judges of tears, grading them according to need and plausibility.
Another journey that ends with authorities is told in Jorgé Leon's 10 Min., a police testimony given by a Bulgarian girl lured to Belgium on the promise of work from a childhood friend she thought she could trust. 'You should have doubted there was any care work' says Leta to her when she arrives. It is a crushing film told at arm's length; no people are shown and the girl's statement is read, straight and without sentiment, by a Dutch man. Accompanying the narration, we see rooms of impersonal human traces waiting for new victims to use them for a while: dark rooms with shelves lined with sex toys and a kitchen timer to ensure a 50 Euro trick doesn't overstay; a house in Bulgaria, lit by a streetlamp, where neighbours 'saw everything but dared not intervene'; a room where the pimp's father assumed he could come for sex; cheap clothing on a bed. I imagine this clothing is still there, in a bedroom somewhere, along with the blue star-shaped pillow, arm extended to greet or to comfort.
The journey itself gives shape to a film such as Olivier Dury's Mirages, in which he travelled for five days, 'the time it takes for a citizen to become an undocumented immigrant', with migrants across the desert, from Niger into Algeria. Heavily-laden landcruisers head into the dark, travelling roads being reclaimed by sand until the roads are only sand, with tires finding new tracks, heading for a landmark on a horizon not yet quivering and broken with heat; a horizon that is both the sea and an island, but is in the end just sand.
Mirages, 2008
'Where should I sit?' asks one man as he tries to mount the truck bed, its space already full with bags and belongings before twenty people and more climbed on top. When the storm arrives the sand hits like hail and roars like the sea, visibility down to that of a North Sea coastal fog. 'People don't know how to travel these days,' says one man dismissively as another, through cold, falls off the side the truck somewhere in the middle of the desert.
Then there are the interrupted journeys such as in Bettina Haasen's Hotel Sahara, in which we hear the stories of the stranded in the windblown, plastic-strewn town of Nouadhibou in Mauritania, a major embarkation point for unofficial migration to Europe. For those who have left their homes in search of a better life, it is a place of waiting, its temporary inhabitants caught between the impossibility of returning home empty-handed after their family has somehow raised money to send them on their way, and the danger and expense of moving on. Rusting hulks of ships lie off the coast; 'the small stream' (as one Nigerian woman is told), is quicksilver and sparkling.
Father Jerome, a young Nigerian priest, dwells on the inequality that has brought his congregation together. 'We talk of freedom of movement, but some people can move, other people cannot … the world is not equal and people want to have the same experiences. Nobody gives you your freedom, you have to take it by force.' 'I have so many dreams to realise but time is passing and nothing is progressing,' says one man; 'If I don't find what I'm looking for I will never go back home again,' says another.
The laying bare of this disillusionment takes place in Oriol Canals' Letters from the Shadows, a film born of the need for truthful contact. Tired of hearing once more the same stories of beached refugees arriving in Spain, 'the same sad litany of figures' on the morning news, he resolved to meet them and record their stories. But as he says in the film, 'how can you show people afraid to be seen? How can you tell their story when all they want is to forget?'. In answer, he set up a room in which the men could speak unhindered to a camera, with the tapes then being sent to their homes as a way of breaking the illusions that so many families held about coming to Europe. The men speak of their ordeals in their own languages, in Bambara, Haoussa, Peul, Soninké, Twi and Wolof, and liberated from interview, speak candidly of their journeys, their sadness, hunger, fear, and their current drift in a world where they are wholly present but marginal, tolerated but ignored. Their film is suffused with the images and rhythm of waiting and uncertainty.
Letters from the Shadows gives voice to a few of the many who set out with dreams of bettering their lives and seeing the world. 'When I decided to go for adventure it came from the heart' says one man. Adventure: it is a charged and energising word that claims ground hitherto regarded as some kind of western birthright.
In his closing speech to a recent Gulbenkian Foundation conference on interculturality, Can There be Life without the Other?, also held in Lisbon, Jorge Sampaio concluded that in addition to national strategies, a sense of individual responsibility will be crucial in the challenge to create inclusive societies founded on mutual respect. Perhaps this is the most important aspect of Letters from the Shadows, that through a need to see beyond the barriers of mainstream coverage, one person created the conditions for furthering the possibilities of dialogue. These days, little else counts for as much.
---
Graeme Hobbs lives and gardens in the English/Welsh borders and creates chapbooks.