Telling it Like it Is: A Report from the Sheffield International Documentary Festival
The Last Days of Yasser Arafat, 2006
Challenged to revitalise the Sheffield International Documentary Festival, to head off its new competitor BritDocs, and transform its relative anonymity in the international community, Heather Croall – its new director, documentarist and former festival director from Australia – went for broke: in 6 months to make it the event for everyone engaged with the UK documentary scene. The revamped DocDay Afternoon brought 200 A-level students in to discuss ideas for 4 minute docs with mentors from the industry including celebrated Canadian Peter Wintonick; Nick and Marc Francis, of recent Black Gold repute; reps from My Space and a handful of Commissioning Editors. The Meet Market selected 25 from 200 documentary projects submitted on-line, and introduced producers to UK and international buyers in 280 meetings with 50 commissioning editors. And Digi Docs 360 put new media at the centre of the agenda. The word was out from the start. Delegate tickets sold out, and 130 commissioning editors came to Sheffield, 30 from abroad.
New technology still lies substantially in the sector of known unknowns with leaders of sessions urging documentary producers to think 360 degrees at project development stage – planning to include terrestial, radio, interactive, digital media, educational and media-on-demand potential. Don't come with an intransigent hold on the rights, urged BBC's Mark Goodison, come to collaborate. None of these markets are proven. Google and YouTube are streaming – thus far; G3 is on the lookout for scale ideas of a simple, authentic, "I get it!" variety, and Adam Gee at Channel Four wants projects with legs, longevity and the potential for TV interactivity. Clearly a two-way relationship is now expected. For the new evangelists, old-style programming, where producers/directors 'told' the audience, is out. Young audiences are now caught up in the buzz of interactive, peer-to-peer communications. Documentarists have to develop their ideas for multiple platforms and long-form documentary needs to move its target from the "sit-back' to the "sit-forward" audience. There were some impressive examples of stories adapted to platform – David Mardell's Letter from Iraq; Magnum's Photo Essays and 10 x 10 – but whilst keeping an eye skywards, there was little so unknown to unsettle those wanting to keep their feet on the ground – except of course, the question of funding.
Fucking Sheffield, 2006
In an increasingly competitive market enslaved to novelty the question for the longer form documentarists is what potential these new delivery platforms/markets offer for funding. Distributor Barbara Truyens, of Films Transit, gave a sober assessment of the existing market place. Of 205 possible countries only 55 have channels which will buy feature length docs, and they range from countries with weekly strands to those with only 12 slots, and which, like Estonia, might only pay $400 an hour. And via the Internet? Once the word was out, Franny Armstrong's McLibel peaked at 4,500 downloads a month, but when viewers were asked to pay 50p for the privilege, they dwindled to 3! Now, just as ever it seems, what is needed is pluralism in platforms of delivery – whether terrestrial or on-line, and a government with the political will to use regulation to safeguard public service values and cultural diversity.
Thus far, the value of the new technologies would seem to be in offering marketing, rather than new monetising models. That said, the best funding strategy seems to be in stakeholder partnership with a clearly defined, niche audience ahead of the production, where interactive technologies can keep relationships live. However, wooing shareholders, campaign groups and foundations is a business in itself, and a model most successful for films of advocacy and exposure of the Robert Greenwald – Uncovered, Wal-Mart, Iraq for Sale – variety. Worth asking yourself then, and at the outset of the project, whether its fame, fortune or a good conscience, you're after.
Beyond the talk and networking the Sheffield Festival is still an excellent place to go to see the range of output which might otherwise not be accessible. To mention a few: Talk to Me, Mark Craig's short using 20 years of answer phone messages and his family album to capture two decades of change in music, communications technology and his own personal life; Every Good Marriage Begins with Tears, the fragmentation of diaspora communities through the story of an arranged marriage, observed from within by Simon Chambers; Black Gold, a stark and visually powerful plea for fair trade on the coffee markets; Sherine Salama's The Last Days of Yasser Arafat, taking you into the politics and emotion of Arafat's compound in his last year of life, and Sergie Loznitsa's Blockade, a unique chance to experience the interminable 900 days of the Leningrad siege through archive. And Kim Flitcroft's Fucking Sheffield was unforgettable, not so much for the documentary itself, but for the audience which packed the Showroom Cinema, (amongst which French co-producers), to support the film's characters who literally stepped out of their seats to sing in celebration of the on and off-screen lives they have survived.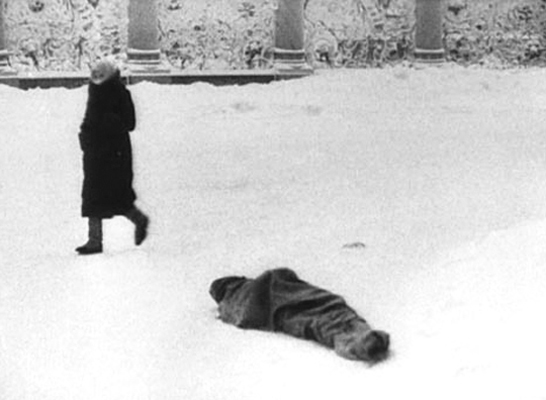 Blockade, 2006
Most of this impressive programme was brought together by Sirkka Moeller. After many years of service she is now moving on. But the Festival, now in its fourteenth year, promises to go from strength to strength, a testament to the power of documentary to take you there, and to build understanding by giving audiences the privilege and responsibility of bearing witness. Likewise, to the documentary community, at home and abroad, which continues to inspire with its commitment to bringing home these stories, and its determination not to be boxed or deterred by limited commercial priorities. In an inspirational masterclass by the Australian filmmaker Bob Connolly, renowned for his trilogy on Papua New Guinea (First Contact, Joe Leah's Neighbours, Black Harvest), the director observed how with great documentaries you don't see the end from your beginning, even though, as Nick Fraser (BBC's Storyville) wryly remarked, this would not be appreciated as a unique selling point with most of today's commissioning editors. Nonetheless, documentary remains in strong, shape-shifting form, as evidenced in the strands curated by BBC's Arena and Storyville, the Grierson Committee Awards, Britdocs and DocHouse - institutions in their own right, and vital to the development and survival of these important films.
Perhaps the most striking achievement exhibited at this year's festival, was the work of Maysoon Pachachi. She has taken her documentary skills to Baghdad and set up a school to train and encourage Iraqis to tell their own stories. This courageous venture is struggling to survive the current levels of violence, but funders are still being invited to help keep it going, even if it has to relocate to a safer city in the region.
---
Holly Aylett is Managing Editor of Vertigo, a senior lecturer in Film Studies at London Metropolitan University, Director of The Independent Film Parliament and a documentary filmmaker.