The Films of Peter Whitehead
Peter Whitehead
For a man so shrouded mystique, Peter Lorrimer Whitehead is first to demystify the process of filmmaking. Having had a 9 month apprenticeship working as a news cameraman for an Italian TV station hacking out Eurotrash reports from London's front line, he ended up filming his pals from the Better Books literary scene, who decided that, if Dylan could sell out the Royal Albert Hall some months earlier, why couldn't they? Armed with 44 minutes of stock and a 'silent' 16mm camera, the resulting film, at 33 minutes, is a hell of a shooting ratio. Curator Alexander Trocchi breaks away from his pipe to announce to the audience that the evening is an experiment "to find out what happens when we put 5000 people in a hall with a few poets and try to be natural". Wholly Communion (1965) is an exquisite document of the 11th June 1965, in equal parts both fantastical and shambolic that, if Whitehead hadn't filmed it, no-one would have.
Captured in all its amateur glory, calamity strikes ten minutes in, when, stumbling with nerves, Harry Fanlight is heckled by a loveable idiot who repeats the words "love, love, love", getting more applause than the act whilst the camera frantically searches for his close up. When order is restored by the intervening host, Fanlight, hilariously destabilised, digs himself into a deeper hole of humiliation by trying to redress the balance, and is ordered to just read the words. The ever roving lens is as interested in the pretty little polka dot mod girls holding flowers and sipping red wine as it is in the poets themselves. Adrian Mitchell redresses the balance with a poem about Vietnam. Smoking groupies, caught somewhere between beatniks and hippies, look on, wondering why they're there. The native poets assemble for a penultimate performance of poems about sneezing, all trying to upstage each other, before headline act Ginsberg, like some demented, pot-bellied Christ, trounces them all.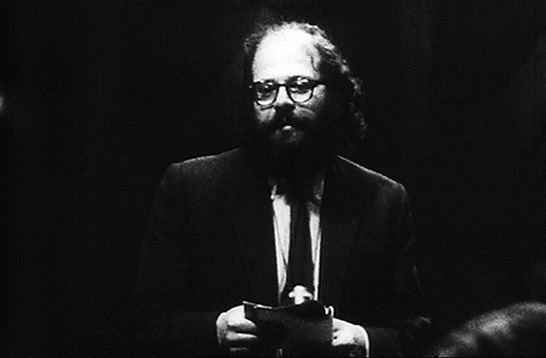 Allen Ginsberg in Wholly Communion,1965
With its spontaneous zooms, coarsely racked exposures and no time to check if there's a hair in the gate, it is less of a conscious homage to the vérité experiments of Pennebaker and Shirley Clarke, whom the dedicated cinephile Whitehead must surely have been an admirer of, the style undoubtedly dictated by the shooting conditions – its freezes, cutaways and black frames more a necessity than a plan. Whitehead has subsequently pointed out that, the much debated segment of Gregory Corso, partially obscured and framed between the heads of two spectators, was, rather than premeditated mise-en-scene, a result of him being pushed to the floor by a horizontal Ginsberg so that he could see.
Whitehead is equally modest and self-effacing about the genesis of his next film. Word was out that he had a camera that could be invisible, and the phone call came through from Andrew Loog Oldham that he wanted a quick film about the Rolling Stones, partly as a screen test for an intended Beatles-style movie. Whitehead had never heard of the pop Svengali, nor had he heard any of the Stones music, and knew of them only for their headline scandal of pissing against a garage wall. The resulting film, a weekend tour of Ireland, is an intimate portrait of 5 ordinary suburban boys with a passion for black music, blissfully unaware that they would become the biggest rock 'n' roll band in the world. Opening with an instrumental version of Play With Fire, a teenage fan admits she likes "the fella that plays the drums" Charlie is My Darling (1966) has Bill Wyman debating about whether or not he should wear a tie, whilst Brian Jones seems acutely aware of his own destiny and his alienation from the band "Let's face it, the future as a Rolling Stone is very uncertain. My ultimate aim in life was never to be a pop star. I enjoy it, with reservations, but I'm not really satisfied either artistically or personally". Mick Jagger, ever the detached, reveals it's all about acting and getting into a part. Locals look on in bafflement at this new pop phenomenon. Inarticulate teenagers are questioned as to why they like the group, and an inarticulate Charlie Watts states that he's happier at home, as he only plays drums, is not a musician and doesn't know how to express half of what's in his head.
The Rolling Stones in Charlie is my Darling, 1966
Whitehead, as ambivalent about their situation as the band themselves, captures the minutiae of the five, the little things. In a cramped dressing room the group riff together, sign autographs for grannies, powder their faces as though they were teenage girls covering their zits, and, in a magnificent moment of vérité, we zoom in on Bill teasing Charlie with the cheeky offer of a cigarette, only to pass him his finger instead. It's this slight of hand that informs the spirit of the film. Such a document could only be made with Whitehead's unbiased eye. On a train journey Andrew Loog Oldham picks his nose, talks about Ken Dodd, everyone sings Maybe its because I'm a Londoner and the camera zooms out of the train window. Its all about physical contact, says Bill, and the group escape their fans by running across the train tracks. An oompah version of Satisfaction plays over a montage of obsessed fans, whilst a priest worries about the levels of screaming. It's a film that somehow transcends the sum of its parts. Curiously it is Bill who is afforded most of the talking head exposure, about how he always wanted to be in a band but thought it was unattainable "I'm not a musician – I just play in a band. I get by on the things we do. I'm not a musician, I just play music". Brian debates the future, is unsure about what might happen, and expresses a desire to make a film about love as an abstraction, though struggles when asked to define surrealism.
Peter Whitehead with Mick Jagger
In the film's final scene, a late-night post-gig moment, Mick & Keith, who are not interviewed separately like the others, finish off with a shit-faced impersonation of Elvis around the piano. "Who do you think you are?" asks Keith. "I feel like Robert Browning", Mick jokes, all too knowingly, "I wish this was all on film, man, it'd be great". Although Charlie may be Whitehead's finest hour, and despite its modest aesthetic, the raw and unpretentious visuals, its unavailability shortly after its limited release, and its subsequent entanglement in the complicated protocol of who owns the rights, elevates its secret 'bootleg' existence to a mythical status, as though someone was suppressing it as evidence that debunks the conspiracy of fame by breaking down the walls of access to its subject by showing how incredibly ordinary these guys are. Or were.
Invited by Peter Brook to film his staging of the play US by the Royal Shakespeare Company, The Benefit of the Doubt (1967) intercuts this footage with a press conference held by Brook and his co-conspirators. Recalling Kenneth Tynan's savage attack of the play for its lack of conclusion and course of action – are we waiting for you or are you waiting for us? – in many ways the film answers itself. Brook is an eloquent, self-assured speaker, yet his earnest debate about the validity of theatre as effective protest is doomed from the start. An ensemble of beautiful actors, including Glenda Jackson and Michael Williams, in glorious colour, perform the play, which despite its occasional dialogues of dramatic insight, cannot help but come across at times as a ghastly, absurdist, pop-art satire, borrowing from Godard and Brecht but ultimately looking ridiculous. Williams appears particularly silly prancing around like a rock star. Filmed theatre never looks right. A theatrical performance doesn't work in close ups and two shots – it's meant to be seen from a distance, but Whitehead's zoom, rightly or wrongly, can't help itself, and perhaps the experiment anticipates Rivette's Out: One. At the films conclusion, Glenda Jackson sums everything up, realises the futility of it all, criticises herself, the motivations behind the play and her role in it.
Benefit of the Doubt, 1967
Taking its title from one of Ginsberg chimes, Tonite Lets All Make Love in London (1967) is a Pop Concerto for Film. Drowning in hours upon hours of material from his promos made for Top of The Pops and his interview footage of just about everyone and everything in London in 1966-67, Whitehead, issued with a writ from the financers to complete the film, pared it down to just the bits he liked, rather than what was necessary, much the same as Godard had done with his 3 hour rough cut of A bout de souffle . Framing it around Godardian titles, chapter headings (Dollies, Movie Stars, Protest), and a freakbeat title track by then unknowns Pink Floyd, who's debut studio recording, Interstellar Overdrive, he himself had financed, Whitehead begins with, in Michael Caines' words, 'The Loss of the British Empire' – as guards parade at Buckingham Palace, the camera zooming in and out almost in time with the national anthem. Watched by men in bowler hats and three-piece suits, the raising hemlines of their female companions suggest change. A guard collapses with exhaustion, perhaps under the weight of his stiff upper lip or his plume, and the police try to shoo away Whitehead's lens. A succession of dolly girls, doe-eyed and mini-dressed, peer from behind their shiny fringes, on merry-go-rounds and in nightclub toilets, delighting in their so-called freedom. Even Edna O' Brien seems to have given up on love, seeing it as a handicap.
Keith Richards in Tonite Lets All Make Love in London, 1967
Despite the glorious visuals, Whitehead is under no allusion that Swinging London is a construct beginning with Time magazine and exploited by American Imperialism to sedate and pacify the British with short skirts, pop music and loose morals, in the hope that they wouldn't kick up a fuss. In many ways he was right, and perhaps still is. Vanessa Redgrave twitches as she recites a revolutionary call, though there is more power in the intercutting of The Animals recording When I Was Young with footage of WW2 Spitfires (footage that Whitehead apparently found in a skip outside the cutting room after he worried he didn't have enough coverage of Eric Burdon and Co in the studio to last the whole song.
Andrew Loog Oldham talks about not being able to enjoy money like Getty does, The Stones perform Have you Seen your Mother Baby at the Albert Hall, and security guards literally beat off invading fans, hurling them off the stage. Brian Jones laughs it all off, whilst Mick, now a year wiser than in Charlie, analyses the violence, revealing some of his London School of Economics training in deconstructing his pop music success.
David Hockney in Tonite Lets All Make Love in London, 1967
All Whitehead's interviews zoom in for extreme close ups, aware that blemishes are often what makes people interesting. There's no PR sheen or star picture approval here. Julie Christie talks about pleasure, and puts herself down for being "terribly superficial", whilst Michael Caine condemns the class consciousness regarding expensive clubs opening after pub hour closes, to keep the workers out so they could stay up drinking and be late for work. It is unheard of in today's media world, with its agents' fees and chains of steel, around the comparable figures of now. Whitehead states that he would simply have phoned Caine, said he was doing a film, wasn't sure what it was for or about, but would he like to be interviewed. It's a Golden Age long lost, considered too candid for today's slicker audiences. Alan Aldridge paints flowers over naked women, but is quick to dismiss the work as ephemeral; pop for the minute, do the job then it's forgotten. Tonite's finest section is a hilarious interview with David Hockney. Though he shares Caine's dislike of restrictive opening hours and the price of a drink in a club, his opinions are more playful and pragmatic "If next week the country collapsed but on the same day you met your absolute true love, you wouldn't give two hoots about the place collapsing, you'd think alls right with the world, lets have a sandwich and a glass of beer. It wouldn't matter"
Finally, the influence of America is more explicit. Playboy Bunnies open up in London, and, over images of Terence Stamp, Keith Richard, Roman Polanski and Sharon Tate arriving at the premiere of Cul De Sac, the Bunny promoter likens London to Hollywood. Lee Marvin, on a break from filming The Dirty Dozen, muses on the freedom of the mini cars and mini-skirts. On the Portobello Road, girls dress in their grannie's clothes stalls offer flip flops and trinkets, buskers are watched by models Peggy Moffit and Donyella Luna, who are in turn photographed by the paps and by Whitehead. The films coda retreats to Pink Floyd and the UFO Club, unsure if it's really made any sense of what's really HAPPyEND.
Peter Whitehead shooting The Fall, 1969
In the autumn of 1967 Whitehead was invited to the New York Film Festival with Tonite... At the after-party money was made available to make an equivalent film about the scene there. As an Englishman in New York, Whitehead starts filming anyone and everything – Arthur Miller, Gloria Steinem, Tom Hayden – and realises that protest had become worse than useless, it had become fashionable, and was the height of left wing chic to be against the war in Vietnam. Bookended by the assassinations of Martin Luther King and Bobby Kennedy, The Fall (1969) is evidence that the sixties weren't much fun after all, and, totally consumed by a mess of footage Whitehead returns to the UK to spend six months making sense of it all, and himself, in the editing process. Aware that he is as much a character in his own fiction as the subjects themselves, the camera films Whitehead filming, engulfed by slogans, dwarfed by skyscrapers and driven around town by a black chauffeur. Trying to participate rather than merely observe, Whitehead rents a spacious white apartment, acquires a model girlfriend (Alberta Tiburzi) who he photographs in a tight minidress covered in peace logos, getting false eyelashes implanted, dancing and loving.
Also featuring a young Penelope Tree as a flower girl on the subway train, and a younger still Paul Auster as a student activist, Whitehead sits at his bedside composing a narration, though, as an outsider status has informed all his work, and as outsiders always see us with a clearer light than we see ourselves, he can never truly be a part of the world he examines. Whitehead has subsequently revealed that the violence was so infectious, so commonplace, that paranoia got the better of him and he asked his chauffer to buy him a gun. At that point, realising that he could never be a full participant, and that only when everyone is guilty will there be a true democracy, his driver told him to go home.
Editing The Fall, 1969
In a mescalin induced edit – 'a historical moment seeking a synthesis' – Whitehead juxtaposes himself at the moviola presiding over footage of students brutalised by the police and, in (not dissimilar) contrast, an installation by The Destructivists of a chicken being bludgeoned to death against a piano. In the final act Whitehead does achieve some level of participation by occupying Columbia University with the students, though later he sits alone on the roof and explains in a monotone voice-over exactly what will happen next. Finally we see Whitehead face trapped in the screen of his own steenbeck. Back in the UK, things hadn't changed that much. Premiering at the Edinburgh Film Festival, and despite the vague hope that the film may provoke debate, all he got was a pat on the back for a job well done. Quitting filmmaking for the best part of 30 years, he took to taming falcons under the patronage of the Saudi Arabian Royal Family, an exhaustive account of which can be seen in the latter half of Paul Cronins' brilliant new documentary In The Beginning Was The Image (2006).
---
The Films of Peter Whitehead are currently enjoying an international festival tour. Go to www.peterwhitehead.net for more information.
Robert Chilcott is a writer and filmmaker. He lives in London.