Dans Paris
Dans Paris, 2006

Christophe Honoré is a novelist, playwright, children's author, and the talented director behind Dans Paris, a new film starring the two French actors of the moment; Romain Duris and Louis Garrel.
Rob McCrae: Do you enjoy working with Louis Garrel? You've done plays and films with him…
Christophe Honoré: I'm very close with Louis and sometimes it's as if he plays the character of me when I'm writing. In my previous films he was always the main character and so when he knew that I was writing this one he was always calling me saying "I've got the main part right, I've got the main part'. Right now I'm working on another film in which normally Louis has no right to be in but he's very insistent! Maybe I'll let him read out the credits.
RM: Louis's character is a womanizer. Is this what he's like in real life?
CH: I think one of Louis's main activities in life is to be a heart throb! He does have this constant game with girls and it was fun to leave him to his own devices in this domain. He was actually worried that he didn't exist in this movie, like he was so close to his actual character that he wasn't even acting.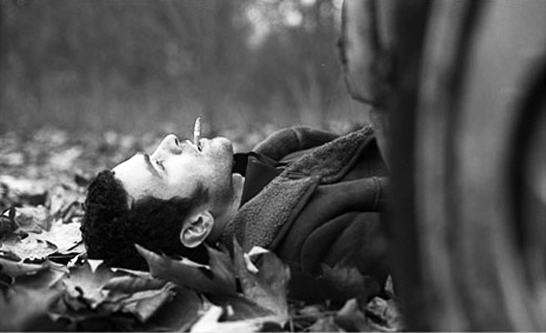 Dans Paris, 2006
RM: How did you handle Romain? In this film he's a contrast to his normal energy.
CH: The first thing that I told Romain was that I was going to film him like a stone. So initially he was only half heartedly enchanted by the idea! I think it allowed him to express things that he'd never done before and also for me to understand Romain there's this whole depth of character that those who see this quickness in him wouldn't normally get.
RM: How was it filming these different characters together?
CH: It was like filming two people at totally different speeds. However it was also important for me as a director, and in the mise en scene, to respect the two speeds because I wanted to accentuate their differences. Then in the final scene, in the bedroom, finally they resynchronise and fall into each others rhythm.
RM: Do you not think it might have worked better as a play?
CH: I understand what you're saying as there's a real theatrical side to it, in terms of the closed space, and when it's like vaudeville theatre the way they move around the flat, with the slamming of doors etc.
RM: The music is definitely a highlight. What made you choose this soundtrack?
CH: I decided on jazz early on and there were many reasons for that, especially with the structure, and the recurring themes that were like a piece of jazz. You know like digressing and going off on a tangent and then coming back is very like the way jazz is structured. However I didn't want it to be a quaint shoot so very early on I choose some pop groups and also the track Cambodia by Kim Wilde all of which were essential to the narration.
Dans Paris, 2006
RM: How about the future?
CH: I'd really like to do a film of Will Self's book Dorian. I've always wanted to do a film about AIDS in the eighties and because we both have the same publisher in France I tried to sort it out at some point but there was the problem of money etc and it didn't happen. Hopefully at some point it will.
---
Dans Paris is currently on release throughout the UK.
Rob McCrae works at the Curzon Soho, London and writes about film.