Dreaming of a World Without Evil
Watani: Un Monde sans Mal, a new film by Med Hondo, one of the pioneers of African film-making (Spike Lee once described him as the reason why he decided he wanted to make movies) was scheduled to start its run in three Paris cinemas on March 18, 1998. However, though the film has now been seen at festivals all over the world, from Los Angeles to Ougadougou, its Paris run has been delayed for over a year, and will only be getting underway around about the time you read this. What went wrong?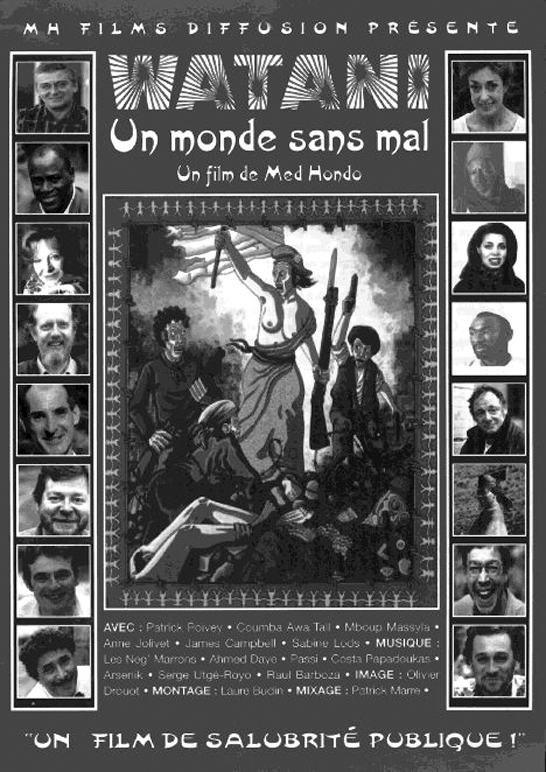 A few weeks before Watani's opening, the government censorship board, which comes under the Centre National de la Cinématographie (the CNC) a section of the Ministry of Culture and Communications, dropped its bombshell. Watani could only be shown if the prints being screened (35mm. following transfer from digital video) were preceded by a title reading: "Plusiers scènes violentes et notamment celle, finale, du suicide collectif, sont de nature à troubler la sensibilité du jeune public" (Several violent scenes, notably the final scene of a collective suicide, are of a kind to disturb the sensibility of the youthful public!). The same announcement was to be included on all publicity.
Med immediately wrote to the Minister to protest. In this letter, and subsequent interviews, he made his position clear. Such last minute changes would be very expensive, and money was not available. They would give a misleading impression of the film. There was no scene involving a collective suicide. There was the suicide of a crippled woman, after she has learnt that her husband has been involved in a series of random murders of Africans. There was also a scene where the murder gang, fleeing from a crowd wishing to take revenge, try to escape by jumping into the river, and ultimately drown. This, however, was also not the final scene, which, in fact, shows black and white children as friends, playing peacefully together, and evokes not the mass suicides of religious cult members, but the dream of Martin Luther King. Such aspects of Med Hondo's vision led Le Canard enchaîné to invoke Baudelaire: "In the depth of evil one must search for good". It was precisely to young people with open minds that Watani was designed to appeal. Films such as Seven (which Med dubbed) Natural Born Killers or Seul contre tous are required to carry no comparable government health warnings.
Protests to the Minister continued throughout the summer. Watani's supporters included the Socialist Deputy for Landes, who put down a question in the Chamber when the Minister refused to look again at the recommendation of the censorship board; Grains de Pollen (effectively a union for the unemployed); the Committee for the Defence of Liberty and the Rights of Man; Le Canard enchaîné; Le nouvel observateur; L'Humanité weekly; Liberation; the magazine L'Autre Afrique; many individuals, a group of whom ultimately, and perhaps decisively, gained the attention of Jack Lang, former Minister of Culture, and still a major force in the Socialist Party.
The Ministry ceased dissembling, and gave in early in September. Watani was re-examined and passed without restriction. However, the episode had consumed a great deal of time and effort, held up the development of Med's next project, and delayed income from the box-office for fifteen months.
Watani was a low-budget production, around 5.5 million francs (£550,000). Set up without television support, subsidies or government grants (neither from the Ministry of Co-Operation, nor the CNC) it was shot on credit. Repayments take up 60% of Med's total earnings. To finance his projects and stay alive, he works in dubbing studios; he is the French voice of most of Hollywood's African-American stars.
Med shot on digital video. He conceived of Watani as a popular avant-garde work, and prepared the script specially for video. He was interested in the medium; using it would save on costs, and allow him to move effectively from black and white to colour. Its flexibility and mobility allowed him to work quickly in a four-week shoot, whilst ensuring a full input from the actors. The political support of the latter was essential. Although involved in lengthy discussion and preparation, they worked for deferred payment. They were committed to Watani's poetic interweaving of stories exploring unemployment and organised racist violence.
In London in 1999, following the publication of the Lawrence report and the Brixton, Brick Lane and Soho bombings, Watani has become painfully relevant to us, too. Even if the bombings are confirmed as the work of a single, isolated killer with no links to European fascism, the resonances of this story of how a man drifts casually into a racist murder don't go away.
---
James Leahy is a screen-writer, and member of the Vertigo editorial board