The State of Independence
This conference to debate the current concerns of the independent sector, held in Hackney on 7 November 1998 at the Lux Cinema, Hoxton Square, was conceived following the publication of the Government's A Bigger Picture in March 1998, and a subsequent letter sent to Chris Smith at the Department of Culture, Media and Sport (DCMS). The total invisibility within this government publication of independent work and its importance have led to a serious and pressing need for representatives of the sector to mobilise ideas, and try to define and shape a future for independent film without waiting for the soon to be formed British Films Council.
---
The day was organised by a consortium of individuals and representatives from Vertigo magazine, the London Film and Video Development Agency and the Lux Cinema, and was importantly included as part of the London Film Festival's public events. The idea was that a wide and diverse group of practitioners from production, exhibition and distribution would attempt to find one voice to lobby the government as it muses over the creation of a new Films Council.
Teaching by example – The independent sector as the laboratory of the film industry.

Keith Griffiths from Illuminations highlighted the sense of confusion that currently exists around independence in the late 1990s. Previously, one could argue, it meant a freedom from large scale capital investment or a dependence on un-paid labour for ideas and/or existence. Perhaps ultimately independence is about "a voyage of discovery into unknown terrain", and the research and development of ideas that more often than not can inform and revitalise the mainstream. Griffiths used the metaphor of an ever increasing congested highway to explain the current minefield of communication systems, including new technology for production and distribution. Finding a place within this complexity, and competing for audiences, was increasingly difficult for the independent sector.
Beautiful People, 1998
There was a very poignant reminder of Michael Relph's comments as Chair of the BFI Production Board in the 1950s, when he suggested that the only way for the independent sector to be any use to the industry was for it to turn its back on it. This idea of the research and development role of independent film was a returning theme throughout the day. It is interesting that a recent article in The Guardian ("Saatchi Agency 'stole my idea'", 2 March 1999) highlights the use of artist Gillian Wearing's piece 10-16 within a Sky advertisement. Whatever the legal ramifications of this case, it illustrates the absorption of innovative ideas from independent artists and film-makers into the commercial world of advertising. This absorption, unconscious or otherwise, undoubtedly extends to mainstream feature film production.
Who are we addressing? Is there a market for independent film?

Independent film-makers may ponder on the lack of support for their work, but never has a reminder of how difficult it is to persuade new audiences to pay for non-mainstream work been more timely. Two case studies illuminated perfectly the battles currently being fought for audiences, and the need for investment in distribution and marketing. The Lux (the National Centre for Artists' Film and Video) regularly screens both Third World and European independent films, as well as work in the moving image by experimental artists. Helen De Witt, curator at the Lux, described an attempt to bring together a variety of niche audiences. Dandy Dust – a UK/Austrian co-production described as a "queer/cyber/ hi-tech/multi-media/sci-fi/splatter/ gore/epic fest!" was seen as a triple-niche film by the Lux, since it could potentially appeal to traditional avant-garde, gay, and sci-fi audiences. The film was screened twice a day, but achieved only12% of capacity. Summer screenings and a lack of publicity failed to attract the three distinct target audiences, and thus generate word-of-mouth support. This contributed to the disappointing box-office figures. In contrast a Dutch/Indonesian film, Mother Dao – the Turtle-Like, had no distributor and very little marketing budget. Following a press screening and interest from one or two critics, the film achieved an audience level of 70% over 6 screenings. Although Helen admitted the unpredictability of audiences, she also acknowledged the vital importance of good critical responses from film-writers.
Andi Engel discussed the experience of Artificial Eye in recent years. He highlighted the harsh reality facing distributors in the current climate. His company spent more on the prints and advertising of The Tango Lesson, Mrs Dalloway, End Of Violence and Welcome to The Dollhouse than it recouped from the theatrical box-office. This was felt more keenly in relation to European sub-tilted films, which were becoming increasingly difficult to place both theatrically and on television. Andi reiterated the importance of press coverage, especially from The Guardian and Time Out. Such attention for an independent film could make a huge difference to its reception; a distributor cannot force people into the cinema single-handedly! Following a question concerning the use of dedicated multiplex screens for independent work, Andi described his experience in the 1980s. The experiment was met with the cry of "but nobody came!" Whether contemporary audiences would be more tolerant towards viewing independent work in exhibition spaces usually reserved for Hollywood films has yet to be tested.
The issue of the growing popularity of digital services was raised, with some audience members underlining the fact that the extension of choice was a good thing. However it was Andi's opinion that the desire to see a film with other people would mean the survival of theatrical exhibition. The fear was that in ten years' time, only the multiplex sector would exist at the expense of the art house, independent cinema.
I'm more independent than you! An attempt at a definition of independent film.

Sally Hibbin of Parallax Pictures, in her role as chair of the session, asked her colleagues to answer the elusive question: What does independence mean to you? She herself was not clear, having always considered the films produced through Parallax to be independent in terms of their opposition to the mainstream.
Chris Collins, producer of Beautiful People, a BFI-funded film scheduled for release later this year, felt that independence could be defined as a feeling of exclusion, of always being on the outside, occupying an area where experimentation could take place. He also wished to see the eradication of "dinosaur institutions" whose seemingly endless committees prevented new work coming to fruition. Chris asked his colleagues in the room to define what the thirty-year struggle of the independent sector had really achieved. Menelik Shabazz, editor of Black Filmmaker magazine, agreed with the idea that many film-makers are having to exist outside the mainstream, and in addition never get the opportunity to develop work with the very institutions that are there to support them.
Sarah Turner, film-maker and editorial board member of Vertigo, defined independence as "signing on", since the economic survival of film-makers and artists was a very real issue. She bemoaned the lack of a right to fail amongst the independent sector. Film-makers who had been given an opportunity were not allowed to have a second or third bite of the cherry, and develop creatively. The discursive, energetic space of the early eighties appeared to be eroding, and this needed to be recaptured quickly. Marc Karlin, the late and much missed director of Lusia Films, drew hope from the popularity of Delia Smith's latest cookery programmes. People prepared to sit and watch an egg boil may be tiring of the transparent, throw-away messages of mainstream culture, and turn towards film language's more subtle forms of representation. He used his analogy to express clearly his vision of a reality that could be expressed through independent film and video, in direct opposition to the frenzy of the modern world and its expression through mainstream cinema. Let's hope he is proved right.
The Tango Lesson, 1997
This session highlighted the central argument of the day, and time was spent contrasting the independence of the film club Exploding Cinema with the dependence of the panel, some of whom were in receipt of public money for film production. This debate brought to light many questions that needed to be answered before the conference could move towards becoming a successful lobby. If there is such a thing as an independent sector, then are some more independent than others? Does it matter? Should there be a unified voice? Panel members were asked to consider their position as creative independents rather than as film-makers economically free from the reins of public subsidy. BFI Production was strongly defended for its brave and risk-taking decisions since the 1950s. It has struggled to safeguard a space for the production of quality work. A question that recently has too often been ignored was posed: would certain films ever have been made without the BFI.
Maureen Blackwood from Sankofa Films brought calm back to the proceedings with her suggestion that, even though nobody has an automatic right to get public subsidy, we should all have the right to ask for something in a society that has a system of publicly funding the arts. A suggestion from the floor provoked an interesting debate. The admission that some of the work is not of a high enough standard for support might prove a more helpful argument in favour of the survival of a robust independent sector than is made by giving support to an automatic right for funding.
A new dinosaur? Changes within funding bodies and the new Films Council.

In an attempt to debate the role and function of the new Films Council, and if possible influence its shape and evolution, attempts were made to underline key issues facing film-makers in the future. David Curtis, from the Arts Council, feared for a continuation of the rather limited current provision for film where, broadly, film production would simply be the responsibility of the new Films Council, and "art" would remain with the new slimmed down Arts Council. If the DCMS could be more understanding and appreciative of the fact that film and video are art forms, then the new body could find itself involved in some very interesting new work, and a cross-fertilisation between experimental work and more mainstream film could take place. The decentralisation currently under way at the Arts Council, with more direct funding of artists to be handled by the Regional Arts Boards, could be a good opportunity for money to be given in confidence to organisations working very closely with talented film-makers and artists.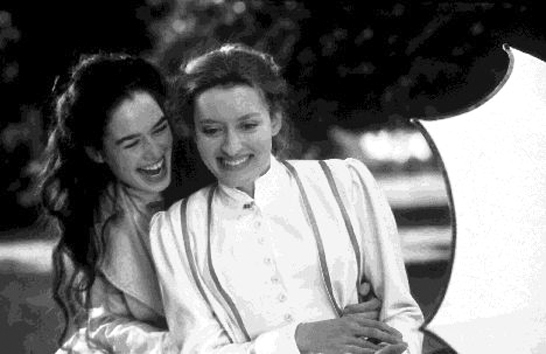 Mrs Dalloway, 1997
John Wvyer, from the independent production company Illuminations, offered ideas for healthy collaboration with broadcasters, and explained that certain important rules needed to be heeded: remember the mistakes of the past, and try not to let nostalgia for a "golden age" of independent film-making cloud the need to move forward when "embracing the enemy", the broadcasters. Several members of the audience found this broad optimism difficult to share in a climate where, for an independent, an outsider, even having a conversation with a broadcaster was always going to be a problem. Ben Gibson's emphatic response included a call for the integration of audiences, film-makers and bureaucrats. This would assist with the creation of the new Films Council. His suggestion that the mainstream industries, including the broadcasters, would always renew themselves by incorporating independents, echoed Keith Griffiths' earlier cry for a film laboratory to teach the mainstream industry and help it to develop.
What do we want and can we have it?

As the conference wound down, there appeared to be little disagreement on what was wanted by the varied panel and audience members. Maureen Blackwood wants time and space to experiment, and a real understanding of that grey area between culture and commerce within which some of the most exciting ideas can flourish. Pat McCarthy from Amber Films, one of the longest surviving workshops, wants to continue exploring the culture of living communities, and helping that culture to find expression. Independence, for Pat, is quite simply about being happy as well as pleasing audiences.
Obviously there was recognition of the planned establishment, towards the end of 1999, of a new Films Council. Ben Gibson wanted to make it truly comprehensive and capable of sustaining many different audiences. It was left to Keith Griffiths to make a plea to the audience and others to help independent film gain not just a voice, but develop a system of branding so that the situation we are currently facing, where work is largely invisible to the decision makers, can be rectified. An effective lobby means that, firstly, people have to agree to sit down together and make themselves known to each other. Then common features and differences can be explored and exploited when we face up to the future. It is not so much that there is a "them and us", the funders versus the individual film-makers, more that there is an ignorance at the heart of the DCMS with regard to cultural film–its roots and origins, what it signifies, its influence and its potential future.
Many people in the room had an enormous amount to say about the passion, energy and innovation of independent film, all of which are capable of feeding the mainstream. This thesis is perhaps not entirely disagreeable to the DCMS and its advisers. The Films Minister, Janet Anderson, has a responsibility to the constituency she serves, and hence is obliged to respond to anyone writing formally to her. It would be unthinkable if a method was not found for ensuring that the message is understood, enabling the British Films Council to experiment with new partnerships, respond to new voices, and recognise the innovation it may perhaps need to survive.
---
It is worth sending your MP a copy of any letter written to the Minister. Most politicians regard half-a-dozen letters on a single topic as an unusually heavy correspondence. Vertigo and Lusia Films are prepared to compile a register of such letters, so please send us a copy as well as any replies.
---
Andrea Corbett is Projects Officer at the LFVDA