Unseen! Unclean! Unsung!
Music Videos Converge On-screen

I produced my first music video in 1996. The band was Orbital and the star was the classical actress Tilda Swinton, so there was never much chance of The Box either (a) being formulaic or (b) pandering to commercial success. However, it did get shown on Top of the Pops, where it was introduced as a "short film" and, for good measure, an "enigma". (It was also shown on the Chart Show and all the programmes which screened music videos as the track rose up the charts). Furthermore, it was screened at the London Film Festival that year as part of the "short film to music" showcase ("with original score by Orbital").
Adagio for Strings William Orbit dir. by Luke Losey, post production Martin Goodwin 1999
What were the co-directors (Jes Benstock and Luke Losey) trying to do: art or commerce, film or music video? At the time they said that: "we don't do music video, we make short films to music" but the reality is that they both make damned good music videos too. In fact, I couldn't tell the difference, and I don't want to argue here for one versus the other. It would seem clear to me that, after twenty years on the cultural scene, the music video "genre" is big, robust and diverse enough to encompass everything from high art to very low-rent commerce.
The main problem here is that, as always, recognition trails reality. Cinema buffs and film industry people still scorn the possibility that music video has anything to offer their art. Meanwhile the music industry, for the most part, refuses to see any benefit in backing innovation rather than churning out MOR MTV gunk. So artists (and their poor bloody producers) continue to struggle for the sake of their art, having to sweet-talk sceptical bands into backing their risky ideas, begging post-production favours from all and sundry, and juggling absurdly small budgets – all for the briefest burst of glory of MTV.
Not Seventeen Mandalay dir. by Luke Losey 2000
Cinema's stuffiness is, actually, the lesser of the two obstacles confronting music video-art. In the years since we made The Box, it has been in a dozen film festivals across the world, and won a Silver Spire in the short film category in the San Francisco Film Festival. It's a great little film, but it's not a freak: music video has earned its place as an established category at film festivals around the world.
A month ago, the Metro cinema in London entertained an almost full house late on a midweek evening for two hours of videos at the Raindance Festival. Following on from Mirrorball at the Edinburgh Film Festival, the NFT screened three nights of music video in its "Unseen & Unclean" programme and was delighted at the attendance. "Cinefeel", which was set up by Françoise Lemy, initially out of her frustration that so many excellent videos were not getting enough exposure, has over the past few years organised club nights dedicated almost exclusively to left-field music videos and the best of music videos from the UK and around the world, as well as showcasing artists on the fringes of the industry, those working with tiny budgets and uncelebrated directors. The success of all of these initiatives shows clearly that there is an interested and receptive audience to be addressed here.
Funny Break Orbital dir. by Luke Losey 2001
Even more significantly, a new generation of directorial talent is breaking through from video to film, with Jonathan Glazer, Chris Cunningham and Spike Jonze leading the pack. Hopefully their presence will help more to follow. And it is not hard to spot the influence of music video's technical innovation on the big screen: Se7en, Alien 3, Natural Born Killers, Run Lola Run, Moulin Rouge, Romeo and Juliet, JFK, Julien Donkey Boy, Trainspotting – in fact most major films now contain scenes shot and edited in a music video style.
We have now reached the point where cinema should take some responsibility for this injection of vitality which it is receiving, by giving music video better access to the big screen.
Shadows Orbital dir. by Martin Goodwin 2001
The record industry is a tougher challenge. I have worked on numerous, mainly low-to-medium budget promos since 1996, and have not always enjoyed the experience. The narrow economics and even narrower vision of some video commissioners, pluggers, and A&R execs can be absolutely exasperating to anyone with creative ambitions.
Giles Thacker directed The Saint, which we made for Orbital in 1998 and which starred Ardal O'Hanlon and Roger Moore; this was the soundtrack to the feature film, and the video was a reworking to promote the single. The original idea cooked up between the film and record companies was to screen the promo ahead of the main film in the cinema – radical, eh? But we ran into major trouble when MTV gave a firm thumbs-down to the brilliant and highly distinctive approach that Giles had taken. It was, they said, "too static" and not suitable for the small screen. Our promo was dropped, and a quickie replacement made purely for MTV consumption. However The Saint, was subsequently taken on by the British Council for global distribution as a short film and won awards in the US and Australia, as well as being exhibited as a slowed-down hour-long distorted version for consumption as an art piece.
The Altogether Orbital, DVD menu pages designed by Phil Crowe, James Stone, Mill Lab 2001
That was an extreme case. But over the years of working with many different musicians and styles of music I have learned that in order to make quality, innovative music video you do need the full support of the band (there are a few out there and they know who they are), a fair wind from the record company, and enormous goodwill from colleagues who want to weave magic from sometimes impossible budgets.
I'm no expert on music industry economics, but it does seem terribly wrong that the only significant outlet for music video, despite its proven durability as a medium and its evident and growing popularity, is MTV. I know that other channels, including the terrestrials, want to find a way of screening more music, but they have been very slow on the uptake. There are few single-artist promo compilations available for private purchase, and, as far as I know, even fewer multi-artist ones. I simply cannot believe that this is for want of a market. Nor can I think of another modern cultural form whose output is so massively ephemeral.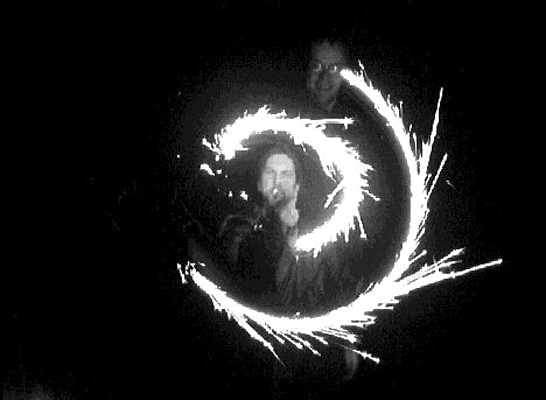 Last Thing Orbital dir. by Chris Grottick 2001
I have spent most of this year in a fascinating experiment in pushing the boundaries of music video in another direction (again with Orbital). We have just released a DVD, The Altogether, with 5.1 surround sound and a level of interactivity virtually unparalleled in this embryonic field to date. I have no doubt of the tremendous creative potential that DVD could unleash: you just need to watch the eyes light up and the brains begin to whirr when you start talking to young directors about what might be possible. Will it be allowed to flourish? Part of me thinks it will: DVD is a brilliant way of reconciling high-grade music quality with visuals, and thus, hopefully, will be able to crack the "private consumption" market in a way that video alone probably never could.
The other, more cynical part of me thinks the music industry will never be persuaded to make the necessary investment to unleash even a fraction of the interactive potential of the new medium. I don't know where it goes from here, but one thing I am sure of. We are going to spend the next ten years arguing about whether DVD is really art or just souped-up video gaming. Sounds familiar?
---
Tracy Bass has a background in design and documentary filmmaking. She has been working as a producer/director since 1994 and zigzags between making TV documentaries, teaching and the wilder shores of high-tech multi-media experimentation.