Crisis Response: Views from Underground Zero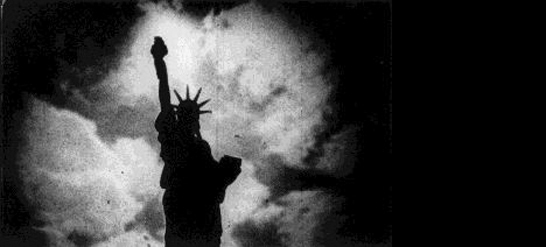 Prayer, dir. by Jay Rosenblatt, 2002
There are dissenting images, as well as questioning voices, in the US post 9/11, as a remarkable programme of artists' films shows

For San Francisco filmmakers Jay Rosenblatt and Caveh Zahedi, the curation of a series of filmic responses to the events of September 11 couldn't have come personally at a more inopportune moment. At the time, the long-term friends and collaborators were engaged on solo projects that had taken many years to bring to fruition. However, in the aftermath of the WTC collapse, they decided to try and remedy the growing powerlessness they were feeling by organising a collective film project that would respond with a plurality of voices to the monotone dominating political discourse in the US. As American bombs began falling on Afghanistan, an e-mail was put out to a hundred independent and experimental filmmakers across the country asking for a 1-10 minute short film or video for possible inclusion in an omnibus work.
Over sixty filmmakers contributed. Rosenblatt and Zahedi then compiled two discreet programmes, and made their selections based primarily on how well individual titles played in sequence. In this sense, Underground Zero is more a narrative argument than a compilation of short films which happen to share a sourcing impetus.
The World is a Classroom, dir. by Caveh Zahedi, 2002
First presented in San Francisco this February, lead Programme One's thirteen shorts mix experimental essays, verite docs and meditative film poems. Significantly, several filmmakers have managed to utilize previously unused footage to extraordinary effect, the most striking example being in Robert Edwards' The Voice of the Prophet. Made up of extracts from a 1998 interview with career soldier Rick Rescorla, it's disturbing and prescient, quite unsettling in its presence. For several minutes Rescorla describes his dubious career in Africa and Asia before warning that the next great military challenge will come not from any kind of conventional warfare but from terrorism. He even unexpectedly admonishes those in Washington who are, "supporting dictators for the thought of economic stability so that our foreign and domestic corporations can do business." He then offers the parting observation that "things will come home to roost". The irony, revealed in the film's final title card, is that Rescorla was in charge of security for a large corporation at the WTC and was killed in the attacks.
In addition to curating, Rosenblatt and Zahedi each contributed pieces. Rosenblatt's Prayer – which, in his trademark style, deftly juxtaposes 1950's-era Middle East travelogues of Arabs at worship with American duck-and-cover educational footage, and scored to Rimsky-Korsakov's Scheherezade – is a haunting exploration of shared humanity beneath outward difference. The Iranian-American Zahedi, best known for personally exploratory video diaries, offers The World is a Classroom. Begun as an essay project about teaching, it quickly metamorphosed into a film on world events and individual responses. In it, Zahedi confesses to a surprised class that, as an activist in college, he had briefly considered a career in environmental terrorism. "What saved me from that path was art'', he declares.
Prayer, dir. by Jay Rosenblatt, 2002
However, perhaps the work most indicative of the overall tone is Ira Sachs' silent eight-minute Untitled. Sachs sequences hundreds of faces taken from missing posters in the immediate vicinity of Ground Zero. Most telling in these family snapshots are those faces crossed-out – that is, the living – to clarify for the rescue workers whom they need to find.
Like its two now illustrious omnibus film predecessors, Far From Vietnam (1967) and Germany in Autumn (1978), it is possible that Underground Zero will occupy a similar role in relation to the current crisis. Both a committed act of witness and an (inevitable) historical document, it's a compelling work, timely and considered, that flinches neither from subtle, systemic analysis nor empathy with all the innocent, of whatever origin, caught up in the ongoing 'war on terror'.
---
Underground Zero will have its British Premiere at London's ICA Cinema in August 2002, followed by selective national exhibition. It will also be shown on HBO and the Sundance Channel on September 11. For tour screening details, please contact Gareth Evans, gareth@drifting.demon.co.uk.
Thomas Logoreci lives and works in San Francisco.