The Hills Are Alive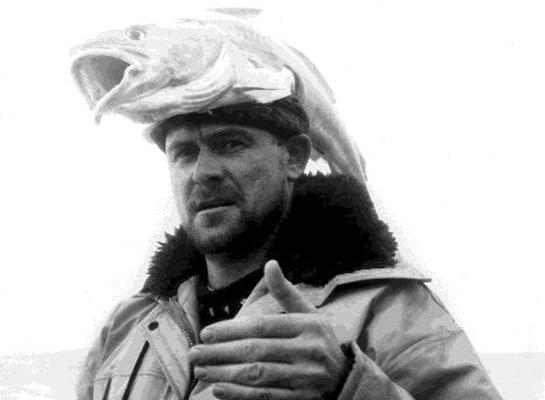 Gallivant, 1997
Visionary Landscape is a primary territory of imaginative film-making

Visionary Landscape was a themed weekend event featuring film and video, music, performance, art installations and talks curated by William Fowler and Lux staff, which played over three days in May this year. The declared aim was to bring together diverse voices and perspectives on representations of English landscape and folk culture and to that end a huge variety of works by the likes of Andrew Kötting, David Rudkin, Adam Chodzko, Derek Jarman, Patrick Keiller and Tacita Dean, among many others, were selected for presentation at Cecil Sharp House, a large, rambling building in Camden dedicated to the preservation of English traditional music and dance in all its manifestations, a place which appears to function as the repository of British folk memory.
The word visionary is often loosely bandied around, trailing high romantic associations – Blakean mysticism, the Wordsworthian sublime, a transcendent communion with nature effecting a quasi-religious transfiguration. It's certainly a loaded concept, which can incite suspicion nowadays by virtue of its overuse. However, in the course of the weekend three works stood out as central if one is seeking some understanding of what the term might mean to us now in the context of work about landscape – Penda's Fen (1974, directed by Alan Clarke and written by David Rudkin), Winstanley (1975, directed by Kevin Brownlow and Andrew Mollo) and Gallivant (1996, directed by Andrew Kötting), the latter represented as an installation.
Each of these writers and directors engages with landscape in very different ways but common to all is a recognition of how landscape interacts with and shapes personal and group identities, as well as the idea that landscape is never a static entity but rather a shifting construct, one which, like the past itself, is always contested, layered, ideologically charged and dynamic. Each of these filmmakers would be very firmly set against nostalgic reaffirmations of what Mark E. Smith once provocatively coined Britain's 'spastic heritage' (English Scheme, The Fall, 1980); rather, they are concerned to reveal hidden meanings, alternative visions and versions of the British landscape through acts of retrieval, drawing on folklore, ancient histories and myth. Alongside all that, however, landscape remains a phenomenon, which can still be apprehended emotionally, aesthetically and sensuously in their work.
I would suggest Kevin Brownlow and Andrew Mollo's Winstanley (1975) as a bedrock film apropos the event's principal theme. Set just after the English Civil War, it chronicles the little-known trials of Gerald Winstanley and the Diggers, a radical movement advocating common ownership of the land and other proto-socialist views. The film shows Winstanley and his followers setting up a commune at St. George's Hill in Surrey and their attempts to work the land there, until their eventual violent dispersal. It's worth noting that the film is set at a time when the notion of landscape still referred to the world of work and the division of land, before aesthetic categories had supplanted these meanings in the popular imagination. In that respect it's more directly and explicitly about the operations of power in and on the landscape than the other films shown; it's concerned with who actually owns and appropriates the land, and how landscape must be understood in relation to those complex historical and political processes which act upon it.
Winstanley, 1976
Winstanley and his followers are forced to live almost as outlaws, struggling to survive in woods outside town limits, hinting strongly at the Robin Hood myth of the greenwood refuge and offering a thematic parallel as well to those filmmakers and artists such as Brownlow, Kötting and Rudkin who have tended to operate outside regular commercial channels. Winstanley here is by and large a sympathetic figure; in its depiction of his quasi-mystic-religious vision of common ownership and community, the film itself becomes visionary to the extent that we are shown the latent political and social possibilities in the landscape (and how they are usually quashed by authority). The film is strikingly shot, deeply rooted in the sodden earth and open to all weathers; in its depiction of the protagonists' elemental struggle with the land, its sheer physicality and its parable-like qualities, it calls to mind Kötting's This Filthy Earth. It was a pleasure to witness such a key British film re-presented, a real lost treasure, and the entertaining insights furnished by Miles Halliwell (who played Winstanley) were an added bonus.
Winstanley was effectively self-made over years, whereas Alan Clarke's Penda's Fen was written by playwright David Rudkin for the BBC's late-lamented 'Play For Today' strand; it aired just once in 1975 and again on Channel 4 in 1989. Owing to its unavailability it has assumed the status of a lost masterpiece, thus the curators are heartily to be thanked for providing a chance finally to see what all the fuss is about. It didn't disappoint. The film immerses the viewer in a complex, layered exploration of place and personal identity via protagonist teenager Stephen's rites-of-passage, a personality-deconstructing journey he undertakes through a psychically-charged landscape in which visions can and do occur. Character and landscape are inextricably and mysteriously linked, with insights into the ancient histories of the potent, dissonant landscape emerging through Stephen's predicaments, through his psychic collapse and rebirth. Like Winstanley, the film is firmly rooted in the topography of an actual place, the area around Malvern and Bredon Hill (see the article by David Rudkin following and www.davidrudkin.com)… It's a visionary work if we take that to mean seeing beyond the landscape's surface to the buried strata of history and meaning, and the possibilities for personal reinvention and national renewal they can offer to those prepared to do so. The sooner this key work is released on DVD the better.
Andrew Kötting's films are fortunately more readily available to us; his explorations of subjective perceptions and the transformations they enact on everyday landscapes made perfect sense in this company. His three shorts shown during the weekend – Jaunt, Klipperty Klopp and Gallivant Pilot – dug deep into Britain's folk memories, unearthing ancient traditions, rituals and seasonal festivals, presented in a tone that was amused and light-hearted but never patronising. The visionary elements of Kötting's work are firmly rooted in soil and dirt, often framed in carnivalesque, celebratory settings; and his progressive awareness of the layering of the landscape and history always emerges through the observations and experiences of local people, binding them into their 'place'. Particularly in a film like Gallivant there's a relish of the picturesque and even kitsch qualities of the landscape and an intoxicated pleasure in the variety of means of representing it. Most importantly perhaps, there's a democratising impulse in that film which insists on a plurality of voices and stories, preventing any single point of view prevailing over the others.
Cecil Sharp House was the ideal location for these celluloid siftings and re-imaginings of the British landscape and psyche – in fact the venue played a significant role in making this such a memorable weekend for the engaged audiences who attended. Hopefully this event signals the advent of similar themed gatherings, but more pertinently perhaps it demonstrates that alternative, apposite exhibition spaces can be found to screen overlooked or marginalised works currently languishing in archives. In the present climate such excavations are every bit as crucial as those undertaken by the filmmakers and writers examined here.
---
More on the season can be found at www.lux.org.uk
Kieron Corless writes for Time Out London.