The Feeling of a Story
Anna Sanders
Anna Sanders Films paint portraits of place that dwell on the threshold between cinema and the gallery

Anna Sanders is defined by her status as a film producer, registered with the National Centre for Cinematography in Paris, and by the films she produces. She is a company brought together by Pierre Huyghe, Dominique Gonzalez-Foerster, Charles de Meaux, Philippe Parreno, Xavier Douroux and Frank Guatherot, all converging around one question, a common desire: how to make the portrait of a landscape as one would make the portrait of a person?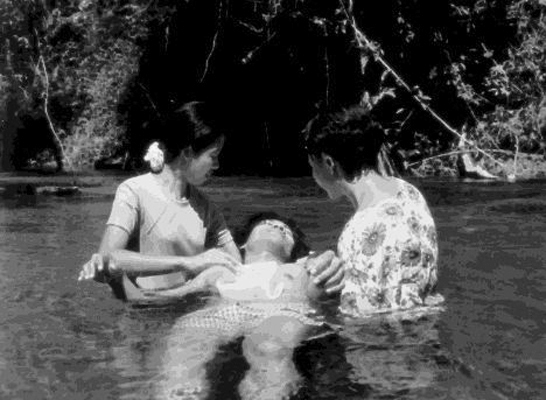 Blissfully Yours, 2002
Anna Sanders is first and foremost a journey into two realities: the economy of cinema and the landscape of contemporary art; landscapes encountered from many different journeys, yet not as films of those journeys but as journeys into those films. For example, Dominique Gonzalez-Foerster, in her short film Riyo takes us on a trip from Kyoto to, in a wonderful semantic twist, the cinematic understanding of travelling; in Plages, to the beach of Copacabana through a story that does not know what object is to be defined as, according to a local fisherman, Copacabana may simply not exist; or from a Hong Kong ferry terminal in Central to the history of cinema through a visual and semantic analogy with Stanley Kubrick's 2001: a Space Odyssey.
With le pont du trieur ('the sorter's bridge'), Charles de Meaux and Philippe Parreno broadcast a radio programme on Pamir, gradually leaving the documentary stance to take us to this region on the border of Afghanistan and China, a place from which we were deprived of images. De Meaux, in a journey of amnesiac rediscovery in Shimkent Hotel, returns to this region, moving through Uzbekistan, Kazakhstan, Tadjikistan and Kirghizstan, a large bloc of four countries artificially divided by Stalin, a reality directly confronted with fiction.
Block Party, 2005
The economy embedded in Anna Sanders reflects the long history that predates her, as a clear parallel can be seen with both the Zanzibar (see Vertigo 3) and the 'Dziga Vertov' groups (Jean-Luc Godard, Jean-Pierre Gorin, Gerard Martin and Armand Marco). El Sueno de una Cosa, a one-minute film by Philippe Parreno, shot in Iceland, is symptomatic of Anna Sanders in its use of the economy of cinema. Intended for insertion between the commercials that precede a feature screening, the film loses its reality by introducing an element of beauty and fiction into the elements that are intended to reflect reality in the cinematic context.
Considering the structural aspect of film – unpicking its main components with a sensual understanding, stating the desire that is at the core of such an approach to filmmaking, Liam Gillick was invited to conceive the title card for Anna Sanders Films, its visual identity. Gillick and artist Sean Dack follow an anonymous young woman walking through the street of New York, as she turns and winks at the camera. Re-enacting the pattern inherent in the history of production companies, in both mimicking and referencing what led Anna Sanders to become a film producer, the clip offers a plot that explores the relationship between an artist, a group of artists, a production company and its incarnation as a virtual character.
Le pont du trieur, 2000
Anna Sanders lies somewhere in-between; in-between economies, realities, dreams, fictions, cinemas. In Shimkent Hotel, through a pure disassociation between the object filmed and the object film, Charles de Meaux, in casting five actors emblematic of the French cinema of the 1990s, establishes a distance whose reality lies in the reality of the actors and their ultimate displacement into an other environment. For de Meaux, "in this film, it is not the fiction as such that is interesting, it is the context that it denounces."
Le pont du trieur and Shimkent Hotel become negatives of each other. The former is a film which gives an image to a place, whose sole existence previously (for a majority in Europe and elsewhere, at least) was as a mental image, through the mechanism enabled by the format of the radio programme; and this is superimposed with Shimkent Hotel, which broadcasts the fiction of a film, offering an image, whereas its reality lies in the schism between the reality of the actors and the location, belonging to the common mental landscape that is the post-Soviet era. Taking the length of a moment, the films of Anna Sanders do not focus on documenting that very moment, but offer a temporal dislocation, making the film become that moment; in other words, films of a moment in time and not films on a moment in time.
---
Mathieu Copeland is an artist and curator based in London. Recent publications include Anna Sanders Films – the In-between, with texts by Chris Darke, Xavier Douroux, Agnieszka Kurant and Tom Morton. For further details, info@forma.org.uk