Citadel of Good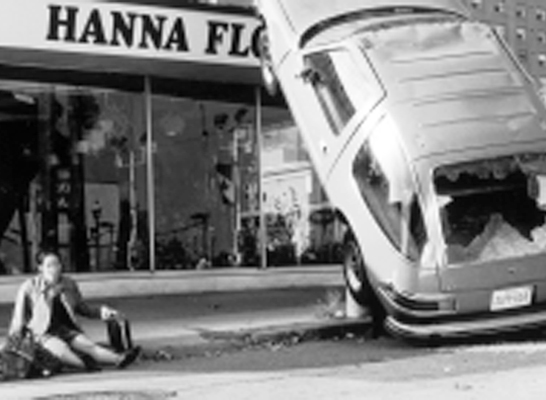 Last Night, 1998
The Canadian Film Industry must look to nurture passionate, personal projects again

Atom Egoyan completed two feature-length works this year. Where The Truth Lies is a $24 million production starring Kevin Bacon, Colin Firth and Alison Lohman. It premiered in competition at Cannes and will launch theatrically this autumn with massive commercial expectations. Citadel is a microbudget digital video diary shot in Lebanon with Egoyan's wife, Arsinée Khanjian. It premiered at Camera Media Gallery, the 52-seat cinema Egoyan co-owns in Toronto's art district.
Where The Truth Lies debuted to respectful but tepid reviews from the world's film press. Citadel has scarcely been reviewed at all, apart from a brief local rave from this writer. Both films are superbly crafted, but one feels urgent and alive, and the other does not. Sadly, it's that film that needs to earn back millions.
Not for the first time, Egoyan finds himself symbolizing the fate of Canada's film industry. Both auteur and businessman, he straddles the current crises of confidence, taste and dollars. In the past five years the English-Canadian film industry has burrowed itself into a pit. Scripts have been inert, films airless and international success for the most part non-existent. At the same time, Quebec's filmmakers have charged ahead, winning the bulk of the prizes at the Genies, Canada's film awards. Since 2000, Quebec has won three of the five Best Film Genies handed out. They went to Denis Villeneuve's Maelstrom, Denys Arcand's The Barbarian Invasions and the Quebec coproduction The Triplettes of Belleville. The fourth film in that list was Zacharias Kunuk's Inuktitut-language saga Atanarjuat: The Fast Runner. The fifth was Egoyan's Ararat.
Quebec's film industry, like much of its culture, functions as a national enterprise separate from English-Canada. It has its own star system, its own lineage of auteurs and its own pot of money, a funding organization called SODEC. It's doing fine. But for nearly a decade the rest of the country has been producing films that are largely unloved at home and unwanted abroad.
The so-called Toronto New Wave of the 1980s and early '90s (Egoyan, Bruce McDonald, Patricia Rozema, Don McKellar, Peter Mettler) could be considered officially over by the time McKellar made his first feature, Last Night, in 1998. The flare-up of Winnipeg Film Group weirdness in the late '80s looked like a broad movement at the time, but can now be seen to have produced only one consistent filmmaker, Guy Maddin. The output from Vancouver showed promise in the late '90s, but has been patchy. Lynne Stopkewich's Kissed and Bruce Sweeney's Dirty look more and more like anomalies.
One could argue that ours has always been a cinema of anomalies. Our population is too small ever to support lasting movements or consistent careers. And yet, the numbers have grown too large to suggest that Canadian cinema is any kind of cottage industry. In 1995, programmers at the Toronto International Film Festival looked at roughly 80 Canadian feature films to select about 20. In 2002, they looked at 156. By 2005, feature film submissions had swelled to 220, but programmers were still selecting about 20. Because the Toronto festival serves as the key arbiter for Canadian cinema, 200 feature films will languish in the wilderness this year, perhaps rightly so. The fact is that Canadian production is at an all-time high, but only in numbers. These films are not finding audiences. Why not?
It may be the Egoyan straddle. On the one hand, many of these films are commercial efforts made under disastrous policy dictates from the national film financing body, Telefilm Canada, and the many regional bureaucracies that follow it. Ordered to lift the percentage of screen time claimed by English-Canadian films from its embarrassing level below 2%, Telefilm pushed filmmakers to tell more audience-friendly stories. The result was films like Men With Brooms, an awkward comedy about curling, and the road trip movie Going The Distance, a hormone comedy that managed to lack both.
A recent change of leadership at Telefilm promises to return to earlier support for strong, innovative directors, but there is still at least one more year's output to work through the system. At the same time, the Telefilm model continues to bog filmmakers down in a long, uncertain development process tied to the commercial imperatives of distributors, exhibitors and the broadcasters.
On the other side of the divide stand scores of digital video features made on tiny budgets culled from arts councils or credit cards. These films are often just as enslaved by commercial genres as their better-funded cousins, though remarkable personal visions do occasionally emerge.
But it may be that observers are looking in the wrong place. Apart from David Cronenberg, Atom Egoyan and a precious few others, English Canadian feature films continue to feel bound by limited imaginations, low dramatic stakes and modest ambitions. The problem is not money. The problem is an audacity deficit. But that deficit dissolves when it comes to shorts and documentaries.
Films like The Corporation, and shorts by Chris Landreth, Semi Chellas, Sarah Polley, deco dawson and Robert Kennedy, to name only a few, retain the aesthetic invention and sheer passion so frequently lacking in fiction features.
Canadian cinema has become a stable, successful industry employing thousands, but it has forgotten how to seek out, support and reward the small, passionate projects that have always been the pillars in our film history and our international reputation. As always, we need less Where The Truth Lies and more Citadel.
---
Cameron Bailey works as a film critic in Toronto. He programmes for the Toronto International Film Festival.