Quebec Cinema 2005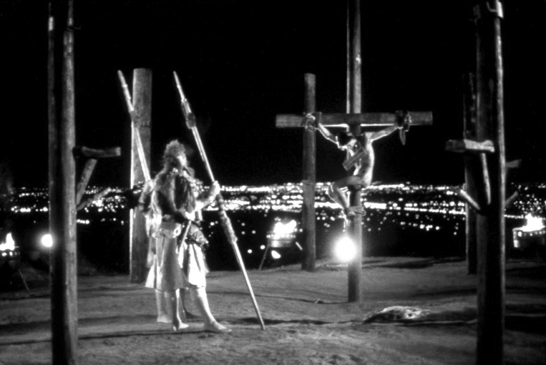 Jesus of Montreal, 1989
Reflections on a complex territory

Quebec cinema is currently on a roll. For the third consecutive year, domestic box-office share for Quebec films will exceed 12%, having reached 13.8% in 2004. Even the figure of 8.8% in 2002 represented a then summit, far above the average 3.8% that obtained during the 1990s. When numbers of tickets sold per projection are taken into account, films made in Quebec surpass those from Hollywood by 38.4 to 31.0. In July 2005, the blockbusters The Fantastic Four and War of the Worlds were beaten on their opening weekend by a home-grown melodrama about child abuse, Aurore (dir. Luc Dionne). 27 feature-length films destined for theatrical release were produced in Quebec in 2003.
This is a remarkable feat considering that Canada as a whole is treated by the Hollywood majors as part of the domestic market, and that this territory and market of seven million people is considered not even to be a distinct national space by English Canada and indeed much film journalism and scholarship. The domestic box office share for Quebec films now exceeds that for the national cinemas of Australia (3.5%) and the UK (10.2%), but falls short, it is true, of comparable spaces such as Denmark (26%) and Sweden (19.9%), as well as the incomparable France (34.7%; these are 2003 figures).
The reasons for the current euphoria lie in long and short term factors: the long-established history of film making in Quebec and particularly Montreal, the existence of a financial and industrial infrastructure, and the momentum created by popular and critical successes of the past few years. Recent major Quebec films have run the gamut from the eminently exportable to the frankly inexportable, and raise intriguing questions as to the relations between national / global audiovisual cultures.
The move to Montreal from Ottawa of the National Film Board of Canada in 1956 not only brought greater numbers of francophone creative personnel into filmmaking, it also coincided with an increasing contestation of the clerical-nationalist dominance of cultural and political life in the province. The election of a new Liberal government in Quebec in 1960 began a period of secularisation and modernisation, of an alignment of Quebec on to North American norms of capital accumulation and consumerism, led by massive state intervention in education, infrastructure and culture. The emergence of a fully fledged Quebec cinema, initially marked by the 'direct cinema' of new NFB documentary filmmaking, coincides with this period, known as the Quiet Revolution, which massively increased the francophone middle class and laid the grounds for a significant francophone business and entrepreneurial elite.
It also set the stage for the key political confrontations of the following decades between modernisers who saw Canadian federalism as the right context for furthering and completing the Quiet Revolution (Pierre Elliott Trudeau, Prime Minister of Canada 1968-79 and 1980-84), and those who saw its natural completion in the creation of a sovereign Quebec (the Parti Québécois governments organised and lost referendums on this topic in 1980 and 1995).
Denys Arcand, probably Quebec's best known film director - following the Oscar for best foreign language film in 2004 and widespread international distribution for Les Invasions Barbares / The Barbarian Invasions - cannot be understood without reference to this key Quiet Revolution narrative. Born in 1941, Arcand began making documentaries at the NFB in the 1960s, on historical topics such as the foundation of Montreal. Close to nationalist and socialist thought of the period, Arcand nonetheless tended to combine social commitment (his 1970 feature-length documentary on the textile industry, On Est au Coton, was banned from distribution for several years by the NFB) with the ironic counterpoint of a historicising longue durée: Trudeau's success in frightening Quebec voters away from sovereignty is analysed in the 1981 documentary Le Confort et l'Indifférence / Comfort and Indifference by an actor playing Machiavelli.
It is disillusion with that result, and with the fruits of the Quiet Revolution, which form the basis of Arcand's breakthrough fictional feature film, Le Déclin de l'Empire Américain / The Decline of the American Empire (1986), which uses references to the Roman Empire to satirise the material and sensual gratifications, and social and political emptiness, of middle-class individualism.
This and Jésus de Montréal (1989) came to represent a kind of holy grail for the Quebec film industry: a cinema that was both lucrative (Le Déclin, for example, took four times as much at the difficult to crack French box-office than the next most successful Quebec film ever, helped by the comprehensible, 'international' French spoken by its academic protagonists, and by its sexual theme) and culturally prestigious.
This is an elusive prize: Arcand's career was in the doldrums in the 1990s. Les Invasions Barbares represents a return to a highly successful mix of, or balance between, the local and global, the particular and the general.
Following the same characters from Le Déclin 18 years later, it traces a terminal illness narrative through a father-son relationship, and along the way manages to dovetail very specific Quebec references (the perennial and recurring father-son dyad, the actors, the decline of the Catholic Church, the state of the health service) with comments on 'western civilisation' (footage of the 9/11 attacks, the son's career as a London share dealer).
The other eminently exportable Quebec auteur of the contemporary period is Robert Lepage. Born in 1957, he is somewhat more at ease than Arcand with the consequences of globalisation and the possibilities for cultural hybridity it brings. By 1995 and his first feature, he was already a well-established theatre director with an international career, making extensive use of multimedia, video screens, and translation in his productions.
Le Confessionnal / The Confessional travels back and forth between 1952 (when Alfred Hitchcock came to Quebec City to shoot I Confess and when Quebec was still langouring in pre-1960 clericalism) and 1989, unravelling a family mystery and tragedy in ways which confidently juxtapose the local (Quebec City, a much smaller and less cosmopolitan urban space than Montreal) and the global (Japan and a whole world of difference). Le Confessionnal's status as co-production illustrates the material shaping of some aspects of Quebec cinema, with a roster that included the UK's Channel Four.
The Barbarian Invasions, 2003
Lepage's fifth film, an adaptation of his one-man theatre production La Face Cachée de la Lune / The Far Side of the Moon (2003) has recently illustrated another aspect of that economy. Film production in Quebec (and in the rest of Canada) is dependent on public finance. An average fictional feature produced in Quebec receives investments amounting to 11.3% of its total budget from SODEC (Société de développement des entreprises culturelles), 16.8% from the Quebec government's tax credit scheme, and 27.7% from Telefilm Canada. In this case the absence of funding from the latter, federal, agency meant that the price for distribution was too high for markets such as the UK. To date, La Face Cachée de la Lune's only screening in London has been, slightly inappropriately, at the 2005 Lesbian and Gay FF.
For the period 2001-3, Les Invasions Barbares ranked tenth at the Quebec box office. However, three Quebec feature films were ahead of it, and they represent a different cinematic world from the auteurism associated with Arcand and Lepage (Harry Potter and the Philosopher's Stone was number one, and the other non-Quebec films in the top ten were all part of the Harry Potter, Lord of the Rings, or Spider-Man franchises). Popular Quebec cinema means the costume or heritage film, or else comedy.
Séraphin – Un Homme et Son Péché / Séraphin – a Heart of Stone (Charles Binamé, 2001) is set in rural Quebec, more precisely in an area north of Montreal which is being settled for agriculture for the first time by French-Canadians, at the turn of the nineteenth and twentieth centuries. Séraphin is the mayor of this community, manipulating the other characters through usury. He obliges a local shopkeeper to hand over his teenage daughter in marriage, which puts paid to her affair with the local hunk (played by Roy Dupuis, best known internationally for his role in the TV series Nikita, based on the Luc Besson film), and the whole business ends tragically.
The story has a long pedigree in Quebec culture, first as a novel and then as two feature films in 1949-50 which form part of a brief period of 'French-Canadian' as opposed to 'Quebec' filmmaking, when, at the height of cinema-going before television, fictional features were produced which are mostly to be characterised as Catholic melodramas. (Aurore is also a remake of perhaps the most famous film of this period, La Petite Aurore l'Enfant Martyre, dir. Jean-Yves Bigras, 1951).
The meanings these films provide for post-Quiet Revolution audiences are complex: the national 'we' as origin, but also as difference, across the chasm of educational and social transformation that has since intervened. Descriptions of Séraphin as 'Quebec's Titanic' suggest not only the box-office but also a reference to a heterosexual romance which is prevented by the non-(post)modernity of the past, the difference being that the mobile, international space of the transatlantic liner is here replaced by a mythical national past largely incomprehensible to non-Québécois audiences. These big-budget heritage films also have their place in Quebec film historiography.
Arguably inaugurated by lush 1970s art house productions such as Claude Jutra's Kamouraska (1971) and Jean Beaudin's J.A. Martin photographe (1975), they were further impelled by expensive co-productions directed by Gilles Carle in the early 1980s based on famous literary source material and/or radio and television programmes from the 1950s and 1960s: Les Plouffe (1981) and Maria Chapdelaine (1983). Then in the 1990s Radio Canada (SRC), the francophone branch of the Canadian Broadcasting Corporation, developed a successful and sustained formula of big-budget, prime time serial fictions or téléromans.
For while Quebec cinema has only recently managed to attain consistently high audience figures, Quebec television has since its inception been highly popular. Much more at ease with televisual culture than the French, the Québécois watch domestically produced fiction in massive numbers, single programmes sometimes attaining half the audience (3.7 million for Les Filles de Caleb on 31 January 1991), unlike their English Canadian counterparts, who for 98% of their fiction viewing tend to watch the American networks.
This osmosis between film and television in Quebec is to some extent the trump card, as it has developed a mass, 'national' audiovisual sensibility with its concomitant modes of recognition of places, faces, voices, storylines. Indeed, one of this year's top comedy successes has been a satire of Pop Idol / Star Academy reality TV, Idole instantanée, directed by Yves Desgagnés, with the comedienne Claudine Mercier, her talents honed on Quebec's extensive comedy circuit including of course Montreal's annual Just for Laughs festival, playing the role of four different contestants.
The most successful Quebec film of the first half of the 1990s, Louis 19 le roi des ondes (Michel Poulette, 1994), was also a satire of reality TV, and was remade in Hollywood by Ron Howard as EdTV (1999). The eighth top box office success in Quebec in 2001-3 was Les Boys III (dir. Louis Saïa), the latest instalment of a series that began in 1997 and was at that time placed second only to James Cameron's Titanic at the box office. These are comedies about an amateur ice hockey team, whose manager is played by Rémy Girard, who starred in Les Invasions Barbares.
The films emphasise the struggles and conflicts faced by a homosocial group, ending in euphoria as narratives of hockey match and life end happily, a diegetic audience underlining the modes of participation central to popular culture. Some social differences are eradicated through team unanimity (the gay lawyer character scores the winning goal in the first film), performance and 'winning' are what count, women tend to be marginalised.
The Far Side of the Moon, 2003
The films trace through avoidance the consequences for an older culture of the 'new' (individualism, post-industrialism, gender instability), with the world outside left behind in favour of a utopian scene of success read in communal terms, with a masculinity under siege reasserted via the most minor of adjustments: an upward trajectory for masculinity and its changed contexts, to be contrasted with the downward trajectory of a film like The Full Monty.
Les Boys II (1998) took the team to France. Despite the fact that much Quebec comedy is based on mocking the French, the film was given a wide release there, with predictably negative results. Not only is comedy the most difficult genre to export, French audiences tend to be resistant to dialogue overly marked by Québécois dialect (far less accustomed as they are than British audiences to American accents after 80 years of Hollywood sound cinema). One solution to this transatlantic francophone divide has been the co-produced heritage film spoken in international French by an international cast. Nouvelle France (Jean Beaudin, 2004), a big-budget ($30 million, enormous for Quebec) melodrama and love story set before and after the British Conquest of 1759, with Gérard Depardieu in the cast, was released on 92 screens in France in July 2005, but met with universal indifference there, averaging five spectators per projection in its first week.
However, the film at number seven in the Quebec box office rankings for 2001-3, La Grande Séduction / Seducing Dr Lewis (Jean-François Pouliot, 2003), has proven to be eminently exportable, and a comedy at that. Set in a remote coastal community on the north shore of the St Lawrence, it recounts the efforts by the villagers to ensure the installation of a plastics factory in the vicinity, for which they need to have a doctor in residence. They thus set about 'seducing' a doctor from Montreal, attempting to make him feel at home in a clash of rural and urban manners. What seems to be a rather conservative film, locking into a strand of Quebec culture that emphasises the (ever so slightly 'English') evils of the city, has in fact found audiences in surprising places: its first export was to South Korea, appreciating the relation between local and global culture the film articulates.
The most successful film of 2005 both critically and commercially has been C.R.A.Z.Y (dir. Jean-Marc Vallée). Combining social comedy and family saga, it traces the itinerary of Zac, a young man born into a working-class Montreal family in the crucial year 1960. As he traverses the next 25 years (with a brief coda set in his 40s), the film becomes a kind of primer for understanding post-Quiet Revolution Quebec, not in relation to public events (Expo '67 and the PQ election victory of 1976 are briefly glimpsed on the TV screen) but in terms of familial, affective and sexual relations and the secularisation of society (what Anthony Giddens calls 'the transformation of intimacy').
Zac's slow awakening to homosexuality, a topic frequently used in Quebec culture as a touchstone for modernisation and the distance travelled since the 1950s, is played out no less typically in the relation with his father (played by Michel Côté, one of Quebec's best known actors), and, more inventively, through popular music: the film's title refers (as well as to the names of the five brothers) to the father's affection for Patsy Cline, and Zac's life and sense of self are negotiated via David Bowie and others (in his bedroom he performs a memorable rendition, like a prayer, of Space Oddity).
It will be interesting to see whether the current euphoria in film circles in Canada and Quebec is sustained over the next few years, dependent as it is on one or two films per year really taking off in the domestic and international markets. Recent successes to an extent ratchet up the pressure on filmmakers to deliver a significant return, if not profit, on the majority public investment that is made. Filmmaking costs in Montreal remain high, partly as a result of the city's success in the 'Hollywood North' phenomenon of attracting American filmmaking: some of the infrastructure and personnel is beyond the financial reach of local filmmakers.
The average budget for a Quebec feature is less than $2 million, clearly a fraction of Hollywood budgets for both production and the crucial activity of promotion. Interesting directors such as Manon Briand (La Turbulence des Fluides, 2002), Denis Chouinard (L'Ange de Goudron, 2001, one of the few recent films to deal with the multicultural reality of Quebec), André Turpin (Un Crabe dans la Tête, 2001), Denis Villeneuve (Maelström, 2000), and even Léa Pool (whose last two films have been made in English), struggle to get films made.
And in many countries the undeveloped or marginal fraction of the market for non-domestic and non-Hollywood films is overcrowded and difficult to penetrate (nowhere more true than for the place of Quebec films in France). The truly national – and therefore contradictory – status of Quebec cinema is implicated in the meanings of its film texts, the shifting interface between the exportable and the inexportable, and the vagaries of its production and place within the world film industry.
---
Bill Marshall is Professor of Modern French Studies at the University of Glasgow and the author of Quebec National Cinema (McGill – Queen's University Press).