Hello Fruitfulness
The Piano Tuner of Earthquakes, 2005
The days of DVD are numbered, they tell us – but these are glorious times for the format, and for cinephiles

Noticed the evenings drawing in? We're now, according to the sky-watchers at Masters of Cinema (www.mastersofcinema.org), into the 'golden autumn of the DVD format'. The Masters' interpretation of the signs is offered merely as a passing remark – in the tailpiece to an announcement of two new titles from Second Run, of which more later – and meant to be upbeat, but it sets off a premonitory shiver all the same: it has the ring of a use-by date, or a fog alert. There are new vids on the block, BluRay and HD-DVD, competing formats laden with expectation and expense; yet even these are given but a short time to live by the pundits who predict we'll download all our films from the internet in just a few years.
This isn't the place to weigh the likelihood of such developments, nor to imagine what they might mean for film literacy and watching habits generally; suffice to suggest that there's a lot to be said for a self-contained home video format that isn't reliant on a data link to the outside world. Besides, good old DVD has several other things going for it that ought to extend the format's useful life for some while yet not least the tactile pleasure to be had from a well packaged box set or special edition. As an example, take the inaugural release on the new ECM Cinema label (www.ecmrecords.com), a disc of four hitherto unavailable shorts by Jean-Luc Godard and Anne-Marie Miéville. With Four Short Films, the liner notes have taken over the box: the disc comes clipped to the inside back cover of an elegant hardback book. Its crisp pages provide the full texts of the films' narration, in the original French and in English (there are English subtitles on the disc, too, though not always there when they're needed), in addition to a short essay by German writer Michael Althen and 70 colour stills from the films. It's reason enough to be thankful that these dense, allusive, provocative and gently sorrowful film essays – De l'Origine du XXIe Siècle, The Old Place (discussed in Vertigo's summer issue as a foretaste of Godard's exhibition at the Centre Pompidou in Paris), Liberté et Patrie and Je vous salue, Sarajevo – are now in digital circulation; but to have them presented in such an attractive package is, well, a real bonus. We await future ECM titles keenly.
The Piano Tuner of Earthquakes, 2005
We're also waiting for the long-mooted four-disc set of Godard's Histoire(s) du Cinéma from French label Gaumont (www.gaumont.fr). A pack shot has been visible on French mail order web sites for nearly a year, but there's still no sign of a release. It's hard not to suspect that the ever-prickly Godard might himself be holding it up – a hunch that seems more plausible after the shipwreck of his exhibition at the Pompidou, a widely chronicled debacle of fallings-out, changes of tack and shrivelling of scope. Good copy and bad press: nothing new for Godard! In the meantime, Gaumont flies the flag of high-minded cinema with a good-looking set of films by Situationism's high priest Guy Debord, released late last year on three discs with a 138-page booklet – but without, sadly, any English subtitles. Get a taste of the set's content, and Debord's proto-Godardian use of on-screen text, at www.guydebordcineaste.com. As for Histoire's), a Japanese set can be ordered via Amazon (www.amazon.co.jp); that, too, is unsubtitled.
Whether equipped for foreign markets or not, the DVD format has made an avalanche of moving pictures from all over the world available to anyone with an internet connection and a credit card; and more than that, its self-perpetuating success has been as good for 'difficult', cinema as for populist pap. At one end of the scale are the Godard shorts mentioned earlier, so unfamiliar that the IMDb listings for three of the four have only the very scantiest technical information, and no summary of content; at the other end, a small 1950s TV series called The Adventures of Champion the Wonder Horse is listed on the same site with full cast details, user comments and trivia – and it's been available on DVD (in a six-disc set on the UK's Elstree Hill Label, (www.pickwickgroup.com) for several months longer than the JLG shorts. Material that's only of interest to small groups, whether the fast-cutting or sharp-shooting variety, not only benefits from DVD but may well do a lot to keep the format going. Documentaries are a perfect case in point: since many of them don't particularly benefit from the enhanced picture and audio quality of BluRay and HD-DVD, they may well provide basic, cheap-to-produce DVDs with a extended function, especially if all new players can play the old discs.
The Piano Tuner of Earthquakes, 2005
Recent DVD doc releases in the UK have included a three-disc Nick Broomfield set called American Icons, which delivers Biggie & Tupac, Kurt & Courtney and his two films about serial killer Aileen Wuornos; the set, on the Optimum label (www.optimumreleasing.com), also finds space for a 64-page book of excerpts from Jason Wood's book on Broomfield, Documenting Icons. On the same label is The Errol Morris Collection, not as compendious a set as such a name might make one hope for – but still, with The Thin Blue Line, Gates of Heaven and Vernon, Florida (all introduced by Broomfield) a worthy addition to any home-grown cinematheque. And Tartan (www.tartanvideo.com), another regular publisher of documentary on disc, has brought out Robert Greenwald's gun-slinging Wal Mart: The High Cost of Low Price – complete with a behind-the-scenes doc about the doc.
Then there are the oldies – though in many cases these are just the sort of material that would really shine in a higher definition, film noir in particular. I mentioned various releases of Buster Keaton's silent features in the previous column, and this October, Eureka's Masters of Cinema catalogue (www.eurekavideo.co.uk/moc) will be swelled by the complete set of his short films: four discs, with commentary by film historian Joseph McBride on six, the classics Cops and The Playhouse among them. There's 12 hours of viewing in all, and the set comes with a 212-page book that examines every film in great detail, and Keaton's career as a whole. It's another of those pleasurably tactile sets, and although the transfers have been available on France's Arte label (www.arte-tv.com) since 2002, the extra extras make Eureka's release clearly the superior of the two. One last Stone Face disc, Industrial Strength Keaton from Mackinac Media (www.mackinacmedia.com), a Region 1 two-disc collection of the make-ends-meet TV ads and skits Buster did from the 1940s to the 1960s. It also includes the feature-length 1931 comedy made at the start of his Hollywood decline – 'pitiful to watch', wrote Tom Milne – Parlor, Bedroom and Bath. It's plainly a set for completists more than newcomers to Keaton's inimitable art, though it does have its moments, and it's good to know it's out there.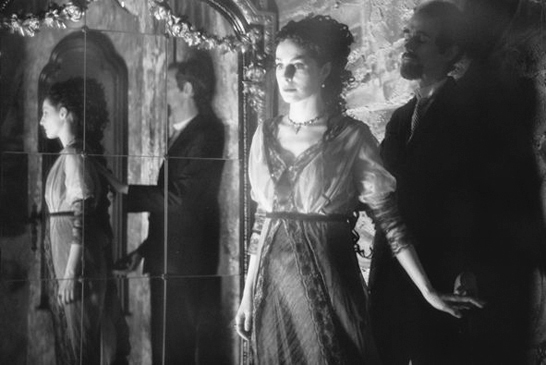 The Piano Tuner of Earthquakes, 2005
And then there's the fare from outside the English-language world, a vast domain. Another small but thoroughly commendable US label is NoShame Films (www.noshamefilms.com), whose discs are well put together and, as Region 0 encodings, playable anywhere in the world. NoShame has put out several films by the undervalued Italian director Valerio Zurlini, notably The Desert of the Tartars: 'Beau Geste meets Waiting for Godot', as the sleeve notes say. The disc is introduced by the film's DoP Luciano Tovoli (there's also a vintage interview with Giulano Gemma, one of its stars) and packaged with copious liner notes and a CD of Ennio Morricone's soundtrack. Back in the UK, Second Run (www.secondrundvd.com), mentioned above and rightfully praised in many cinephile quarters since its launch last year, continues to release forgotten and hard-to-come by films in restored and lovingly curated versions: two of the most recent are Andrzej Munk's Passenger and Aleksander Ford's Knights of the Teutonic Order, both sought-after Polish classics from the early 1960s. The former comes with a 45-minute documentary about the film and its director; each comes with useful liner notes.
The Piano Tuner of Earthquakes, 2005
And finally, there are the films that resist classification: Norman McLaren's eye-popping animation, for instance, finally given the showcase it deserves in the shape of a seven-disc set from the National Film Board of Canada (www.nfb.ca), stuffed to the brim with 58 of McLaren's films, excerpts from his writings, 15 documentaries, audio files, technical information and more; or the Quay brothers' gorgeous The Piano Tuner of Earthquakes, recently out on the UK's Artificial Eye label (www.artificial-eye.com) with a making-of doc, deleted scene and other bits and bobs. As this issue went to press, the BFI (www.bfi.org.uk) was poised to release all of the Quays' short films made between 1979 and 2003, hard on the heels of fine DVD editions of two films by another sui generis cineaste, Jacques Rivette, to wit Céline and Julie Go Boating and Paris Nous Appartient.
In the next column I aim to write about the flood of superb filmed opera – a niche interest if ever there was, and one that deserves a wider audience – on the Opus Arte label (www.opusarte.com). There's plenty to fill the lengthening evenings; here's to a long and fruitful autumn.
---
Simon Cropper is a freelance film journalist. He edited Time Out's 1000 Films to Change Your Life.