Vertigo and RePossessed
Hitchcock is more than re-examined in a striking new touring show

Surely, every film student knows by now that Hitchcock had every shot in his head before he filmed it. It is common knowledge that he obsessively storyboarded his movies, down to the last frame. Mastery is the quality habitually attributed to the director and Vertigo (1958) is frequently said to be the masterpiece of this master of suspense. Hitchcock was, as everyone knows, the fat control freak and in Vertigo we see a thinly veiled confession of his fantastic vision as the mise en scène of his desire to dominate everything in his world, especially women.
This has become such a comfortingly familiar picture of the director and of Vertigo itself that to question it borders on heresy. Yet in his splendid study Hitchcock at Work, published in 2003, Bill Krohn blows a large hole in this image. Drawing on a host of memos, shooting schedules, budgets, letters and interviews with collaborators, Krohn provides conclusive proof that the myth of the control freak was largely one of Hitchcock's own fictions. Hitchcock was a willing experimenter on set and many people contributed their vision to his films. Sadly, Krohn's book has not had anything like the impact it deserves. (Similarly, Greg Garrett's interview with several of Hitchcock's leading ladies, in which Hitchcock's alleged misogyny is vigorously disputed, remains largely unknown.)
The stereotype of Hitchcock the control freak has become entrenched because it fits the dominant ideas in our culture about artistic production. These ideas, like so much else in our society, are founded on an ideology of possessive individualism and to question them is counter-intuitive, especially in the culture industries. Even in the sphere of contemporary art practice the ideology of the individual producer/personality remains paramount. Likewise, the idea of Hitchcock as the bearer of a supremely masculine will to dominate and order the unruly feminine fits many ideas about gender, which are inscribed throughout our culture but rarely examined more critically.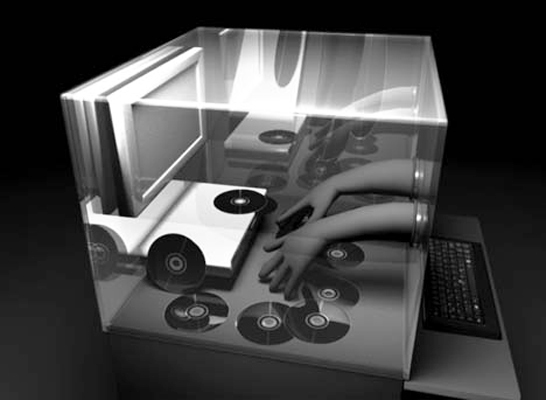 Inspired by Vertigo, RePossessed is a travelling exhibition offering the chance to re-make the film and rethink some of the central ideas behind cultural production in our society. It confronts the power relations that exist between audiences and moving image authors and it also highlights the legal superstructure that regulates the use of moving images and questions its ethical basis.
Because much of the work is interactive, the audience itself constitutes what is in the exhibition, thus calling into question the idea of the individual artist-creator. The project has been assembled by a group of researchers at London Metropolitan University. Several of the exhibits, including a DVD jukebox, showcase a new software program called ReFrame (featured in the last, electronic issue of Vertigo magazine) which makes it possible to perform operations on commercially bought films which might previously have been illegal since they require the DVD to be ripped. As in the film, surveillance and the law are themes highlighted in the exhibition through the use of smart card and eye tracking technologies.
Hitchcock's one time mentor, the producer David O. Selznick, once complained about the 'god-damned jigsaw cutting' of the director's shooting method, which meant that a film could only be edited the way Hitch wanted it. In RePossessed the audience can explore the deep structures of Vertigo, but also create endless new versions of it by re-assembling elements of the film and even re-shooting famous sequences for themselves. Popular games like Scalextric and Grand Theft Auto have been re-configured to allow the audience to navigate key moments of Vertigo's narrative in radically new ways. An exhaustive database allows the film to be broken down into tiny fragments according to their formal qualities, and re-assembled either in a kaleidoscopic image of simultaneous 'film moments' happening at once or as a new narrative. Elsewhere, short films explore the idea of gender fluidity in the representations of James Stewart's Scottie, as well as Kim Novak's Madeleine and Judy, and play on the liminal and subliminal possibilities of using digital technology to locate images that lie beyond the conventional film frame.
In Hitchcock at Work Bill Krohn argued that there is no such thing as a Hitchcock film and that each of his films should be viewed as bold and unique experiments. It is in homage to Hitchcock the experimental film-maker that RePossessed offers up his most personal film for public re-appropriation.
---
RePossessed has been devised by Tony Cryer, Che Guevara John, Nick Haeffner, Chris Lane, David Raybould, Anne Robinson, Souli Spiropoulou & Richard Stephens. It opens at Leeds Metropolitan University Arts Centre on October 24th and runs until 24th November. The Exhibition is due to tour in 2007, beginning at Watermans Arts Centre in London in the Spring.
RePossessed is presented in association with the 20th Leeds International Film Festival, from 2-12 November 2006. Join the mailing list at www.leedsfilm.com
Talks: Wednesday 25 October, 12.30-1.30pm, 'Jung, the Self and Database Cinema', Tony Cryer & Chris Lane; Wednesday 1 November, 12.30-1.30pm, 'Wandering Across the Framelines', Anne Robinson & Souli Spiropoulou; Wednesday 8 November, 12.30-1.30pm, 'Hitchcock and the Spoto Myth', Nick Haeffner: These are free events. Please call 0113 283 3140 to reserve your place.
Exhibition opening hours: Mon-Sat 11am-5pm, Wed 11am-7pm; Admission is free. Leeds Met Gallery, Leeds Metropolitan University, Civic Quarter, Leeds LS1 3HE; 0113 283 3140; gallerytheatre@leedsmet.ac.uk; leedsmet.ac.uk/arts
Nick Haeffner is the author of Alfred Hitchcock, published by Longman.