Dick Arnall Remembered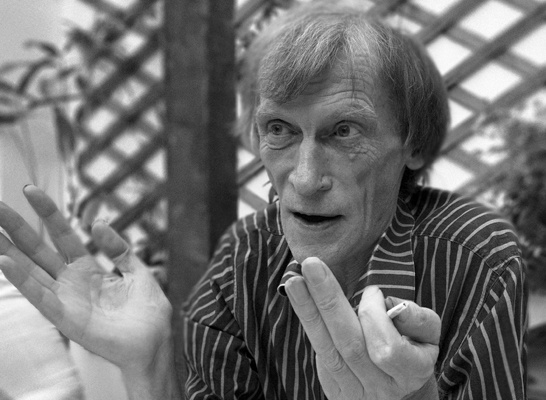 Dick Arnall
A visionary animation Producer and great advocate of experiment and innovation in the moving image will be much missed

"Death to Animation" might seem a surprising call to arms, coming as it did from a man who spent more than 40 years working in the medium but Dick Arnall, who has died aged 62 of pneumonia as a consequence of a brain tumour, was no ordinary producer. His striking 2005 polemic on the animate! website sought to free up discussion around the possibilities of the manipulated moving image, and to shake off tired terminologies in light of the paradigm shifts caused by the digital revolution. Embodying those qualities – so striking to all who met him – of curiosity and enquiry, it revealed him yet again to be at the forefront of thinking about what animation could be and do.
What is perhaps more unlikely is that this natural sciences student should become so committed to animation in the first place. Born in Sunderland, he was the son of a design engineer and a domestic science teacher. Educated at Monkwearmouth Grammar School, he studied Metallurgy at Queen's College, Cambridge.
At the university he ran a very successful film society, inviting the likes of Alfred Hitchcock to present their work. He also devised and directed what was Britain's first animation festival there, (1965, 1967, 1968). Leading animator Geoff Dunbar, who attended these gatherings and later worked with Arnall, recalls him being attracted to "both the processes and people involved in animation", a medium that satisfied both his extensive technical interests and his profound concern for freedom and creativity of expression.
Described in 1968 by the International Film Guide as "by far the most original, exciting and creative film festival ever staged in the British Isles", the Cambridge seasons brought an international experimentalism to the country's filmgoing, showcasing the New Zealand-born film-maker Len Lye among many others– the festival was revived in 1979, with Arnall contributing crucial, and unpaid support. A move to London saw him work on George Dunning's Beatles vehicle Yellow Submarine (1968), the first animated British feature for 14 years, before joining the animation studio Halas and Bachelor as Assistant Managing Director (1969-1972). Talent-spotting and supporting the generation who became the industry leaders of the 1970s and 80s, Arnall produced first films by Paul Vester, Geoff Dunbar, Gillian Lacey and many others, as well as managing the studio's Jackson Five and Osmond Brothers' series for ABC-TV in the US.
He encouraged experimentation among his film-makers, with painting directly on to film stock and found footage, always navigating that provocative interface of the industrial with the artistic. He travelled to festivals across Europe, and in 1970, while attending the Mamaia festival on Romania's Black Sea coast he was held up by armed bandits – and met his wife, Finnish animator Marjut Rimminen.
Her relocation to London and the birth of their son Timo in 1976 saw Arnall become a hugely active house-husband for the next decade, extending their house in Highbury single-handedly, learning all the skills required. He returned to independent production with Rimminen's I'm Not a Feminist But… (1986), the first of 10 multi-award winning animations he would make in the following 15 years. These included Tim Webb's pioneering A is for Autism (1992), Ruth Lingford's Death and the Mother (1997), created on an Amiga home computer and Robert Bradbrook's autobiographical Home Road Movies (2001), a "truly breathtaking film", according to New York's Museum of Modern Art. Arnall's nurturing and defence of film-makers, especially emergent talents, ran through all he did.
It was this, coupled with his reputation for an unshakeable professional honesty, that saw him approached by David Curtis, Keith Griffiths and Clare Kitson, the latter then head of animation for Channel 4, when they set up the broadcast commissioning project animate!, for artists' animation, in conjunction with the Arts Council of Great Britain in 1990. He worked as its independent production advisor until 1998, steering 35 films to completion and numerous prizes, and was himself voted top producer in Creation magazine's 50 Hottest Names in British Animation in 1999.
In 2000 he returned to run the project itself, when its management was tendered, through his own company Finetake. Radically extending its scope to take in thematic and site-specific screenings nationally, public platforms and panels, an international artists' award and a major online archive and information resource (www.animateonline.org), Arnall turned his lifelong advocacy of animation as a visionary artform into a sustaining network.
Always distinctive in his Marimekko shirts, Arnall never separated life and art, welcoming the free flow of conversation, the company of the table – he hugely enjoyed the convivial 18th century atmosphere of the Soho club Blacks, of which he was a founding member in 1993) and the pleasures of informed exchange on a host of topics.
Tireless in his commitment to work that he felt mattered, to innovative ways of seeing the world, to thinking outside the box, passionate in his defence of classical techniques and new technologies, he was a selfless enthusiast for the work of others, perhaps never fully appreciating the difference he made to the lives of those he touched. He was simply one of the most decent and generous people that those who met him have known.
He is survived by his wife Marjut and son Timo.
---
Richard Baxter Arnall, animation producer, born July 14, 1944; died February 6, 2007