Vision On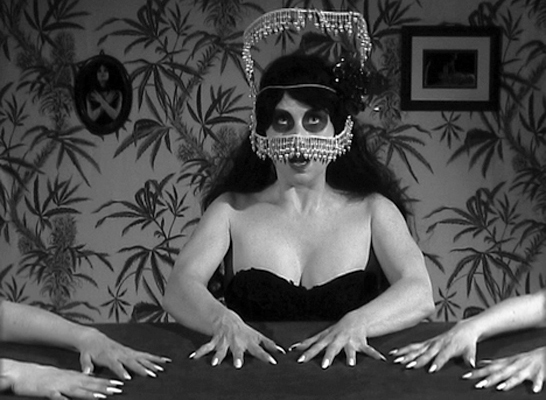 Theda, 2007
A new Film London DVD of artists' film and video promises fascinating explorations of place and performance, identity and image


Since 2000 Film London's Artist Moving Image Network and its annual awards for artists' film and video (LAFVA) have enabled many London based artist filmmakers to realise projects which may have been years in the planning, and which are often ambitious in both their conceptual and technical scope. The following selection of works from those funded between 2005 and 2006 are no exception. All the pieces featured here show great variety in their forms and approaches while tracing a number of common thematic threads, which should give an indication of some of the concerns with which artist filmmakers are currently engaged.
What immediately springs to mind is that, whilst the criteria calls for applicants to be London based, their horizons are seldom limited to the environs of the city. Portrayals of parkland and coastline become explorations of national identity in the films of Jonathan Hodgson, Andrew Kötting and Chris Newby, for example, whilst Tim Shore's Cabinet is an examination the American psyche and Hannah Collins' film Current History raises questions of ethnicity and ideology in her document of daily experience in a remote region of Russia.
Current History, 2006
It could be argued too, that central to many of the featured works is an expression of collective and personal memory, often evoked through forms of re-enactment, in which the past is returned to through performative gesture, filmic repetition or rephrasing. This is poignantly the case in Current History, Hannah Collins' double screen document of life in the Russian village of Beshencevo, in which she invites members of the Romani and Gadje population to re-enact familiar routines from their daily lives. Collins' quietly observational camera creates a moving picture of individuals struggling with the uncertainties and necessities of life in the former Soviet Union, panning between dark interiors and melancholic winter landscape. Like Collins, desperate optimists (Joe Lawler and Christine Molloy) invite the community to participate in their film Leisure Centre, enlisting them as actors to perform in a fictional narrative which uncannily reprises the gestures of their own lives for the camera. The leisure centre, with its busy public swimming pool, is situated in the blurred space between cinematic fiction and experiential fact, functioning both as the location of a film and a space of community.
In Carol Morley's film Madness of the Dance, performance is used to convey historical narratives, as dancers literally take on the shapes and forms which have defined events of mass hysteria over the ages, incongruously twisting in contortions on the stairs as they re-enact the poses of medieval victims who believe they have the Black Death, for example. Meanwhile, performed against a white background in the manner of video art rather than silent cinema, Georgina Starr isolates the gestures of grand drama which once defined the silent star Theda Bara's on-screen persona in Theda. Starr's re-enactment is both an homage to a vanished era and a means of investigating her own identity as performer by mapping Theda's forgotten gestures to her own.
Madness of the Dance, 2006
Further exploring the themes of identity and continuity, Chris Newby's film Metamorphosis is a complex play of associative montage tracing the ancient rituals half buried in the landscape and in our national consciousness, which reverberate in the forms of nature and contemporary experience. Thus the primitive outline of the Long Man of Wilmington finds a further echo in the torso of the glassblower, as he performs a task that has not changed for millennia, or a swimmer's muscular form as it is silhouetted against another potent signifier of our island culture, the chalk white cliffs of the British coast.
The same coastline provides the starting point for a cross channel swimming relay by Andrew Kötting and assorted family, referred to in Iain Sinclair's idiosyncratic commentary as 'a strange bunch of men'. Offshore flickers across formats – the changing patinas of grain and pixel – mirroring the choppy rhythms of life at sea. Amongst the myriad layers of sound and image, glimpses of an earlier film can be detected, and with this the realisation that Offshore is in part a return to Gallivant, an earlier filmic odyssey around the British coast that Kötting once made in the company of two relations, his grandmother and daughter Eden. Like sirens, their voices echo across the gap of ten years, encouraging and cajoling Kötting in his new trial of endurance.
Offshore, 2007
In Cabinet Tim Shore pursues a more disturbing memory through the spaces of the American landscape. An associative framework of found footage, digital reconstructions and text form a meditation on identity, technology and the land. Shore's fragments of found imagery and sound evoke America's myths of itself, from its war record to its prairies and birdsong, yet this is shadowed by the dark spaces of the Unabomber in his forest cabin, and the repetitive sound of the typewriter, a reference not only to the latter's destructive manifesto but also to the fragmenting advance of technology. The forest is also a space of suggestive and sinister intent in Jonathan Hodgson's animated film Forest Murmurs, in which a collage of found image, cut-out and the drawn line suggest the sites of possible and unfounded misdemeanours.
So, is it possible for this selection adequately to highlight some of the concerns currently relevant to contemporary artists working with film and video? Certainly unanticipated and shared visual motifs emerge throughout the works; from forests and shorelines to the potent image of the swimmer and the sea. However, viewing the work, I kept returning to Walter Benjamin's vision of culture at the beginning of cinema's history, as "the experience of a world in fragments in which the passing of time means not progress but disintegration." It could be argued that the works included here are all attempting to engage with this increasingly fragmented culture and its myriad histories. It is reflected in their fragments of found footage and associative montage, and evoked through the gestures of performance, which become a means of confronting and understanding how events of both an historical and auto-biographical nature surface into the present.
---
Lucy Reynolds is a writer, curator and lecturer. She works at luxonline.