In the Ongoing Moment: A Road and Image Diary
A large part of my work as a filmmaker involves producing images for live multimedia events, and sometimes producing the events themselves as well. During the first five months of 2007, we produced five different shows that involved film and/or video projection with live music performance. I've included some production stills and notes on the events.
January 25-27, 2007, Decasia at Angel Orensanz Center, New York
Decasia at the Angel Orensanz Center
Saturday January 27 was the closing night of a three-night run of Decasia Live, which featured six performances of Michael Gordon's symphony performed in a former synagogue, built in 1849 in New York's Lower East Side. The Ridge Theater production featured my film Decasia and Laurie Olinder's slides projected on 13 screens hung from the balconies surrounding the audience, creating an enclosed projection environment. Bob McGrath directed.
Fifty five musicians, assembled as the Tactus Contemporary Ensemble and conducted by Patti Monson, were positioned on the upper and lower balconies, and they played furiously from above and behind the projection screens to the audience seated on the floor below. Decasia was originally conceived of as having this 'surround' configuration, and it was given a similar staging at its premiere in Basel in 2001, and at St. Ann's Warehouse, Brooklyn in 2004. Performances in standard proscenium theaters occur with some regularity now. Orchestras in Los Angeles, St. Pölten, Prague, The Hague and Antwerp have all performed the piece with a single screen 35mm film projection since March 2006.
The environmental staging is an incredibly visceral experience, but almost prohibitively expensive for an independent producer to undertake. In this case we were fortunate to have support from the New York State Music Fund, a grant that used fines collected from record companies penalized with 'pay for play' infractions, and distributed the funds to various music-based projects throughout the state.
February 6-10, Hamburg Shoot
Hamburg
Hamburg
Fuel is the new film and music collaboration between Julia Wolfe and myself that is being commissioned by Ensemble Resonanz of Hamburg. The Ensemble will perform the piece with my video in Hamburg's Hafen City on April 26 & 27, 2007. I am in Hamburg in search of imagery to accompany Julie's music. It is my idea that Fuel can be found in the shipping trade, and Hamburg has plenty of that. The Hotel Hafen Hamburg has a beautiful view of the harbor. I set up a video camera to record a frame every 5 seconds. I realize that in order to get the best shot from my time-lapse set up, I would need to a) get an extra key card from the front desk so that one key could be left in the room to maintain the electricity at all times, b) that the window should remain open at all times, c) that the heat should be turned way up, and d) that the Do Not Disturb sign should be left on the door at all times.
Over the next few days I collect a variety of shots from the loading docks of shipping companies in Hamburg. It snowed all night and I walked around until I found a quiet restaurant and ordered a lot of brown food and brown drinks while watching the snow fall in the square. I visited the Golden Poodle on my way home where a duet of organ and drums pounded away. I came back to my frosty room and piled blankets on my bed and fell fast asleep.
February 11-17, Elizabeth, NJ Shoot
Elizabeth
Elizabeth
I flew back to Newark and arrived sometime before noon. I had found a hotel on Google Earth that seemed like it would give me a good shot of the cranes in Elizabeth, NJ. I walked into the Country Inn and ascertained that I wanted to be in either room 733 or 735. Check-in wasn't for another couple of hours, so I toured the shipyards of Newark and Elizabeth, and finally found a Peruvian restaurant on Front St. where I ate some grilled garlic shrimps. I went back, checked into room 733, trained my time-lapse camera on two inactive cranes and the Empire State Building behind them and drove home to Manhattan, leaving the Do Not Disturb sign carefully on the door.
I fly out of Newark again the next morning to do a couple of screenings in Houston and Baton Rouge, before flying out of New Orleans on February 17. That day I collect my camera from the motel in Elizabeth and review the movements of the great shipping cranes over the past week, darting around Port of Newark like animated figurines, bowing to the Empire State Building, and enduring a great Valentine's Day blizzard.
The Sinking of the Titanic at the Ridge Theater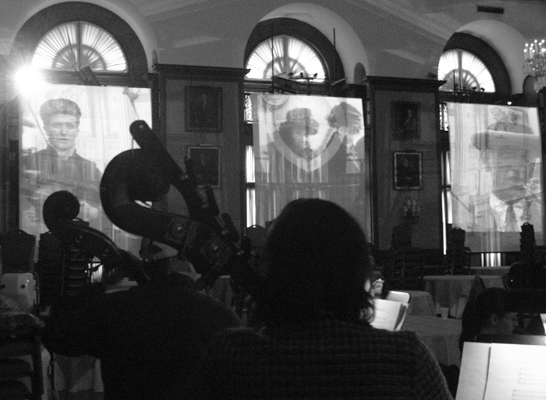 The Sinking of the Titanic at the Ridge Theater
Ridge Theater is in Philadelphia to perform a couple of shows of Gavin Bryar's 1969 opus The Sinking of the Titanic. Through the efforts of Peregrine Arts' Thaddeus Squire, the Union League of Philadelphia has agreed to host the performances in their 70' x 80' Lincoln Hall. Seven former members of the League were on the great ship that fateful night, April 15, 1912, with four of them surviving the journey.
A 22-piece ensemble from Temple University performs the piece. Additionally, two singers depict two of those seven Union League passengers: the young rare book collector Harry Elkins Widener, and his mother, Eleanor Widener. As usual, Laurie Olinder creates the still images that move, I create the moving images that stay still, and Bob McGrath directs the performers.
We set up four large video projectors from the balcony, two projectors on both the North and South walls, positioned to create mirror 72' x 27' images. In addition to beaming onto the entire wall as a single image, images were projected into the three large window bays on either wall, in which we hung six vertical 16' x 12' screens.
The Friday night performance was a white tie event, including a seven-course dinner recreating the ship's final dinner menu. After dinner Laurie, Gavin Bryars and I fathomed some of the League's deeper spirits.
April 5-10, Staten Island Shoot
Boat Trip
Boat Trip
Helicopter
The Brooklyn Philharmonic has invited Ridge Theater to collaborate on three projects over three seasons, the first being a visual interpretation of Gorecki's Third Symphony, to be performed as their season finale at Brooklyn Academy of Music, May 12, 2007. Laurie once kayaked around an area off of Fresh Kills, Staten Island, NY, known as 'the Graveyard of Ships', where old vessels are left to decay in the water. Her description of paddling around rusting steel monoliths fascinated me, and it occurred to me that this could be a good shooting location for the Gorecki project. On April 5, we hire a fishing captain to scout the location in his boat. On April 10 we hired a helicopter, and shot the scene from the air with 16mm film.
April 23, Filmmakers' Cooperative Benefit, New York
Benoit Piolard performing live soundtrack to Maya Deren's Meshes of the Afternoon at the FMC
This is the third year I have organized a benefit concert for The Film-Makers' Cooperative at Angel Orensanz Center (the same synagogue where Decasia was performed in January). The Filmmakers' Cooperative was founded in 1961 by a group of artists that included Shirley Clarke, Robert Frank, Alfred Leslie and Jonas Mekas. It is the world's oldest and largest artist-run collection of avant-garde cinema. Proceeds from the benefit support the Coop's preservation efforts and the distribution of over 4000 artists' films in its collection. Today the Coop is run by the indefatigable filmmaker M.M. Serra.
The benefit concert is always a wonderful evening. In past years musicians such as Michael Gordon, Philip Glass, Steve Reich, Lee Ranaldo and Elliott Sharp have all generously agreed to perform in this concert in conjunction with a film screening from the Coop's collection (Glass and Reich famously shared the bill in the 2005 edition). This year I chose Monday April 23 as the date because that was the one night I could get Bill Frisell to play. Bill performs with Kenny Wollesen and Tony Scher to my film The Mesmerist. Philip Glass will play to Harry Smith films. Other performers included The Clogs, playing with Robert Breer films and Benoit Pioulard playing with Maya Deren's Meshes of the Afternoon.
April 24-28, Fuel, Hamburg

The next day I fly to Hamburg for the premiere of Fuel in Kaispeicher B, a former warehouse in the Harbor City that is being converted into a maritime museum. Unfortunately the LaCie drive did not have a good trip, and it fails to mount upon arrival. So I am left with playing the video for the show off of a dvd rather than from a computer – never an optimal situation. And sure enough, one of the two dvds I burned containing the video for the concert will not load. I buy some disc cleaner and obsessively clean the one remaining artifact of my labors. Hearing it performed by live musicians for the first time, I realize that Julie's piece is extraordinary, and that Ensemble Resonanz is kicking ass with it. Miraculously, the media plays back as well without freezing or skipping, and the whole thing comes off rather nicely. I take a run around the lake on Saturday before heading back home Sunday morning.
May 12, Gorecki's Third Symphony, Brooklyn
Gorecki picks
Gorecki picks
The Brooklyn Philharmonic Symphony Orchestra performs Gorecki's Third Symphony at the Brooklyn Academy of Music Opera House, with Nathalie Paulin singing the soprano part. Moving images of the Graveyard of Ships were projected on the large downstage scrim in front of the orchestra, while Laurie's still images of faces and hands were shown on an upstage screen behind the performers.
May 14, Wyoming

For the past three years I have sat on the jury panel for an artists' residency in Wyoming, the Ucross Foundation. One of the perks of this gig is that you can come as a visiting artist for a few days during your tenure. Mine is almost up, and I have yet to take my time there. So on the Monday following the concert I head to Wyoming to begin my summer...
---
Picture credits: Decasia Orensanz, Titanic, boat trip, helicopter, Pioulard at FMC, and Gorecki picks photos are courtesy of Laurie Olinder. Hamburg and Elizabeth photos are courtesy of Hypnotic Pictures.
Bill Morrison's short film works, including many UK premieres, will be shown in special Vertigo screenings on 2nd and 3rd November at London's Curzon Soho cinema, with Morrison present.