Marketa Lazarová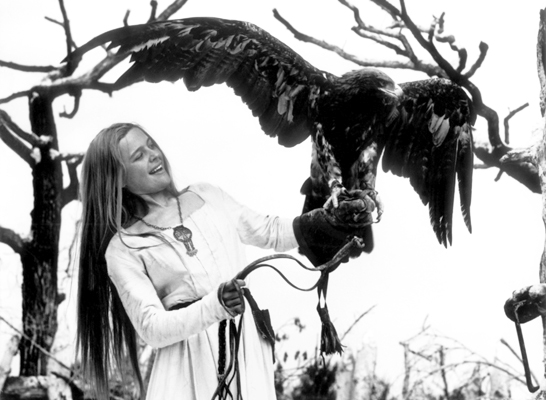 Marketa Lazarová, 1967
The radical Czech national epic storms into the new century

In a survey of Czech film critics held in 1998, František Vláčil's Marketa Lazarová (1967) was voted the best Czech film ever made. It was based on a novel by the pre-war experimental writer and filmmaker, Vladislav Vančura, first published in 1931. But while Marketa Lazarová was inspired by the novel, it is also very different. A short text emphasising the poetic and experimental use of language has been converted into a vast epic comparable, in different ways, to Kurosawa's Shichinin no Samurai (Seven Samurai, 1954) and Tarkovsky's Andrei Roublëv (1966). While Vančura's original novel provided no historical clues and was designed to be autonomous, Vláčil's film was set very specifically in the mid-13th century, a time he attempted to evoke with maximum accuracy.
Vláčil wanted to present the times as if they were present, portraying characters as if they were our contemporaries, but also showing the world through their eyes, beliefs, and feelings. He studied tribes living at the same "level" of social development, ensured that weapons and implements were made according to the original methods, and forced his cast to "live" their parts in a location shoot lasting over two years.
Vláčil's approach to history was in marked contrast to both the Hollywood romantic epic but also to Otakar Vávra's Hussite trilogy (1954-56), where history became the servant of ideology. Yet, despite this re-creation of reality and the desire to create an authentic world, Marketa Lazarová is also an experimental film, with an unorthodox structure, and a variety of different narrative techniques. As Emory Menefee and Ernest Callenbach wrote in Film Quarterly, "the film is initially as confusing as it would be to arrive in such an alien culture".
The narrative is centred on a series of short episodes or tableaux, which Vláčil has likened to the chapters of a romanesque novel, or the movements of a musical work. Describing the finished film as a "Film-Opera", he argued that the final structure was very close to that of Janáček's Sinfonietta.
Marketa Lazarová, 1967
The film is divided into two major sections, Straba (Straba the Werewolf) and Beránek Boži (The Holy Lamb). In Straba the Werewolf, we are introduced to the two rival clans of the Kozlíks and the Lazars. The Kozlíks attack a Saxon count and his followers, capturing his son, Kristián. When Pivo, commander of the king's army, comes to arrest the head of the clan for his crimes, he escapes and a proclamation is issued calling for their pursuit. Kozlík's eldest son, Mikoláš, goes to Lazar in search of an alliance, but is savagely beaten under the watching eyes of Lazar's daughter, Marketa. In revenge, the Kozlíks attack the Lazar stronghold and Marketa is carried off by force and subsequently raped. Kozlík's daughter, Alexandra, who had previously slept with her brother, Adam, develops a relationship with the captured Kristián.
In The Holy Lamb, a simple minded monk, Bernard, is introduced into the story, serving as a link between the film's increasingly diverse plot elements. Adam is killed by the king's troops, Kristián is driven mad by his experiences, and is killed by Alexandra. In the film's final section, the relationship between Mikoláš and Marketa ripens into one of love. Marketa returns to her father only to be rejected. She is undertaking her vows to enter a convent when she recognises the hypocrisies of the institution. Hearing that Mikoláš has attacked the prison where his father is now held captive, Marketa joins him and marries him shortly before he dies from his wounds.
From this complex narrative, two general themes emerge: the struggle between central authority and the clans, and between Christianity and paganism. The old men (Kozlík, Pivo) show little weakness in their relentless struggles for dominance and Mikoláš, the film's 'conventional' hero, only appears less extreme in the context of the film's unrelenting violence. Christianity and paganism are presented as parallel forces and there are certainly scenes suggesting that organised religion stands in the way of natural freedom. The closing door of the convent to which Marketa has been consigned by her father is contrasted with the startled flight of a deer.
However, the film's most distinctive qualities lie in its formal originality and aesthetic impact. In his student days, Vláčil once drew Eisenstein's Bronenosets Potëmkin (The Battleship Potemkin, 1926) frame by frame, and the same attention to detail is seen in his sketches for the storyboards and frames for Marketa Lazarová. But, as already suggested, Marketa Lazarová, despite being a wide screen historical epic, can almost be viewed as an avant garde work. While perhaps less obviously radical than the work of a Godard or a Jancsó, Vláčil's approach to narrative is highly unconventional and, together with his use of mise-en-scène, promotes an unusual relationship with the viewer.
Recounting the "story" or narration in the conventional sense is not the film's primary point of interest and the plot development is often obscure, certainly at first viewing. Vláčil is much more interested in the reaction and interplay of character and on the subjective and psychological world. The use of intertitles, which function much like the chapters of an old chronicle or picaresque novel, provide succinct summaries of what is to follow, and sometimes the only explanatory clues. However, Vláčil also uses other methods of narration including the voice of a narrator, stories, and monologues. Dialogue and dramatic exchange off screen frequently interacts or overlaps with the staging of quite separate action. The distinction between flashback and parallel action is sometimes confused.
Marketa Lazarová, 1967
The film's conventional narrative interest, the changing relationship between Mikoláš and Marketa is anything but central and there is only one dialogue exchange between them. Battles and action sequences are fragmented and incomplete and designed primarily to reflect the psychological state of the combatants. Vláčil makes a striking use of composition within the frame and freely admits the influence of painting. He also makes extensive use of deep space (and depth of field) to achieve some of the most forceful uses of the 'Scope format, extending to extreme close up composition and contradictory images or parallel actions within the frame. Subjective camera is used extensively and, despite the concern with composition, the camera is almost never still. In one scene, where Pivo is staying with the Lazars, he is not seen at all, and only his voice participates in the action.
As a "Film-Opera", the role of music is paramount and Zdeněk Liška was to provide an ideal collaborator. Liška, of course, was a prolific composer of scores for both Czech and Slovak films and is well known for his work with Juraj Herz and Jan Švankmajer among others. In Marketa Lazarová, he uses echoing percussive effects, xylophone, and electronic effects, and even invented new instruments. At the same time, the music is linked to the early traditions of church music.
While the film always maintains its narrative links, it is difficult to find any scenes that present their subject matter in an orthodox way. This is less because Vláčil is opposing classical narrative, but more the result of extending it through a process, of "making strange" or "making difficult", to adopt Viktor Shklovsky's terms. We see and experience feelings and images that are repressed in conventional films.
There are some striking set pieces, including the "paradise sonata" (Adam and Alexandra) and "the soliloquy of madmen" (Kristián's journey through an apocalyptic landscape) but, for most of the film, we are visiting a world in which there is a complex but coherent web of relationships. However, we are visitors to this world and, like the characters themselves, our understanding is incomplete. As many Czech critics have noted, the film signified a new approach to history without moral or ideological messages, in which the lives and wills of individuals interacted with ongoing social and political forces.
---
This is a condensed version of the essay included in the booklet accompanying the Second Run DVD release of the film. The film will be shown on 4th November, 2007 at London's Curzon Cinema (www.curzoncinemas.com).
A fuller account of Marketa Lazarová appears in Peter Hames (ed.) The Cinema of Central Europe and there is a section on František Vláčil in Peter Hames', The Czechoslovak New Wave, both published by Wallflower Press; www.wallflowerpress.co.uk
Peter Hames is Honorary Research Associate at Staffordshire University and a programme advisor to the London Film Festival