An Infinite Amount of Choices: Wim Wenders and a Life Inside Cinema
Wings of Desire, 1987
Almost 40 years on since his professional debut, German film-makers Wim Wenders continues to use images as a means of evaluating and processing experience and of understanding our place in the world. Graduating from the Hochschule für Fernsehen und Film in Munich with the feature-length work Summer in the City (1970), shot on 16mm and black & white for the budget of the half-hour 35mm film he was expected to deliver, Wenders dedicated the film to The Kinks and so initiated an abiding fascination with rock music. In 1971, together with a group of 14 other German filmmakers he started a production and distribution cooperative called Filmverlag der Autoren. That company became the nucleus of the New German Cinema, with Wenders one of its most recognisable and influential figures. After subsequently founding Wim Wenders Produktion in 1974, the company mutated into the Berlin-located Road Movies Filmproduktion Inc. Over the ensuing years, the aptly named company would produce the majority of Wenders' subsequent films.
The beginning of his professional career, The Goalkeeper's Fear of the Penalty Kick (1971) was based on the novel of the same name by Wenders' friend and collaborator Peter Handke. It follows a goalkeeper, Bloch, who lets a penalty kick past him without making any effort to save it. Sent off for arguing with the referee, Bloch heads to Vienna where he picks up a cashier at a local cinema. Inexplicably strangling her in the morning, he travels to a Burgenland village on the Austro-Hungarian border where he idly waits for the net to tighten. A deconstructed thriller that would become a defining work in the Wenders canon, the film initiated his interest in the road movie genre, an obsession with communication – or its lack thereof – and a keen fascination with American culture and ephemera. The film's visual aesthetic was also distinctive, its long, uninterrupted takes offering evidence of the young cineaste's fondness for Yasujiro Ozu. The film also established the nucleus of Wenders' creative team, with editor Peter Przygodda and cinematographer Robby Müller becoming notable collaborators.
Temporarily breaking with contemporary fare and the notion of loners in transit for The Scarlet Letter (1972), Wenders returned to his road movie template and a consideration of German's traumatic past in the influential road movie trilogy Alice in the Cities (1974), Wrong Move (1975) and the epic Kings of the Road (1976). In 1977 he completed his first international co-production with The American Friend. Arguably the best of the many attempts to film Patricia Highsmith's novel, the work – in which Wenders' passion for cinematic figures was showcased through the casting of Samuel Fuller, who would also feature in his The State of Things (1981) – bought the director to the attention of Francis Ford Coppola. The following year the German director was invited to the US to shoot Hammett for Coppola's Zoetrope Productions. This was an unhappy experience but Wenders kept creatively active by making the Venice Golden Lion winning Lightning Over Water (1980), a collaboration with Nicholas Ray, who had also featured in The American Friend.
The Venetian accolade was to mark the first in a series of prestigious international acknowledgments, the honours coming particularly thick and fast with the completion of the Sam Shepard-scripted Paris, Texas (1983). A seminal, Ry Cooder-scored work in which Wenders successfully reconciled his love of America and the road with his interest in the strained relations between men and women and between adults and children, Paris, Texas won the Cannes Palme d'Or and lifted the director's career onto a truly international level. Returning to Germany to complete the existential fable Wings of Desire (1987), Wenders saw his critical and commercial stock rise still higher as he scooped a Cannes Best Director prize to accompany the much-coveted Golden Palm.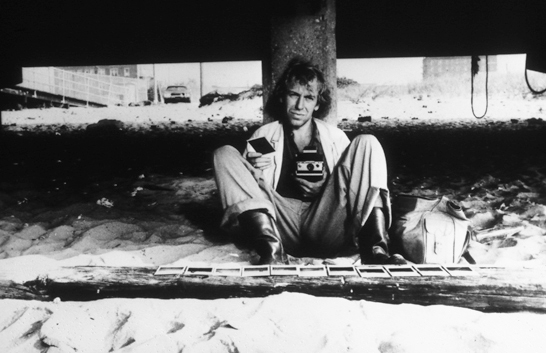 Alice in the Cities, 1974
Following the completion of 1989's Notebook on Cities and Clothes – just one of the director's numerous documentaries on people, places and subjects that fascinate him, Wenders embarked on his most ambitious project to-date, his odyssey for the modern age, Until the End of the World. As with Homer's Odyssey, the purpose of the journey is to restore sight – a spiritual reconciliation between an obsessed father and a deserted son. Describing it as 'a tale of love and hope…a metaphor for the journey we must all take toward our future', Wenders also conceived of the film, a pioneering force in the use of digital technology, as 'the ultimate road movie'.
Wenders has subsequently filmed mainly in the US and in English, striving to combine the personal and the political in his LA trilogy The End of Violence (1997), The Million Dollar Hotel (2000) and the as yet to be (UK) released Land of Plenty (2003). Arguably the most effective of his recent features, the latter offers a potent consideration of poverty and paranoia in America.
Recently elected President of the European Film Academy, Wenders has continued to explore cinematic boundaries whilst paradoxically never straying too far from the themes and subjects that interested him in the first place. This is perfectly encapsulated in the his most recent work, Don't Come Knocking (2004), a second collaboration with Sam Shepard and a loose follow-up to Paris, Texas. Shepard finally appears in an on-screen capacity for Wenders after studio executives refused his casting in Hammett and then Shepard ruled himself out of the role eventually taken by Harry Dean Stanton. A post-western road movie and family drama/tragi-comedy hybrid, the film sees Wenders meditating on existential crisis, the sins of the father, American popular culture, music and travel as the search for self-identity. A return to his roots, it is also just another stop on an endlessly fascinating journey.
Paris, Texas, 1984
Jason Wood: Your work and work rate suggests that you are not someone who likes to look back. However, on the occasion of a major retrospective at London's BFI Southbank, what thoughts, memories and perceptions do you have regarding some of your past filmmaking endeavours?
Wim Wenders: There's a strange thing about looking back. Of course I dread the embarrassment that inevitably comes with it. There are always scenes and shots (or entire films) that I regret or that I should have done otherwise, or would have wanted to do otherwise, if the limitations (also my own) would have allowed me to.
And then there are scenes and shots (or entire films) that I know I could never do again. I realize I wouldn't have that in me anymore. That is a very troubling feeling.
I'm not a very 'cerebral' filmmaker. I work mainly from the guts. So when you see what once came out unconsciously, or without much reflection or at least without cautiousness, you start wondering who you were then and who you are now. And that concern I find pretty uncreative, sometimes plain scary. There's really nothing I fear more than to repeat myself. I try to avoid that as much as I consciously can. But going back in time and being confronted with my own work, I inevitably recognize just that: there are numerous subjects, themes, camera movements, framings, "idiosyncrasies" and what-not that reoccur and that go through my work sometimes like subterranean connections. And I must say, I'd rather not know this stuff. I'd rather keep working under the assumption that I do things from scratch. Retrospectives tend to thrash this wishful thinking.
JW: It's impossible to condense or distil your achievements but there is a sense that viewed collectively there are themes and concerns that recur: issues relating to communication; the road as a sense of both discovery and alienation, and the impact of the past. Do you see these as being subjects to which you are continually drawn, and if so, what continues to appeal about them and how has the way in which you have attempted to deal with these subjects changed over the years?
WW: When I was a young filmmaker and by the age of thirty had made six feature-length films, I noticed that many of my reviews, especially the English and American ones, summed up my work as dealing, basically, I quote, "with Angst, America and Alienation". I called these my 'triple-A reviews'. Undeniably, there was some truth in it. At least, I can say that in hindsight. Communication, the road, estrangement, and yes, the "American colonisation of our subconscious" were (and are) big subjects of my work. But while these themes continue to show up in my work, the points of view have changed.
For a long time, my films were strictly seen through the eyes of my male heroes. But over the years women have played a more and more important part, and their absence is no longer a subject, like in Alice in the Cities, Kings of the Road or other films. And, in very general terms, 'Love' has become an increasingly dominant subject. 'Places' also play a more important role, like Berlin, Tokyo, Lisbon or, lately, Palermo. And there is an increased interest of mine in reality, even in political terms, so I have made a number of documentaries over the last few years.
Kings of the Road, 1976
JW: From the moment you dedicated Summer in the City to The Kinks you have been inextricably linked to music and particularly Rock 'n'Roll. Do you continue to draw inspiration from the art form and could you say something about the function music has played in your work?
WW: My daily life is very much driven by music. I wake up with music; I write with music, I drive around with music. I have a great stereo system at home, and I love my iPod with my little 'HeadRoom' headphone amplifier on the road. I would not get on a plane without my music, for instance. I listen to a lot of new stuff every day, and I also cherish my old heroes. So, in the development of a new film, either in the writing process or in the travelling and locations scouting period, there is always some music that imposes itself and that is of particular importance in my life at that time. And then, when I shoot the film or when I sit in the editing room, that music tends to impose itself again, and I try to work it in, as a tribute or an homage to the role it played in conceiving that film. Rock'n'Roll and Blues have continued to be constant companions, but I also listen a lot to African music these days, and to (older) Jazz and to Bach.
JW: You've also demonstrated a remarkable responsibility in regard to fostering and encouraging emerging film talent. Perhaps the most notable incident is your dedication of prize money to Atom Egoyan many years ago. Do you feel that it is the responsibility of more established filmmakers to do this, in order that cinema continues to evolve and accommodate new blood?
WW: When I got interested in filmmaking, and finally totally immersed myself in it, the part that some of my 'father figures' played for me was invaluable. The advice I got from Sam Fuller, the friendship with Nicholas Ray, the telegram from François Truffaut, the inspiration of Yasujiro Ozu or Andrei Tarkovsky, the learning in the films of John Ford or Anthony Mann, the contact with John Cassavetes, the call to come to America by Francis Coppola, you name it; that helped me more than any film school.
So I have always felt that I have been given so much. I have received so much not only from individuals but also from the history of cinema that it was only natural, or totally evident, that I would have to give something back. I have been teaching for the last 15 years or so, on a regular basis, and I was lucky that among my assistants and collaborators there were such marvellous talents as Claire Denis or Allison Anders and that I was able to help (at the time) young filmmakers like Jim Jarmusch, Chris Petit or Lucian Segura, among others, and recently Holger Ernst or Robinson Savary.
The American Friend, 1977
JW: You have entered another extremely creative and prolific period. What challenges still await you and, in the years since you first set out, what have been the most significant developments (technical or otherwise) in filmmaking for you?
WW: When I did my first films, you had the choice of 16mm and 35mm, and colour (expensive then) or black and white. Those were the only choices. When we mixed The Goalkeeper's Fear of the Penalty Kick the process lasted one day. We had all the sounds of the film on four tracks and we mixed it straight to optical!
Today you have an almost infinite amount of choices over how you want to approach a film. You can turn big ideas into small budget movies, and you can let your subject and your desire for freedom and independence tell you if you want to shoot on film (with an enlarged range of formats) or on digital, also with a whole variety of approaches. And sound is yet another story. The greatest progress I have witnessed was certainly the boost that soundscaping got from being strictly mono (and optical, or magnetic) to becoming digital and stereo.
When I started out as a young director, limitations were rigorous. Your budget basically dictated what you were able to achieve or to say. Today, thanks to digital technology, you can say a lot with very little means (unfortunately, the reverse is also true: if you have large means you're not allowed to say much anymore), and you can be so much more spontaneous and flexible. I am much more 'independent' today than I was able to be when I set out.
So I feel it is a great privilege to work today, in the digital age, just as much as it had been a privilege to start at a time when you could still be in touch with the very beginning of filmmaking. I have worked with actors who began their career in silent movies! And I was able still to work with a cameraman (Henri Alekan) who had been an assistant to a pioneer like Eugen Schüfftan!
---
A complete retrospective of Wim Wenders' work in cinema takes place at London's BFI Southbank this January and February. Theatrical and dvd re-issues of his work are underway. His writing is published by Faber, his photographs by a number of publishers and galleries.
Jason Wood writes on, programmes and advocates for world cinema in numerous ways. Put his name into Amazon. He is required. Thanks to all at Axiom for their help.
This interview appears in the forthcoming book Wim Wenders published by Axiom (2008) to coincide with the start of the BFI Southbank Wenders retrospective and nationwide tour.