From Tangiers to Tehran: Cinema, Women and the Middle East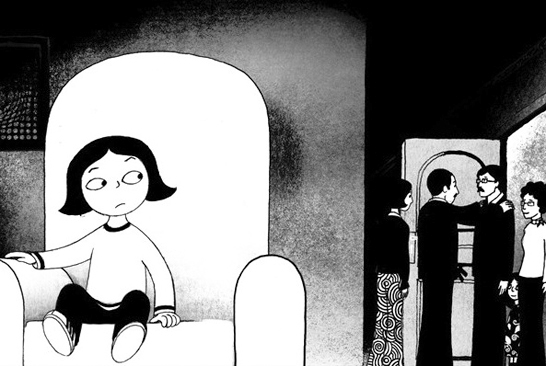 Persepolis, 2007
Given that the Middle East has largely been offered in Western cinema as a landscape that excites and terrifies, our engagement with the territory is both limited and frequently disinterested. A common reaction to discussion of North African and Middle Eastern film among cineastes in Britain is one of surprised interest. First there is surprise that such a body of work exists at all; second, there is the sense of curiosity as to why these films have been so rarely explored in the UK.
The Women's Cinema from Tangiers to Tehran film festival should do much to address this imbalance. It offers a rare opportunity to watch and actively engage with some of the most exciting and innovative films to emerge from the region in the past four decades, especially those by female directors. Screenings range from the groundbreaking short, The House is Black (Iran, 1962) by visionary poet and filmmaker Forough Farrokhzad, through to the recent Cut and Paste (Egypt, 2006) by a filmmaker on the rise, Hala Khalil.
The Nouba of the Women of Mount Chenoua, 1977
Algerian director Assia Djebar's The Nouba of the Women of Mount Chenoua (1979) is a meditation on history and memory, beautifully weaving together women's speech and their stories in five movements patterned on the Andalusian musical composition referred to as a Nouba. Leila and the Wolves (Lebanon/UK, 1984) views the history of women in Lebanon and Palestine through the surreal depiction of a time traveller dressed in a white gown. It offers a sharp critique on Britain's role in the division of Palestine as well as the role of women in the liberation movement. Poetic and audacious in form, it has certainly influenced a new generation of filmmakers.
Recent successes Caramel and Persepolis offer visions of two very different countries. The first utilises the popular format of an ensemble of four women in a hair salon in Beirut, each with a personal problem. Though light in tone and embellished with lush photography, Caramel nonetheless gently raises issues often explored in European art cinema but rarely expected of an Arab film. Not surprisingly, it has proved to be popular with domestic and international audiences. Persepolis (France, 2007) on the other hand is a charming animated film, based on the books of Marjane Satrapi, who also co-directs. It follows the story of a precocious child growing up during the Iranian revolution of 1979 and rebelling against the changing landscape around her.
Caramel, 2007
I Am the One Who Brings Flowers to Her Grave (Syria, 2006) is part documentary, part travelogue and part personal diary. Shot in black-and white, it reflects on the life of an exile and examines the history of Syria through its poetry and, most poignantly, interviews with three Syrian exiles now living in France. The film deservedly won the Doc/It Prize at the Venice Film Festival in 2006.
Moufida Tlatli's The Silences of the Palace (Tunisia, 1994) was a remarkable debut. It focuses on a group of servant women confined in the palace of the country's last princes during the final days of French colonial rule. The film effectively conveys the opulent and oppressive atmosphere of the palace, and the resilience of its servants: the women are sensual, strong and full of humour despite their servitude. Fine performances, sumptuous mise-en-scene and haunting music by Anouar Brahem make it a powerful film and one that lingers in the mind. Journey to the Sun (Turkey, 1999) by Yesim Ustaoglu follows a young Turkish man transporting the body of a deceased Kurdish friend across modern Turkey. The journey transforms into revelation as he passes through large swathes of the country, shot in panoramic tones by Jacek Petrycki. Step by step the film unveils the true lives of Turkey's Kurdish inhabitants and their marginalised circumstances, both in the country and across the region.
Cut and Paste, 2006
A selection of artist's films will feature work by Mona Hatoum, Shirin Neshat, Zineb Sedira and others – all of whom interrogate complex questions of identity, belonging and shifting cultural landscapes. These artist-filmmakers have articulately carved their own spaces within the countries in which they live, having negotiated and challenged notions of 'inside' and 'outside' in their work. Their films remain both compelling and thoroughly profound in scope.
Perhaps the most important reason for this season to take place is to offer films from North Africa and the Middle East an opportunity to be counted alongside the great cinema of our time. Of particular importance are women authors since they inhabit a territory that is rigorously contested and, through them, we may perhaps come to appreciate a more nuanced and complex cinematic representation.
The last word should go to Nejia Ben Mabrouk, director of Sama (The Trace): "Men are very privileged in our societies, so they profit from their privilege - naturally. I must say that even if they are well meaning, sometimes they idealise women. Woman is not a dream, she is a reality... That's what I want to talk about."
---
Women's Cinema from Tangiers to Tehran will take place between 22nd February – 1st March 2008 and is curated by James Neil and Suzy Gillett. See Institut Francais for full programme details.
James Neil is an independent curator. He lives in London.