Decolonizing the Mind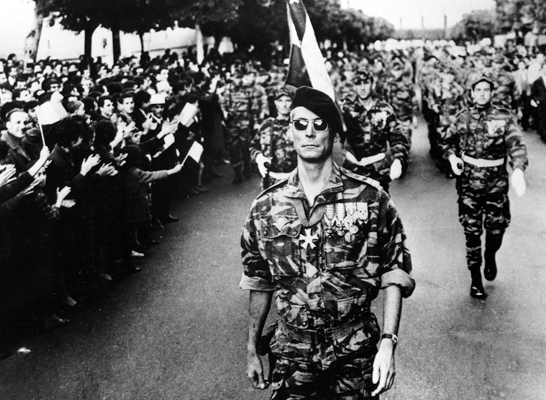 The Battle of Algiers, 1966
Third Cinema and the World: Some Stations on the Journey

'Create two three... many Vietnams – that is the watchword.' – Ernesto Che Guevara, from Message to the Tricontinental, 1966
With revolutions in Egypt (1952), Cuba (1959), Algeria (1962) and the newly independent countries of Africa in the 1950s and 1960s the 'third world' was placed firmly on the political world stage by 1968. These changes inspired mass cultural movements and a confident New Left, and helped to make that year an astonishing one for cinema, with antecedents and a profound legacy.
European filmmakers Joris Ivens, Chris Marker, Agnes Varda and Cesare Zavattini spent considerable time in Cuba, either making films or teaching at the newly established film institute. One significant local director was Santiago Alvarez who made NOW (1965) – a short visceral pamphlet documentary composed of stills and moving images of the Civil Rights struggle, Klu Klux Klan lynching and police brutality. The film weaves a narrative of struggle through rapid montage and reaches a crescendo with Lena Horne's stirring title song, evoking a powerful sense of urgency. Meanwhile, Memories of Underdevelopment (1968) by Tomás Gutiérrez Alea focuses on a petty-bourgeois intellectual who cannot comprehend the dynamic changes preceding the Bay of Pigs invasion and Missile Crisis. Complex and layered in its use of documentary forms, Memories questioned intellectual political commitment and marked a mature Cuban filmmaking free of didacticism.
The first Tricontinental conference in Havana in January 1966 brought together liberation movements from across the world. Che Guevara's message for global left-wing unity informed Fernando Solanas' and Octavio Getino's The Hour of the Furnaces (La Hora de los hornos, 1968) (see p.58). Their manifesto Towards a Third Cinema envisages a cinema that is neither 'First Cinema' (commercial, as in Hollywood), or 'Second Cinema' (art without political commitment). Instead, they advocated a 'Third Cinema' that could act as a catalyst and foment social and political change.
Despite their materialist Marxist approach, Solanas and Getino argued that Third Cinema could be made anywhere and Hour… was edited into segments so that each reel could be screened individually to initiate discussion. The film created a dynamic dialectical synthesis between contending forces. Political commitment determined film form.
A leading exponent of Brazil's Cinema Novo movement was Glauber Rocha. His Black God White Devil (1964) follows a bandit who kills his cheating landowning boss and then befriends a messianic preacher who advocates violence. Surreal and naturalistic by turns, the film blends mysticism, religion and radical political ideas. In his manifesto, An Aesthetic of Hunger, Rocha expounds the ideas of key thinker Frantz Fanon arguing for a cinema that serves 'the great causes of our time' and 'an aesthetics of violence' which challenges dominant cinematic practice directly. In so doing the 'colonizer [will] understand, through horror, the strength of the culture he exploits.' Applying Brechtian distanciation and a dazzling array of stylistic strategies he created a baroque Latin American form that would be an important precursor to 1968.
The Battle of Algiers, 1966
Fanon's seminal book The Wretched of the Earth traced his trajectory from a psychiatric practitioner to his commitment to 'revolutionary violence' as exemplified by the FLN, the Algerian liberation movement. Three decades after Rocha's work, Isaac Julien produced Frantz Fanon, Black Skin White Mask (UK, 1996), a complex poetic study of one of the twentieth century's pivotal cultural figures. Mixing archive footage, commentary and experimental dramatisation, it delves into Fanon's studies of the effects of colonialism and his self-understanding as a 'colonized individual.'
Among the most audacious and riveting films on the Algerian liberation struggle was The Battle of Algiers (1966) by director Gillo Pontecorvo and producer Yacef Saadi, charting 1956-57, when the FLN fought an urban guerrilla campaign against French occupation. Its grainy black and white episodic structure offers a documentary quality reminiscent of newsreel and continues to have a profound contemporary relevance. In the 1950s René Vautier joined the FLN in Algeria and established a film unit called the 'Groupe Farid' with Ahmed Rachedi and Djamel Chanderli. Together they produced an extraordinary elegy on the liberation struggle Algeria in Flames /L'Algérie en flammes (1958).
The Egyptian director Youssef Chahine offered the world The Earth /Al-Ard (1969), a neo-realist chronicle of a peasant village's struggle against an unscrupulous landowner. Rich with symbolic motifs it shows how political oppression does not necessarily engender solidarity among the disinherited when they are disunited.
The Battle of Algiers, 1966
Three filmmakers who emerged as giants of African cinema were Djibril Diop Mambety, Ousmane Sembene and Haile Gerima. Mambety directed the visually stunning Touki Bouki (Senegal, 1973) about a scheming couple who try to emigrate to France. Firmly modernist in its critique of the colonising force of Western consumer bourgeois life, it deploys vérité techniques and wry humour. Black Girl (1966) is Sembene's pioneering film about Diouana, who travels to France to become a housemaid. Her white employers had left Senegal yet never came to terms with their reduced status in France. They both mistreat Diouna and collect aspects of Africa, like a mask that becomes both a symbol of Diouna's separation from Senegal and part of the post-colonial Western appetite for a commodified African culture.
Harvest 3000 Years (Ethiopia, 1975) by Haile Gerima follows Kebebe, a wandering musician who was robbed of his land by a landowner whilst away fighting Italian fascism. Kebebe assumes the role of a griot and through his songs agitates the peasantry to rise up against an outdated and pernicious feudal system. The film's impressive mise-en-scene posits the story within the broader historical context of the continent's colonialist legacy. From across three continents, these films reflected and engendered a rising consciousness that found its moment of epiphany in Paris in 1968.
---
James Neil is an independent film curator. Frantz Fanon, Black Skin White Mask; The Battle of Algiers and Harvest 3000 Years will be screened at London's Birkbeck Cinema on Saturday 3rd May.