How the West Was Won
Hari Kunzru
Thirty years before Hugh Grant made it chic, Notting Hill was a squat-riddled hotbed of revolutionary ideas, giving birth to Black Power, gay liberation and the Angry Brigade. With the publication of his new novel inspired by the area's former radicalism, Hari Kunzru takes a tour of the wild wild west as it is today.
---
Notting Hill 2007: a mannequin sporting a balaclava and khaki combats stands outside the Army Classics shop on Portobello Road, as Saturday shoppers jostle by. Rewind to Notting Hill 1967: in Portobello Road's crumbling squats, balaclava-clad revolutionaries are honing up on their bomb-making skills amid pans of leftover lentil stew and piles of unwashed clothes.
Long before Tory politicians and film stars colonised it, Harry Enfield ridiculed it, and property developers transformed it, Notting Hill was home to a vibrant colony of artists, musicians and community activists. In the late 1960s and early '70s, it was England's answer to Greenwich Village or Haight-Ashbury: in the 1950s, writer Michael Moorcock based his Cornelius Chronicles there; Nic Roeg and Donald Cammell immortalised it in their cult 1968 film, Performance; Jimi Hendrix died there. But it wasn't just home to arty types: Notting Hill also gave rise to a host of organised militant political activity, a milieu depicted vividly in Hari Kunzru's latest novel My Revolutions. His novel tells the story of Chris Carver, whose past involvement in the revolutionary armed struggle of the era begins to revisit him in the days leading up to his fiftieth birthday. We joined Kunzru for a tour of the Notting Hill streets that form the backdrop to his book.
26 Powis Terrace

'There is a layer of bullshit over London in the late '60s,' says Kunzru, who has dubbed our tour 'Not Hugh Grant's Notting Hill'. 'People talk about the Carnaby Street stuff, and the exploits of a very small and wealthy upper-class group. But there was a much more low-rent thing going on, based around here because there was space; it was cheap, it was black, it was run-down, and it was too scary for lots of nice white folk to want to be in.'
Powis Square, Notting Hill
Born in 1969, just as hippy flower-power was hardening into militant protest, Kunzru has long had an interest in the period, beginning with music and eventually leading to research into the politics of the time.
The Tabernacle, Notting Hill
Our first stop is Powis Terrace, off Portobello Road, where the London Free School began life in 1966. Set up by local activist John 'Hoppy' Hopkins, the centre was part Citizens' Advice Bureau, part community action group. Rented from British Black Power founder Michael X (Michael DeFreitas), it was frequented by a disparate band of free thinkers, including poet and author Jeff Nuttall, Brian Epstein, RD Laing and Peter Jenner (Pink Floyd's manager). It was the base for the first two Notting Hill Carnivals as well as a rehearsal space for local bands, such as Floyd. Today, in a beautiful example of karmic payback, the house hosts local Marijuana Anonymous meetings.
All Saints Church Hall

The London Free School published a newsletter called The Grove, which needed more money to keep going. It got permission from the local vicar to hold some so-called 'social dances' at All Saints Church Hall (nowadays, thriving arts centre The Tabernacle), round the corner from Powis Terrace. It was at these 'dances' that Pink Floyd played for the first time on September 30 1966; the gig featured the first of their trademark psychedelic light shows. The church was also the meeting place for the Gay Liberation Front, which ran a gay squat in the area.
The leafy, well-kept streets around The Tabernacle are a long way from the Notting Hill of My Revolutions, where 'the streets were lined with decaying mansions, peeling and sooty' and were covered in graffiti. 'You have to imagine that the whole of this tumble-down area was coated with exhortations to burn things down'' says Kunzru. An anarchist group called King Mob produced some of the most famous graffiti of the period; until very recently you could still see their handiwork daubed across a wall that ran alongside the Hammersmith and City line, reading: 'Work, home, work, home, 1 out of 10 go mad, 1 out of 5 crack up'.
Colville Gardens

During the summer of 1967, a group of activists called the Notting Hill People's Association stormed the private gardens between Powis Square and Colville Gardens to open them up for public use. Having scaled the gates, they proceeded to picnic on the lawn and set up a short-lived camp. Eventually, under pressure from community groups, Kensington & Chelsea council bought the square and turned it into a children's playground. The brightly coloured slides and swings that stand there today are a direct legacy of that '60s activism, says Kunzru.
Campaigners also fought to ensure that space beneath the Westway flyover (which was constructed between 1964 and 1970, to much local opposition) was allocated to community groups, rather than private retailers. They won: the country's first Housing Action Centre was established there, as well as community-run playgroups, sports and arts facilities which remain to this day. 'The fight for local facilities, the steps towards gender and race equality and gay rights were all fought back then'' says Kunzru, whose protagonist Carver and other activists storm unused houses to house the homeless. 'But there is a lot of cynicism about what the era achieved,' says Kunzru, who believes the cynics 'are very much in the ascendant at the moment'.
25 Powis Square

Shortly after the Colville Gardens liberation, Powis Square was chosen as the setting for Performance. A caftan-wearing Mick Jagger plays rock star Turner, undergoing a magic mushroom-induced identity crisis at No. 25. 'I would have been in my mid-teens [when I saw it] and Performance immediately struck me as an odd movie, and very sexy,' says Kunzru.
Kunzru's book also vibrates with sex; bedhopping and open relationships were part of the campaign to overturn the 'pig' state. As Kunzru puts it: 'You might be burning the barricades, but you're also getting laid.'
But No. 25 gained further notoriety in the '70s as HQ for the Angry Brigade, a group of militant activists who were accused of carrying out 25 attacks on government buildings, embassies, corporations and the homes of ministers between 1967 and 1971 (including the Biba boutique on Kensington Church Street). Later a 'slightly annoyed brigade' flour- and stink-bombed the larger Biba shop on Kensington High Street. Back in angry Notting Hill, Powis Square was also the unlikely setting for Lemmy's debut gig with Hawkwind.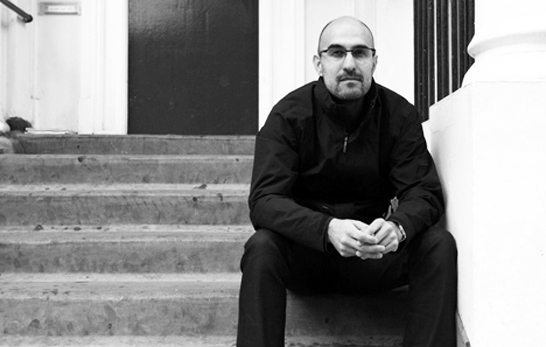 Hari Kunzru
The shadow of the Angry Brigade hangs over Kunzru's book, as Carver commits to a cell of militant activists who acquire guns and explosives, scrutinise each other's revolutionary purity, and agree to attack property and not people, then property and people, then just people. There are obvious parallels with today's Islamic terrorists.
'I was interested in the process of how you might get to the point where you might use violence in support of your politics,' says Kunzru. 'You get these odd paradoxical phrases, with people talking about things like 'armed love' and 'fighting for peace'. Blowing up a few buildings was absolutely nothing to these activists compared to the violence of Vietnam or Northern Ireland.
'The thing that seemed to go terribly wrong for these people who used violence in the early '70s was that they lost sight of the human dimension of what they were trying to do,' he says. 'If you think that love can save the world then you're probably living in a comfortable part of Hampstead. On the other hand, love does count for something.'
Mangrove Café, All Saints Road

The now-fashionable All Saints Road was infamous in Notting Hill in the '70s. It was the frontline for the black community's struggle with the police, as well as being the capital's main reggae artery. The most notorious restaurant on the road was the Mangrove, which served up black-eyed peas and stew to – among others – Marvin Gaye, Jimi Hendrix, Diana Ross and the Supremes, and Nina Simone. It was also the base for the British Black Panther movement which included the writer Darcus Howe and photographer Horace Ové, and was the frequent target of police raids. One such raid led to the arrest of nine of the leaders (including Howe), who were tried and became known as the Mangrove Nine. The case became a cause célèbre with all the Mangrove Nine eventually cleared.
'This case was formative in the fight for race equality in the mid-'70s,' says Kunzru.
Site of the Mangrove Café
However, relations with the police along the road remained tense, finally exploding in 1976, when riots broke out at the Notting Hill Carnival leaving 160 people hospitalised. In 1987, there was another series of police raids on the Mangrove; the subsequent closure of the squats and the installation of surveillance cameras marked the start of Notting Hill's gentrification. Today, the chic and sleek Ruby & Sequoia restaurant stands in the Mangrove's place.
101 Walterton Rd

Number 101 is rather down-at-heel for contemporary Notting Hill, but it has an illustrious past. It was most famously squatted by a band called The 101'ers, whose frontman
Joe Strummer went on to form The Clash. The 101' ers moved from Walterton Road
to another squat at 36 St Luke's Road, which was acquired by the band through the world's first (and probably only) squatting estate agents: Rough Tough Cream Puff. The agency crowbarred its way into houses to squat them, then listed them just as an official agent would have. Apparently, number 36 was listed as 'would suit astronomer', because it had no roof.
Cambridge Gardens
The area was awash with alternative advice centres and underground press, including BIT (Binary Information Transfer), which was 'a kind of information clearing centre for all of the hairy people of the area'' according to Kunzru, and the first port of call if you needed somewhere to live or a vegan meal. Release, the drugs information service, was in nearby Princedale Road from 1967, while underground magazines Oz, Friendz, and the black activist magazine Hustler (nothing to do with the Larry Flynt version), were all born on these streets.
And well before The Clash, there was a thriving music scene here. Hawkwind, Tyrannosaurus Rex and the Pink Fairies all lived and rehearsed in the area. Prog-folk band Quintessence perhaps summed up the ethos of the times best with their song 'Getting It Straight In Notting Hill' and the immortal line, 'We're getting it straight in Notting Hill Gate / We just sit around and meditate'.
The area also boasted the world's smallest country: the Free and Independent Republic of Frestonia, a self-proclaimed state created by the residents of Freston Road who were threatened with eviction to make way for a private estate. Unilaterally declaring independence from Britain, they sent a telegram to the UN asking for membership and a peacekeeping force (should the Greater London Council decide to invade), printed a coat of arms, and issued stamps and passports.
Could such activism ever occur today? Kunzru thinks the flame is still there: 'People haven't lost their passion. We've had the largest anti-war march in history, and huge climate-change protests, much larger than anything similar in the '60s and '70s.'
Kunzru despises the current attempts to brand the concept of 'revolution' and flog it back to us as a lifestyle choice. 'Politics isn't something you do in the supermarket. It's not about whether you buy an eco-pear or a normal brand, it's about deciding how you want to organise society,' he says. 'People get diverted into all this shopping stuff, and are given the impression that they can't change the larger things. But I think it might all be a bit more fragile than we think it is.'
---
My Revolutions by Hari Kunzru is out now (Hamish Hamilton).
Rebecca Taylor is News Editor of Time Out London. Photography by Rob Greig. This was originally printed in Time Out London on the 19th December 2007. Many thanks to Tony Elliott, Claire Hojem, Rebecca Taylor, Abigail Lelliot and Damian Bennett.