Marvo Man

Maverick artist-filmmaker Jeff Keen is celebrated in a major new collection

Jeff Keen was born in Trowbridge, Wiltshire in 1923. His father worked for the local landowner and the Keen family had no electricity or gas in the cottage where they lived. He worked in a branch of Sainsbury's and in apparent preparation for the next part and, indeed, the rest of his life, took to drawing bombers. In 1942, he was called up by the army and sent to various locations to operate and experiment with aeroplane engines and tanks. Keen talks about his time in the army as the best years of his life and his later films and art draw heavily on war and military imagery.
Shortly after being finally dismissed in 1947, Jeff Keen moved to Acton, London and for a term studied art at a small college in Chelsea. He saw a lot of surrealist and other modern abstract art during this period and remembers, in particular, the art brut of French painter, Jean Dubuffet. He then moved to live near relatives in Brighton and met Jackie Foulds, whom he would later marry in 1956. She would star in nearly all his films in the '60s and '70s. Before this, the two of them would go and see movies in London and in the various local cinemas, sometimes several in one day. Jackie was an art student and by the late '50s Jeff was virtually running the film society at the college she attended.
In 1959 and only a few years from forty, he started to make his own 8mm films. These helped maintain the film society and gave him something else to do while then working for Brighton Parks and Gardens. In 1962, he was approached by Tony Wigens of Cine Camera magazine. He liked Jeff's films Wail (1960) and Like The Time is Now (1961), and had them blown-up to 16mm and distributed through the amateur film circuit. They made their way to London and to the National Film Theatre where the head projectionist set them up in the foyer. It was here that the influential critic Ray Durgnat first saw them and in 1965 wrote about them in Films and Filming.
Marvo Movie, 1967
Keen's work was highly unusual in the late '50s and early '60s and he was literally one of only a few people making films of this sort. Jeff can't remember seeing any American work at this time but his films do share some basic similarities with the early work of Ken Jacobs and Jack Smith in that they have friends perform and interpret other versions of themselves through costume and characters.
As the '60s moved on and culture changed, Jeff Keen found support for his films in the swinging scene of London. In 1970 the National Film Theatre held the 'First International Underground Film Festival'. Jeff and friends presented his Rayday Film (1968-70) using a variety of projectors and personal performance. Rayday Film took its name from the magazine, Amazing Rayday, that Jeff had been publishing in Brighton since 1962. Revealing his enduring love of comics, it includes graphics, poems and artwork and looked a little like a fanzine.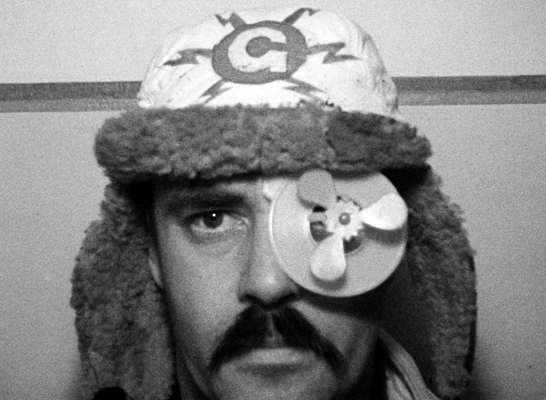 Marvo Movie, 1967
The underground culture that flourished in the 1960s changed with the arrival of the next decade. Despite the difference between his films and others at this time, his work found support with screenings at the London Film-Makers' Co-op and inclusion in exhibitions such as 'Perspectives on Avant-Garde Film' at the Hayward Gallery in 1978. He made and showed his multi-screen diary films – all edited in camera and containing multiple exposures – with music tape compilations of girl groups, jazz and film scores. He also made the longer, single-screen Arts Council funded films White Dust (1970-72) and Mad Love (1972-78). These demonstrated a fondness for popular film history and took conceptual approaches to experimenting with elements of narrative. The more overtly sexual elements to Keen's films developed in the 1970s around the same time as feminism – and were not always well received.
The early '80s marked a shift in Keen's work to such a degree that, while his distinctive frenetic trademarks and references remain, he seemed to start a second chapter or even a new testament. The home movies and appearances from family and friends stopped and a highly controlled and expertly paced editing style matured. His war references were more explicit; the imagery became more violent and is also delivered more violently. Many works from his '90s phase were made on video.
Meatdaze, 1968
Jeff Keen still lives in Brighton and has just turned 85. He has made well over fifty films and has amassed an enormous collection of drawings, paintings and sculptures. His films have been shown nationally and internationally and he has exhibited in galleries, on television, in the cinema and also in shops.
---
On 23rd February, the BFI releases GAZWRX: the Films of Jeff Keen, an audacious nine hours of restored and re-mastered titles on DVD and Blu-ray. Also in February, BFI Southbank in London presents four special screenings including Early Jeff Keen Films and Dr G's Home Movies (a touring programme will be shown at cinemas around the UK). This is an edited extract of the essay included in the new release (www.bfi.org.uk). Thanks to Jill Reading and William Fowler.
William Fowler is Curator of Artists' Moving Image at the BFI National Archive.