28 November - 1 December 2017: Il Cinema Ritrovato: The Shock of the Old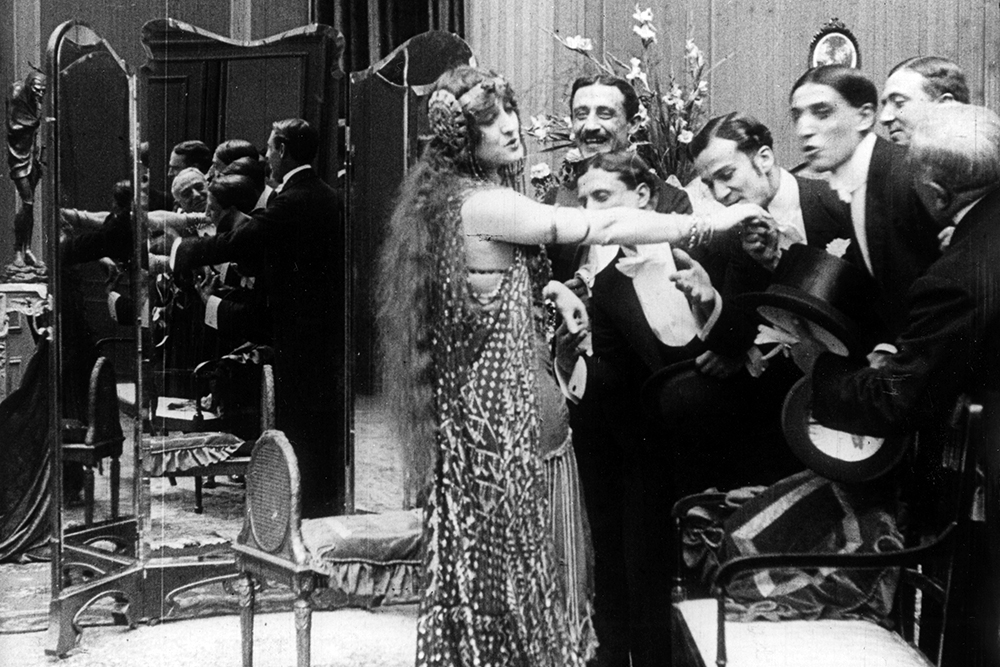 Catholics have the Vatican. Muslims make the pilgrimage to Mecca. Cinephiles have Il Cinema Ritrovato. It's the name of a unique film festival which has been running now for 31 years. The annual setting for the festival is Bologna which boasts majestic architecture, great food and the oldest university in Europe, helping to turn the location into a film set. The festival, hosted by Cineteca di Bologna, screens films from all over the world. It is dedicated to film history, but in a way that will fully convince anyone that the past is a vital part of the present – or as Henri Langlois said about Chaplin, it is the future. Il Cinema Ritrovato brings to an international audience films which have rarely been seen, films that have never been seen in decent copies and films that may have been seen before, but never in the city's main piazza with 4,000 passionate viewers in attendance and a philharmonic orchestra providing musical accompaniment. The festival never ceases to amaze visitors.New restorations, new prints, and remarkable discoveries on an almost daily basis are characteristic of this annual eight-day affair, a 500-film marathon that Sight & Sound magazine recently called "The Shock of the Old."
Close-Up in collaboration with Il Cinema Ritrovato presents a programme touching on two of the festival's distinctive strands: women's cinema and film restoration – both have added new chapters to film history and brought enormous pleasure to cinephiles in recent years.
Programmes one and two showcase the art of Italian divas (Lyda Borelli and Francesca Bertini) and the star as the auteur. Programmes three and four present recently restored films from the legendary L'Immagine Ritrovata labs in Bologna: Humberto Solás' key work of Cuban revolutionary cinema, Lucia, and a Moroccan classic, Trances documenting the music of Nass El Ghiwane of which Martin Scorsese said "it's deepened my sense of the mystery of being alive."
---
Bologna Monumentale
1912 | 5 min | B/W | DCP
Restored by Cineteca di Bologna in 2014. Recorded music performed by Daniele Furlati (piano).
Assunta spina
Gustavo Serena & Francesca Bertini
1915 | 70 min | Tinted | DCP
Restored by Cineteca di Bologna in 2015. Recorded music inspired by the Napoletan tradition and performed by Guido Sodo (Voice and guitar) and François Laurent (Guitar).
Assunta spina is without a doubt one of the unforgettable films of Italian silent cinema. Adapted from a play of the same title by Salvatore Di Giacomo, Assunta Spina represents the excellence of the happy partnership between film and the dramatic repertory of Italian verismo that developed in the mid 1910s. Assunta spina was shot in fall 1914 in Naples, and during its filming the city itself became its uncredited protagonist: the picture shows the city's soul, scrutinizes its every aspect, realistically portraying the serenity and beauty of its most colorful areas, the chaotic frenzy of its neighborhoods and markets, as well as the run-down state of the workingclass suburbs. Similarly, the film reveals the spirit of Neapolitans, emphasizing their exuberance and passion but also their vengefulness and unrestrained reactions that often degenerate into violence. read more
---
Programme 2: Ma l'amore Mio Non Muore!
Ma l'amore Mio Non Muore!
Mario Caserini
1913 | 80 min | B/W | DCP
Restored by Cineteca di Bologna in 2013. Recorded music made with a selection of Opera tunes recorded between 1913 and 1961.
Mario Caserini's Ma l'amor mio non muore! stands out as the first diva film. It is also the first film featuring Lyda Borelli, who, at that time, was already an appreciated theatre actress, about to achieve wider popularity in her new cinematic career. read more
---
Lucía
Humberto Solás
1968 | 160 min | B/W | DCP
Restored by Cineteca di Bologna in 2016 for the Film Foundation's World Cinema Project.
A key work of Cuban cinema, the first feature from director Humberto Solás is a trio of stories about women named Lucía, each in a different register: "Lucía 1895" (featuring Raquel Revuelta, the "Voice of Cuba" in I Am Cuba) is inspired by Visconti's Senso; "Lucía 1933" (with Eslinda Núñez, from Memories of Underdevelopment) is closer to Hollywood melodrama of the forties; and "Lucía 196_", made in the spirit of the revolutionary moment, is a broadly drawn tale of a woman (Adela Legrá) under the thumb of her domineering husband. "One of the few films, Left or Right, to deal with women on the same plane and in the same breath as major historical events," wrote Molly Haskell in 1974. Lucía is also a vivid visual experience, shot in glorious black and white by Jorge Herrero. read more
---
Transes
Ahmed El Maânouni
1981 | 89 min | Colour | DCP
Restored by Cineteca di Bologna in 2007 for the Film Foundation's World Cinema Project.
In the Seventies, thanks to five "street" musicians who were determined to break away from the all-pervading "Eastern languors", Morocco experienced a musical explosion which became the expression of young people's desires, frustrations, and rebellion. In Transes, Ahmed El Maanouni retraces the geographical and cultural itinerary of this group, Nass El Ghiwane, which in 1974 lost one of its outstanding members, Boujemaa, who died at the age of 28. The trance, a ritual and sacred form of expression for the Gnaouas of Essaouira, becomes a non-religious and modern frenzy, as we see in the public concerts filmed in Carthage, Agadir, and Paris. read more

---
With thanks to
Ehsan Khoshbakht
,
Guy Borlée
(
Il Cinema Ritrovato
),
Carmen Accaputo
(
Cineteca di Bologna
) and
L'Immagine Ritrovata
for making this programme possible.
More info:
ilcinemaritrovato.it

cinetecadibologna.it
immagineritrovata.it
film-foundation.org