8 March - 9 April 2019: Close-Up on Sergei Parajanov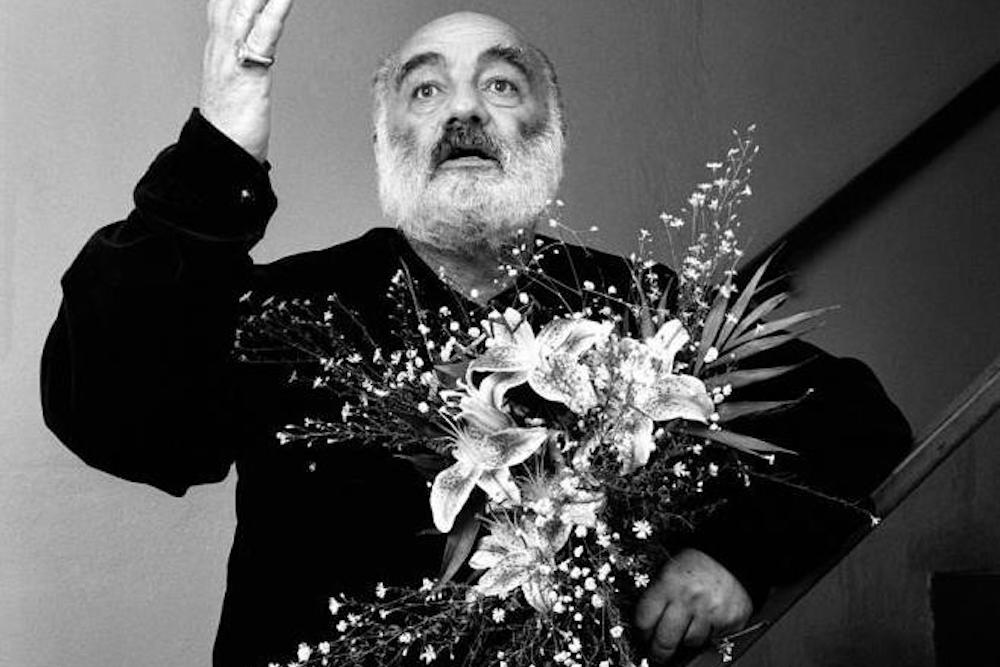 "Armenian-Georgian director and artist Sergei Parajanov (1924-1990) is one of the most fascinating figures in 20th century cinema. Born in Tbilisi to Armenian parents, he grew up there before moving to Moscow to study at the VGIK film school and subsequently worked in the Ukraine, Georgia, Armenia, and Azerbaijan during the Soviet era. The cultures, traditions, folklore, and myths of these countries and regions pervade his films, which continue to impress today thanks to their singular expressive power, unmistakable originality, complex visual compositions, and radically free cinematic forms. Celebrated as an outstanding filmmaker from the mid-60s both at home and beyond, Parajanov's artistic audacity and multi-faceted approach to culture was met with increasing rejection in the Soviet Union, however. Interventions on the part of the censors were followed by prison terms spanning many years and a filmmaking ban; Parajanov was only able to make two further features once it was finally lifted." – Arsenal Institute for Film and Video Art
This season presents Parajanov's four key-features and three shorts, including new digital restorations and 35mm prints, alongside introductions by special guests and a selection of parallel programmes featuring screenings, performances, talks and discussions in collaboration with Keti Japaridze, Lika Tarkhan-Mourav and Daniel Bird.

A retrospective on Parajanov's close friend Andrei Tarkovsky runs in tandem to this programme.
Shadows of Forgotten Ancestors
Sergei Parajanov, 1964, 97 min, Digital restoration
Ukrainian with English subtitles
Cascades of colour, folkloric elements, fantastically stylised images of landscape, and bold editing of sound and image all frame Shadows of Forgotten Ancestors, which is regarded as a turning point in Parajanov's career and which established his reputation internationally. The film revolves around Ivan und Marishka, two young inhabitants of a primitive mountain villages in the Carpathians whose love is doomed due to the animosity between their families. read more
Kiev Frescoes
Sergei Parajanov, 1966, 15 min, Digital restoration
What was supposed to become a feature-length film about the aftermath of WWII in contemporary Kiev, turned into a short collage, based on the remaining footage after all negatives were destroyed by the authorities. These tests however clearly indicate a radical stylistic shift from his prior and widely celebrated Shadows of Forgotten Ancestors. read more
Hakob Hovnatanyan
Sergei Parajanov, 1967, 10 min, Digital restoration
With a playful associative montage, Parajanov offers an overview of portrait paintings by Hakob Hovnatanyan, the "Raphael of Tiflis". Combining sights and sounds from both Hovnatanyan's paintings and 19th century Tbilisi, Parajanov's short documentary can be seen as a direct precursor to The Colour of Pomegranates. read more
The Colour of Pomegranates
Sergei Parajanov, 1969, 78 min, Digital restoration
Armenian & Georgian with English subtitles
A breathtaking fusion of poetry, ethnography, and cinema, Sergei Parajanov's masterwork overflows with unforgettable images and sounds. In a series of tableaux that blend the tactile with the abstract, The Colour of Pomegranates revives the splendours of Armenian culture through the story of the eighteenth-century troubadour Sayat-Nova, charting his intellectual, artistic, and spiritual growth through iconographic compositions rather than traditional narrative. read more
Arabesques on the Pirosmani Theme
Sergei Parajanov, 1985, 21 min
A documentary film about the great Georgian outsider artist Niko Pirosmani. By filming the detail and themes of his colourful paintings, Parajanov creates an engaging and mysterious portrait of Georgia itself. This later work is often seen as a companion piece to Hakob Hovnatanyan, since it also takes its subject from a famous painter. read more
The Legend of Suram Fortress
Sergei Parajanov & Dodo Abashidze, 1985, 87 min, 35mm
Georgian with English subtiltes
Codirected by Dodo Abashidze and Sergei Parajanov, this film is based on a Caucasus Mountains legend that tells of the repeated efforts of the Georgian people to construct a fortress against invaders. The fortress continues to collapse until a fortune-teller recalls a fateful prophecy. The story, at once simple and marvellous (in the literal sense), unfolds in a circular rather than linear manner, and its mythic possibilities are realized wondrously in the film's visuals. read more
Ashik Kerib
Sergei Parajanov, 1988, 78 min, 35mm
Azerbaijani with English subtitles
Based on an orientally inspired poem by Russian romantic poet Mikhail Lermontov Parajanov's last film tells the story of the poor wandering singer Ashik Kerib, who falls in love with the daughter of a rich merchant. The film presents visual circular dance shot in the area around Baku (Azerbaijan) in various languages that resembles 1001 Nights, rich in ornaments, metaphors and symbols, in meticulously mounted composition full of warmth and self-deprecation. read more
---
Parallel Programmes:
Alongside our Sergei Parajanov film retrospective we're thrilled to present a selection of screenings, performances, talks and discussions in collaboration with Keti Japaridze, Lika Tarkhan-Mouravi and Daniel Bird.
Curated by Keti Japaridze and Lika Tarkhan-Mouravi, Reminiscence is a visual arts programme bringing together artists and individuals reminiscing about and celebrating the oeuvre of the great filmmaker. Live performances, video installations and talks will populate the cinematic space and extend the film programme beyond its boundaries.
The programme will be accompanied by a series of talks. The conversations with exhibiting artists will be moderated by Whitechapel Gallery Film Curator Gareth Evans. Yuri Mechitov, a close friend of Parajanov and the photographer behind some of his most iconic portraits, will be in conversation with the director of the Georgian Film Festival in London, Jason Osborn alongside film critic and curator, James Norton. read more
---
Programme 2: Sayat-Nova Outtakes
During the Soviet era, it was customary to incinerate outtakes of negative film stock so the silver could be recycled. Through miraculous circumstances, the outtakes from Parajanov's classic The Colour of Pomegranates were saved, granting us a remarkable insight into Parajanov's creative process and glimpses of ghost films, tantalising suggestions of what these could have been had Parajanov retained control over his material. The Colour of Pomegranates is therefore an "open" book we can finally explore, 50 years after the film's release.
We're pleased to welcome Daniel Bird to present and discusses a selection of these restored outtakes. read more
---
Many thanks to Ara Sarafian and the Armenian General Benevolent Union for their early involvemet, without which this progreamme would not have been possible.
With thanks to Keti Japaridze, Lika Tarkan-Mouravi, cARTveli, Jason Osborn, Life Through Cinema, Nouritza Matossian, Belinda Keheyan, the Armenian Institute, Oleksandr Prokopenko, the Oleksandr Dovzhenko Center and the Georgian Film Archive for their generous support. And to our guests and visiting artists Mamuka Japharidze, Sophio Medoidze, Uta Bekaia, Gareth Evans, James Norton and Stefan Williamson-Fa.
Special thanks to Daniel Bird, for his endless advice and patience.
Generously supported by:
In association with:
Parrallel programme supported by: