25 June - 7 November 2021: Essential Cinema
Opening Day of Close-Up
Nanni Moretti, 1996, 7 min
Italian with English subtitles

"At his cinema in Rome, the Nuovo Sacher, Nanni Moretti anxiously oversees preparations for the premiere of the film Close-Up, by Iranian director Abbas Kiarostami. Meanwhile, Disney's The Lion King is taking Italy by storm." – Harvard Film Archive
Close-Up
Abbas Kiarostami, 1990, 98 min
Persian with English subtitles
Introduced by Ehsan Khoshbakht
"Internationally revered Iranian filmmaker Abbas Kiarostami has created some of the most inventive and transcendent cinema of the past thirty years, and Close-Up is his most radical, brilliant work. This fiction-documentary hybrid uses a sensational real-life event – the arrest of a young man on charges that he fraudulently impersonated the well-known filmmaker Mohsen Makhmalbaf – as the basis for a stunning, multilayered investigation into movies, identity, artistic creation, and existence, in which the real people from the case play themselves." – Janus Films
---
L'Atalante
Jean Vigo, 1934, 89 min
French with English subtitles
"In Jean Vigo's hands, an unassuming tale of conjugal love becomes an achingly romantic reverie of desire and hope. Jean (Jean Dasté), a barge captain, marries Juliette (Dita Parlo), an innocent country girl, and the two climb aboard Jean's boat, the L'Atalante – otherwise populated by an earthy first mate (Michel Simon) and a multitude of mangy cats – and embark on their new life together. Both a surprisingly erotic idyll and a clear-eyed meditation on love, L'Atalante, Vigo's only feature-length work, is a film like no other." – Janus Films
---
Lift to the Scaffold
Louis Malle, 1958, 88 min
French with English subtitles
"For his feature debut, twenty-four-year-old Louis Malle brought together a mesmerizing performance by Jeanne Moreau, evocative cinematography by Henri Decaë, and a now legendary jazz score by Miles Davis. Taking place over the course of one restless Paris night, Malle's richly atmospheric crime thriller stars Moreau and Maurice Ronet as lovers whose plan to murder her husband (his boss) goes awry, setting off a chain of events that seals their fate. A career touchstone for its director and female star, Lift to the Scaffold was an astonishing beginning to Malle's eclectic body of work, and it established Moreau as one of the most captivating actors ever to grace the screen." – Janus Films
---
Last Year in Marienbad
Alain Resnais, 1961, 94 min
French with English subtitles
"Once again I walk, once again, along these corridors, across these salons, these galleries, in this edifice from another century, this huge, luxurious, baroque hotel . . ." The incantatory voice-over narration could be the voice of Sacha Vierny's camera as it travels through time, past the statues and statuesque beings-in-time – the characters – in this masterpiece of mise-en-scène. Some critics interpreted Marienbad's labyrinthine gardens as a dreamscape, others as a landscape of the mind that rejects cause and effect. Still, why not take it at face value? A man attempts to convince a woman (Delphine Seyrig) that, a year ago, they met and fell in love at a European spa, perhaps Marienbad where they are now. The seamless integration of past and present is central to Alain Resnais's films, but, as author-screenwriter Alain Robbe-Grillet said, "The image is always in the present tense." – Judy Bloch
---
Vivre sa Vie
Jean-Luc Godard, 1962, 85 min
French with English Subtitles
"Using interview techniques, direct sound, long takes, texts, quotations, and statistics, Godard creates a documentary tone for this film about Nana S. (Karina), a girl from the provinces who can't pay her rent and is initiated into prostitution in Paris. Godard's film is a probing and dazzling examination of prostitution but, above all, a passionate celluloid love letter to Karina, then the director's wife. His close-ups of her face bring to mind the incomparable faces of another era: Louise Brooks, Lillian Gish, and Falconetti." – Harvard Film Archive
---
Cléo from 5 to 7
Agnès Varda, 1962, 90 min
French with English subtitles
"Varda's international breakthrough film, Cléo shows, in real time, an hour and a half in the life of a singer traveling across Paris while waiting for the results of a biopsy. Vain, childish and selfish at the start, Cléo's journey through Paris becomes a journey of self-discovery – she transforms in the course of the film from a passive woman, on whom others project their expectations, into an active participant in her own life. Cléo's movements through the city embody this metamorphosis – while the film's first half is dominated by a shopping excursion through glittering, mirrored surfaces that reflect and refract her, in the second half, Cléo literally sheds her false image in order to actively observe the city, culminating in her spontaneous friendship with a soldier on leave." – Harvard Film Archive
---
The Seventh Seal
Ingmar Bergman, 1957, 96 min
Swedish with English subtitles
"It may be folly to think that life and thus death could hold any secrets. With The Seventh Seal Bergman spoke to this modern query in a medieval setting rendered at once awesome and intimate in chiaroscuro. A knight, Antonius Block (Max von Sydow), and his squire Jöns return disillusioned from the Crusades to the hysteria of plague-infested fourteenth-century Sweden. On the shore Block encounters Death and challenges him to a game of chess, playing for time to perform one significant act in life. What is timeless about this existential passion play is the humanity of its characters, who seem to shun allegory like a kind of narrative death: Block, whom the Crusades took away from the real – the only proof of God – to the torment of the abstract; Jöns, cynical sensualist who articulates the void; Death himself, a picture of inconclusiveness; and the dreamer Jof and his wife, actors traveling into light." – Judy Bloch
---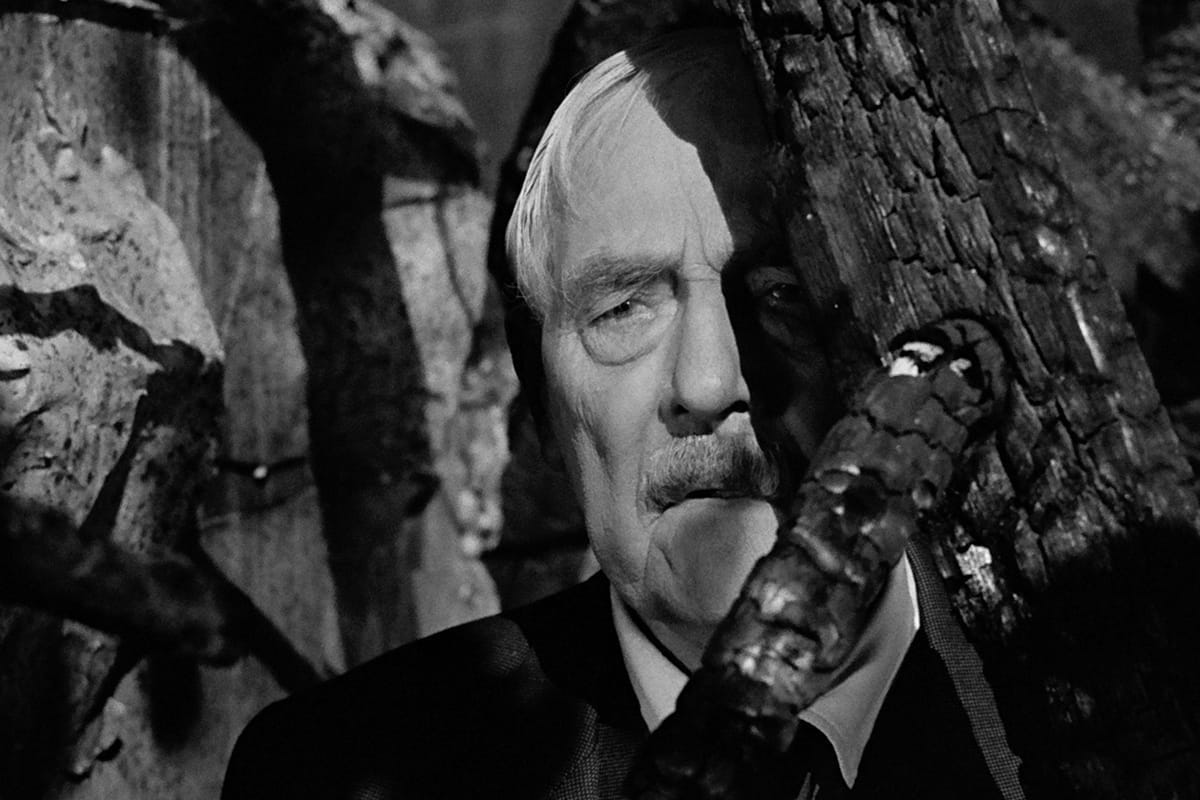 Wild Strawberries
Ingmar Bergman, 1957, 92 min
Swedish & Latin with English subtitles
"Bergman's most popular film alongside The Seventh Seal similarly packages troubling existential questions within a tightly structured narrative, offering charming, lighthearted passages for almost long enough to make one forget the morbid realities that undergird its story. Master silent film director Victor Sjöström is brilliantly cast as Dr. Borg, a chilly, antisocial medical professor whose long life has been defined by empty rationality and faded social connections, all of which has gained him a lousy reputation he fears he will carry to his death. Dr. Borg takes along his daughter-in-law on a cross-country road trip to receive an honorary degree, and the passing landscape stirs in him a flurry of childhood memories that Bergman interweaves seamlessly into the present moment. Wild Strawberries' blend of a linear narrative with flashbacks and Bunuelian dream sequences was perceived as exotic and audacious upon release, but now the film plays as one of Bergman's sturdiest and most straightforwardly earnest pieces of storytelling." – Harvard Film Archive
---
Persona
Ingmar Bergman, 1966, 83 min
Swedish & English with English subtitles
"Arguably Bergman's most representative and iconic film, Persona is the pivot point between the director's two great sixties trilogies (his crisis-of-faith trio and the island-set films with which he closed the decade), blending crucial elements of both into something spare, chilling and inimitable. Liv Ullmann and Bibi Andersson star as a traumatized actress and her caretaker, respectively, but are they really two different people at all? The most abstractly drawn of all Bergman narratives, Persona migrates the women from a nondescript hospital in an undisclosed location to a remote seaside cottage and back again, their initial nurse-patient dynamic deteriorating, flipping and finally exploding over the course of a fraught, dreamlike eighty-three minutes. Taking influence from the era's avant-garde underground as well as from the modernist methods of filmmakers like Jean-Luc Godard and Michelangelo Antonioni, Bergman fashions an expressionistic surface that mirrors the mental landscapes of his two sparring heroines, juxtaposing meditative landscape shots against stuttering montage freak-outs and ambitious, sculptural uses of the human face." – Harvard Film Archive
---
Knife in the Water
Roman Polanski, 1962, 94 min
Polish with English Subtitles
Roman Polanski's first feature is a brilliant psychological thriller that many critics still consider among his greatest work. The story is simple, yet the implications of its characters' emotions and actions are profound. When a young hitchhiker joins a couple on a weekend yacht trip, psychological warfare breaks out as the two men compete for the woman's attention. A storm forces the small crew below deck, and tension builds to a violent climax. With stinging dialogue and a mercilessly probing camera, Polanski creates a disturbing study of fear, humiliation, sexuality, and aggression. This remarkable directorial debut won Polanski worldwide acclaim, a place on the cover of Time, and his first Oscar nomination.
---
Repulsion
Roman Polanski, 1965, 105 min
Roman Polanski followed up his international breakthrough Knife in the Water with this controversial, chilling tale of psychosis. Catherine Deneuve is Carol, a fragile, frigid young beauty cracking up in her London flat when left alone by her vacationing sister. She is soon haunted by spectres real and imagined, and her insanity grows to a violent, hysterical pitch. Thanks to its disturbing detail and Polanski's adeptness at turning claustrophobic space into an emotional minefield, Repulsion is a surreal, mind-bending odyssey into personal horror, and it remains one of cinema's most shocking psychological thrillers.
---
Cul-de-sac
Roman Polanski, 1966, 112 min
Roman Polanski orchestrates a mental ménage-à-trois in this slyly absurd tale of paranoia from the director's golden 1960s period. Donald Pleasence and Françoise Dorléac star as a withdrawn couple whose isolated house is invaded by a rude, burly American gangster on the run, played by Lionel Stander. The three engage in role-playing games of sexual and emotional humiliation. Cul-de-sac is an evocative, claustrophobic, and morbidly funny tale of the modern world in chaos.
---
Taipei Story
Edward Yang, 1985, 110 min
Mandarin & Hokkien with English subtitles
"Yang's close friend, master filmmaker Hou Hsiao-hsien, delivers a remarkable lead performance as a former Little League baseball star faced with an empty future and painfully nostalgic for his childhood success. Hou's character is caught in the complex grid of obligatory and accidental relationships traced by Yang against the backdrop of Taipei's first economic awakening. While the film's English-language title (assigned by Yang himself) deliberately echoes Ozu, its restrained exploration of urban malaise is better compared to Antonioni. What Taipei Story has in common with both Ozu and Antonioni is a concern for the moral and intellectual lassitude and pervasive disillusionment that gradually takes hold in the wake of an economic boom." – Harvard Film Archive
---
A Brighter Summer Day
Edward Yang, 1991, 237 min
Mandarin & Taiwanese with English subtitles
"While Yi Yi brought Yang worldwide success, A Brighter Summer Day is more often pointed to as his great masterpiece, combining as it does the incisive eye and narrative complexity of Taipei Story and The Terrorizer with an epic scope that can truly be called novelistic. At the beginning of the 1960s, Taipei, though still semi-rural, struggles with a rapidly advancing modernity. Kids listen to Elvis Presley and join street gangs, while between the and the generation of their parents – displaced by the Chinese civil war and the Kuomintang's retreat to Taiwan – lies a tragic gap that only emotional excess and violence can fill. Young Si'er (Zhang Zhen) falls hard for Ming, a lovely, endearing and complex girl of "questionable" reputation who unfortunately "belongs" to the leader of a rival gang. More Carmen than Romeo and Juliet, the film offers a tender representation of ill-fated teenage love. At one point, a character refers to War and Peace, and Yang's film reveals no less ambition than Tolstoy's epic novel, but on a much smaller scale. In the world of A Brighter Summer Day, war is a distant memory, but peace is in short supply." – Harvard Film Archive
---
Yi Yi
Edward Yang, 2000, 173 min
Mandarin with English subtitles
"Edward Yang's beloved final completed film blends the critical eye of his "Taipei trilogy" with a gentler version of his trenchant, stinging comedies. Yang's remarkable eye for detail is evident throughout Yi Yi's sensitive chronicle of an upper-middle class Taiwanese family shaken by a series of unexpected – yet, in retrospect, clearly inevitable – events. As the middle-aged parents ruminate over past decisions and grow anxious for the future, their children grapple with the burdens of growing up. Like so many of Yang's films, Yi Yi is a carefully orchestrated, almost musical ensemble piece that masterfully interweaves its characters rather in the manner of Renoir's Rules of the Game. And like Renoir, Yang reveals himself to be a consummate observer of behavior, able to discern the comic and the tragic sides of the human predicament." – Harvard Film Archive