2 January - 31 December 2022: Jonas Mekas 100!
"I am standing in the middle of the information highway and laughing, because a butterfly on a little flower somewhere in China just fluttered its wings, and I know that the entire history, culture will drastically change because of that fluttering. A Super 8mm camera just made a little soft buzz somewhere, somewhere on the lower east side of New York, and the world will never be the same." – Jonas Mekas
A Lithuanian, arriving in New York in flight from war-torn Europe, Jonas Mekas became one of the leading figures of American avant-garde filmmaking. In 1954, he became editor and chief of Film Culture; in 1958 he began writing his "Movie Journal" column for the Village Voice; in 1962 he co-founded the Film-Makers' Cooperative (FMC) and the Filmmakers' Cinematheque in 1964, which eventually grew into Anthology Film Archives, one of the world's largest and most important repositories of avant-garde films. His own output ranged from narrative films to documentaries and to "diaries". Mekas' highly personal film diaries recorded many of the underground events from the 1950s to the 80s as well as his own life, creating a unique body of work that is both a record of those eventful years and remarkable film poetry. 2022 would have been the 100th anniversary of this legendary filmmaker, and to celebrate this occasion we're delighted to present the most comprehensive survey of his work to date.
---
Guns of the Trees
Jonas Mekas, 1962, 87 min
"Guns of the Trees deals with the thoughts, feelings, and anguished strivings of my generation, faced with the moral perplexity of our times. Conceived as an episodic, horizontal film, there is no apparent direct story connection between one scene and the next. The scenes act like pieces of a larger, timed, emotional mosaic. Where the direct word, or the direct image, fails – when we come to more essential things – the indirectness of the poet will seize the essence and the truth." – Jonas Mekas
---
The Brig
Jonas Mekas, 1964, 68 min
"I went to see The Brig, the play, the night it closed. The Becks were told to shut down and get out. The performance, by this time, was so precisely acted that it moved with the inevitability of life itself. As I watched it I thought: 'Suppose this was a real brig; suppose I was a newsreel reporter; suppose I got permission from the U.S. Marine Corps to go into one of their brigs and film the goings-on: What a document one could bring to the eyes of humanity!' The way The Brig was being played now, it was a real brig, as far as I was concerned. This idea took possession of my mind and my senses so thoroughly that I walked out of the play. I didn't want to know anything about what would happen next in the play; I wanted to see it with my camera. I had to film it." – Jonas Mekas
Award Presentation to Andy Warhol
Jonas Mekas, 1964, 12 min
"In 1964 Film Culture magazine chose Andy Warhol for its annual Independent Film award. The plan was to show some of Andy's films and have Andy come on stage and hand him the award. Andy said, no, he didn't want a public presentation. So I decided to hand him the award at the Factory, film the occasion, and show the film at the Award Presentation show at the New Yorker Theater. Andy thought it was a good idea. He got some of the superstars together for the occasion. I was on my way to the Factory with three rolls of film when I remembered that I had nothing to present to Andy. So on the corner I bought a basket of mixed fruit. It was presented to Andy by Ivy Nicholson's little son." – Jonas Mekas 
---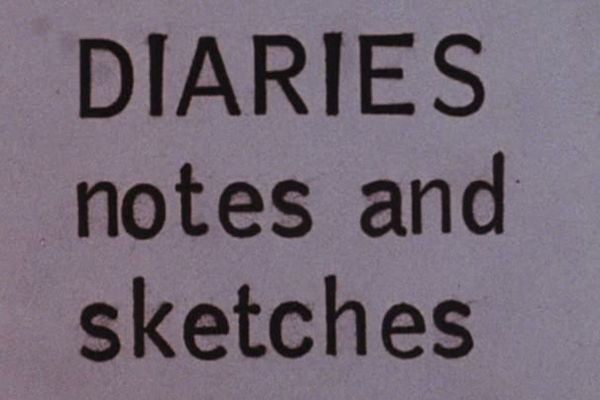 Walden
Jonas Mekas, 1969, 180 min
"Since 1950 I have been keeping a film diary. I have been walking around with my Bolex and reacting to the immediate reality: situations, friends, New York, seasons of the year. On some days I shot ten frames, on others ten seconds, still on others ten minutes. Or I shot nothing. When one writes diaries, it's a retrospective process: you sit down, you look back at your day, and you write it all down. To keep a film (camera) diary, is to react (with your camera) immediately, now, this instant: either you get it now, or you don't get it at all. To go back and shoot it later, it would mean restaging, be it events or feelings. To get it now, as it happens, demands the total mastery of one's tools (in this case, Bolex): it has to register the reality to which I react and also it has to register my state of feeling (and all the memories) as I react. Which also means, that I had to do all the structuring (editing) right there, during the shooting, in the camera. All footage that you'll see in the Diaries is exactly as it came out from the camera: there was no way of achieving it in the editing room without destroying its form and content. Walden contains materials from the years 1965-69, strung together in chronological order. For the soundtrack I used some of the sounds that I collected during the same period: voices, subways, much street noise, bits of Chopin (I am a romantic), and other significant and insignificant sounds." – Jonas Mekas
---
Reminiscences of a Journey to Lithuania
Jonas Mekas, 1972, 82 min
The 365 Days Project: February 21
Jonas Mekas, 2007, 5 min
"Jonas Mekas was born in Semeniškiai, a small farming village in the Biržai region of northeastern Lithuania in 1922. His adolescence was spent in his own world of literature and poetry which consumed his daily life. This peaceful existence was thrown into turmoil with the arrival of Soviet and then Nazi troops to Lithuania. Jonas and his younger brother Adolfas attempted to flee to Vienna in 1944 but were diverted by the Germans to a forced labour camp outside of Hamburg. Following the War and several years living as displaced persons while studying in Germany, they got the opportunity to emigrate to the United States, where they settled in Brooklyn and began their artistic activities such as founding Film Culture magazine and making their own films. Reminiscences of a Journey to Lithuania documents the brothers' return to their home after 27 years abroad.
An exquisitely composed document of this emotional homecoming, the film is structured as a triptych, with the central section comprising "100 Glimpses of Lithuania, August 1971". Reuniting with siblings, neighbours and their mother Elžbieta – at that time in her eighties and still cooking outdoors over an open fire – the film brings the viewer along on a tour of village life in rural Soviet Lithuania. This is bookended by scenes from New York in the 1950s and a stop in Vienna following the brothers' time in Lithuania.
Reminiscences of a Journey to Lithuania is preceded by a video from Mekas's 365 Days Project, in which he released one video on each day of 2007 on his website. The video from February 21 is a comment on Britney Spears, shown in the newspaper days after she shaved her head. Mekas says, "They say she's about to go through a nervous breakdown… Nervous breakdowns are very necessary! The artists that don't go through nervous breakdowns: I don't trust them."" – Herb Shellenberger
---
Lost Lost Lost
Jonas Mekas, 1976, 178 min
"The period I am dealing with in these six reels was a period of desperation, of attempts to desperately grow roots into the new ground, create new memories. In these six painful reels I tried to indicate how it feels to be an exile, how I felt in those years. They describe the mood of a Displaced Person who hasn't yet forgotten his native country but hasn't yet gained a new one. The sixth reel is a transitional reel where we begin to see some relaxation, where I begin to find moments of happiness. New life begins…" – Jonas Mekas
---
The Sixties Quartet
Scenes from the Life of Andy Warhol
Jonas Mekas, 1990, 35 min
Jonas Mekas is known for his rapid-fire diary films. His Scenes from the Life chronicles not only Andy Warhol, but also the social and cultural excitement that swirled around him, throbbing to a hypnotic Velvet Underground beat.
Zefiro Torna or Scenes from the Life of George Maciunas
Jonas Mekas, 1992, 34 min
"Images from the life of George Maciunas. Includes footage I took of George in 1952, at his parents' house, with his father and mother and sister Nijole. Bits of Fluxus events and performances, and picnics with friends (Almus, Andy Warhol, John Lenon, Yoko Ono, etc.); George's wedding and footage I took of him in Boston Hospital three days before he died." – Jonas Mekas
Happy Birthday to John
Jonas Mekas, 1996, 24 min
"On October 9th, 1972, half of the music world gathered in Syracuse, N.Y., to celebrate the opening of John Lennon/Yoko Ono Fluxus show, designed by George Maciunas. Same day, a smaller group gathered in a local hotel room to celebrate John's birthday." – Jonas Mekas
This Side of Paradise
Jonas Mekas, 1999, 35 min
"Unpredictably, as most of my life's key events have been, for a period of several years of late sixties and early seventies, I had the fortune to spend some time, mostly during the summers, with Jackie Kennedy's and her sister Lee Radziwill's families and children. Cinema was an integral, inseparable, as a matter of fact, a key part of our friendship. The time was still very close to the untimely, tragic death of John F. Kennedy. Jackie wanted to give something to her children to do, to help to ease the transition, life without a father. One of her thoughts was that a movie camera would be fun for children. Peter Beard, who was at that time tutoring John Jr. and Caroline in art history, suggested to Jackie that I was the man to introduce the children to cinema. Jackie said yes. And that's how it all began." – Jonas Mekas
---
He Stands in a Desert Counting the Seconds of His Life
Jonas Mekas, 1969/85, 150 min
"The film consists of 124 brief sketches, each half-a-minute to about two minutes long. Portraits of people I have spent time with, places, seasons of the year, weather (storms, snow, blizzards etc...) many of my film-maker friends – streets and parks of New-York – brief escape in nature, out of town – nothing spectacular, unimportant celebrations of life that has gone, by now, and remains only as a record in these personal, brief sketches." – Jonas Mekas
---
As I Was Moving Ahead Occasionally I Saw Brief Glimpses of Beauty
Jonas Mekas, 2000, 288 min
New restored version
"Perhaps Jonas Mekas's cinematic magnum opus, As I Was Moving Ahead Occasionally I Saw Brief Glimpses of Beauty is the filmmaker's nearly five-hour film which he describes as "a masterpiece of nothing". Through the film's twelve chapters, the artist describes his obsession with nothing – or what's considered nothing, in cinema, in life. An associative, poetic construction of footage shot between 1970 and 1999, the film finds beauty in the disorder of everyday life. An intensely personal film, As I Was Moving Ahead… is perhaps Mekas's most revealing work with regards to his family: his wife Hollis, their daughter Oona, and their son Sebastian. The work represents no less than the apex of a 50-year investment in 16mm celluloid filmmaking, showing baptisms, communions, vacations, dinners, breakfasts, lunches, birthdays and so much more." – Herb Shellenberger
---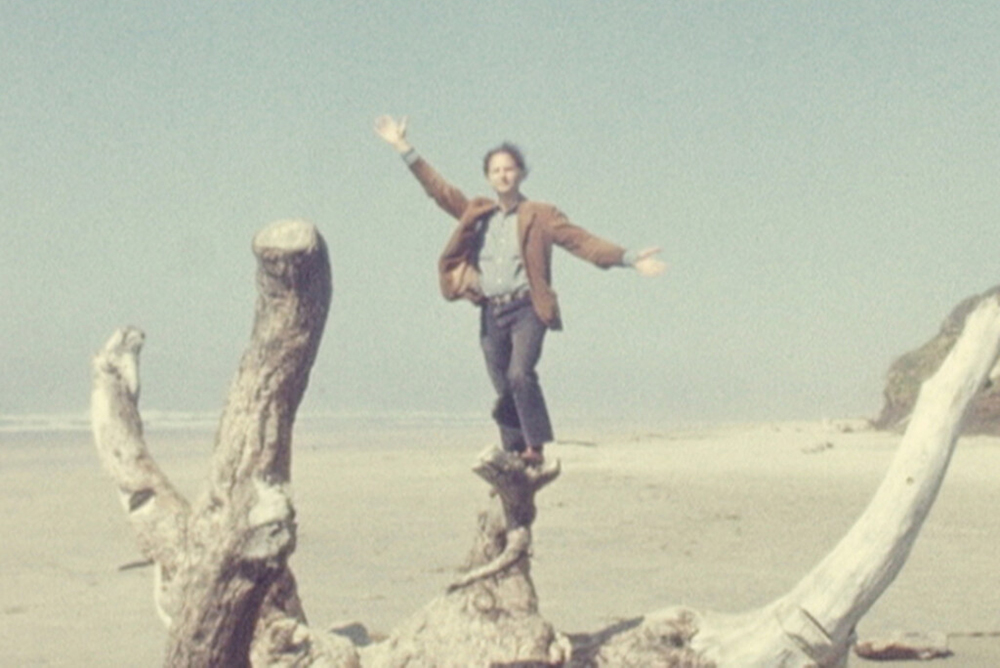 Out-Takes from the Life of a Happy Man
Jonas Mekas, 2012, 88 min
Self-Portrait
Jonas Mekas, 1980, 20 min
""Late at night, the city is sleeping, everybody is sleeping… only the filmmakers are awake." Jonas Mekas's late period film Out-Takes from the Life of a Happy Man is a reverie built up from discarded footage not used in any of his other films. Mekas began shooting with video and digital cameras in the 1980s and finished shooting 16mm film by the end of the 1990s. With this film, he looked back on the fragments of unused 16mm footage, finding yet more brief glimpses of beauty to join together with immediacy and intuition. In essence, he was returning from the digital age to the technique he used to make his classic films like Walden: Diaries, Notes and Sketches (1969) and Lost Lost Lost (1976). On the soundtrack, we hear soft piano while Mekas tells us that these are "images with no purpose". They're "just for myself and a few friends", i.e. us, the viewers.
Out-Takes from the Life of a Happy Man is preceded by Self-Portrait, Mekas's first work made with a video camera in 1980. Shot at 1:45pm on a sunny afternoon in front of curator Sally Dixon's house in St. Paul, Minnesota, the twenty-minute video is a masterclass in liveness, spontaneity and improvisation." – Herb Shellenberger
---
Short Films & Videos 1966-2017
Notes on the Circus, 1966, 12 min
Imperfect Three-Image Films, 1995, 6 min
Travel Songs, 2003, 28 min
A Letter to Penny Arcade, 2007, 15 min
My Birthday, 2014, 6 min
I Don't Know Which Tree it Comes from that Fragrance, 2017, 16 min
"This programme presents a curated selection of Jonas Mekas's short-form works made across a fifty-one-year period, showcasing the remarkable breadth of cinematic forms that he worked in over the decades. Notes on the Circus (1966), the earliest film in the programme, is Mekas's impressionistic portrait of the classic Ringling Bros. three-ring circus, with trapeze artists, tumblers and animals colliding together in dazzling cinematic display of superimpositions, filmed in superfast or slow motion. Travel Songs (filmed between 1967-81, edited in 2003) compiles Mekas's travels through Italy, Spain, Sweden and the USSR, documents of a "pilgrim of cinema" as he brings the films by the New American Cinema Group to new audiences or meets people like Pier Paolo Pasolini. Imperfect Three-Image Films (1995) contains a series of silent moving image haikus, while A Letter to Penny Arcade (2007) is a video letter to Mekas's friend, the avant-garde performance artist and playwright. Filming on the day of his birth in 2014, My Birthday finds Mekas talking about his childhood through the analysis of a family photograph taken by his mother's brother. Finally, I Don't Know Which Tree it Comes from that Fragrance (2017) is Mekas's tribute to Yoko Ono, a close friend for many decades. Viewed together, these small works give viewers a window into Jonas Mekas's life, his friendships and his unique way of thinking through filming." – Herb Shellenberger
---
The New American Cinema and After
Wien & Mozart
Jonas Mekas, 2001, 1 min
BreathDeath
Stan VanDerBeek, 1963, 15 min
Harmonica
Larry Gottheim, 1971, 10 min
The Vision Machine
Peggy Ahwesh, 1997, 20 min
Imperceptihole
Lori Felker & Robert Todd, 2010, 15 min
"While currents of experimental film in the United States could be traced back to the early decades of the 20th century, a full blossoming of new film artists in the early 1960s arrived under the aegis of a collective called the New American Cinema Group. While this group was a result of the efforts of many, Jonas Mekas was the glue that held together this group of filmmakers, and his further initiatives to support film artists manifested into the Film-Makers' Cooperative, his weekly column "Movie Journal" in The Village Voice and later the founding of Anthology Film Archives.
[This] programme contextualises Jonas Mekas's own filmmaking through works by filmmakers who were his peers or who worked as a result of his influence and history. Stan VanDerBeek's 1963 collage animation BreathDeath emerged from the centre of the Pop Art movement, bringing the characteristic signifiers of consumer culture and current events into a frenzied cacophony of motion. Larry Gottheim's Harmonica is a conceptual film that foregrounds performance, personality and joy from the backseat of a speeding automobile. The Vision Machine is a layered, alcohol-soaked mash-up of documentary, fiction and theory emerging from Peggy Ahwesh's past in the feminist punk scene in Pittsburgh. Finally, Lori Felker & Robert Todd's Imperceptihole is a collaborative film made in correspondence: rolls of 16mm film were sent back and forth in the mail over the course of a year, resulting in a playful, almost Dadaist science non-fiction fairy tale that emerges from the space between borders, edges, planes and alternate worlds. These films are preceded by Mekas's Wien & Mozart, a beautiful and brief slice of celluloid made as a trailer for the 2001 Vienna International Film Festival." – Herb Shellenberger
---
Jonas
Gideon Bachmann, 1968, 31 min

Meanwhile a Butterfly Flies
Julius Ziz, 2002, 52 min
"A verité portrait of Jonas Mekas making his daily rounds, Jonas shows us the underground impresario attending a peace rally, filming in Central Park, typing up notes at the Village Voice and projecting his latest rushes at the Film-Makers' Cooperative. A true New Yorker, Mekas seems to be everywhere at once, always with a Bolex camera slung over his shoulder. In detailing these routines, director Gideon Bachmann comes away with a striking time capsule of a city bent on art." – Max Goldberg
Jonas is followed by Meanwhile a Butterfly Flies, Julius Ziz's intimate homage to his friend Jonas Mekas.
---
This retrospective opens "Jonas Mekas 100!", a worldwide celebration of Mekas' 100th anniversary: jonasmekas100.com




This programme is supported by the Lithuanian Embassy and the Lithuanian Culture Institute.
We would like to thanks Ula Tornau, (Cultural Attaché for the Lithuanian Embassy UK), Pip Chodorov (Re:Voir), Julius Ziz and Sebastian Mekas for their support in making this programme possible.