5 - 27 March 2022: Mara Mattuschka: Different Faces of an Anti-Diva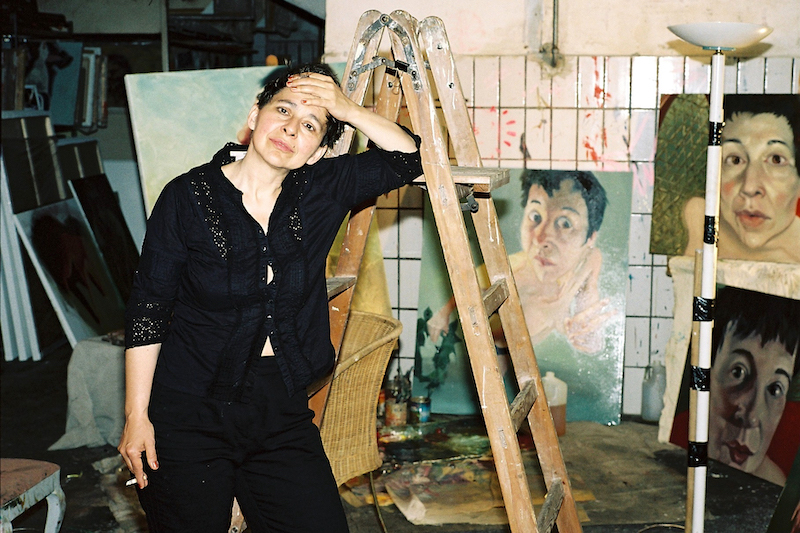 For more than 35 years, Mara Mattuschka has been among Austria's most eminent experimental filmmakers. In addition to her film work, the Bulgarian-born artist is also an actress, painter, professor, performance artist and film producer. Mara Mattuschka's first 'painted' films were made as part of Maria Lassnig's animation studio. From the 1980s on, Mattuschka shot numerous short experimental films using her alter ego: Mimi Minus. Since 2005 she has been collaborating with the performance collective Liquid Loft lead by Chris Haring, constantly trying out new cinematic forms. This 5 parts programme presents her short and feature films as well as Elisabeth M. Klocker's documentary on the artist.
---
"Look at what I´ve got here," says Mimi when she lifts her skirt up, "Is that real...?"
From the 1980s on, Mattuschka shot numerous short, experimental films made of mix techniques, almost all using her alter ego's body, Mimi Minus, as the medium.
NabelFabel, 1984, 4 min, 16mm
Ball-Head, 1985, 6 min, 16mm
I Have Been Very Pleased, 1987, 2 min, 16mm
Caesarean Section, 1987, 4 min, 16mm
Beauty and the Beast, 1993, 10 min, 16mm
S.O.S. Extraterrestria, 1993, 10 min, 16mm
ID, 2003, 10 min
Comeback, 2005, 14 min
---
Phaidros
Mara Mattuschka, 2018, 98 min
"You may have already seen Vienna by night, but you've certainly never seen it like in Phaidros. (...) In Mattuschka's film (which won an award for best costume and production design at the Diagonale), queer birds of paradise, colourful self-promoters and untamed outsiders find each other and make the dark corners of the city glow. A delightful cinematic pleasure brushed against the grain!" – Florian Widegger
---
Perfect Garden
Mara Mattuschka & Chris Haring, 2013, 80 min
A lyrical, joyful marriage between mind and body, dramaturgy and choreography, the real and the fantastic. Men and women dance and desire uncontrollably at Perfect Garden, which rather than a bar is an Utopian institution where hedonism is more of a reality than an ideology. Perfect Garden is a hypnotic art film in which dancer and choreographer Chris Haring joins forces with filmmaker and performance artist Mara Mattuschka. Their hedonistic and utopian world filled with beautiful idiots is portrayed with inventive stylization: original camera angles, jerky or slomo images and distorted voices.
---
Legal Errorist
Mara Mattuschka & Chris Haring, 2005, 15 min
"A performance of transformation, a transformance, changes its medium and encounters a camera, which plays dance music - under the secret eye of a room that bends and twists along with it. The "Legal Errorist" – personified by the dancer Stephanie Cumming – is a creature that cannot stop crashing. The sudden over-powering by the "error", the system error, engenders the creature´s obsession. She commences with great relish through a series of transformations; that which hits upon the limits of a simple machine serves as a learning program for the "Legal Errorist."" –
Running Sushi
Mara Mattuschka & Chris Haring, 2008, 28 min
We enter a constructed setting, against the background of a video wall that suggests we are in a restaurant. A Japanese restaurant, as can be concluded from the conveyor belt which forms part of the fittings. Running Sushi consists of a casual conversation between Steffi and Johnny in a sushi restaurant, while the parallel world of thoughts and sensations of both characters takes the stage. Each new dish has major consequences in the grotesque dream reality.
Burning Palace
Mara Mattuschka & Chris Haring, 2009, 32 min
A stage, marble columns, the red curtain closes: "You only have a split second of a pose to multiply your transgression." This first statement introducing the opening sequence sounds like provocative instructions. The game of five figures ensnared in erotic innuendos is more appearance than reality: the pornographic poses can be interpreted as sexual simply by the shadows they cast. In the glowing light, they are actually five protagonists warming up for a night in the "Burning Palace" Hotel.
---
Mara Mattuschka: Different Faces of an Anti-Diva
Elisabeth M. Klocker, 2013, 90 min
"Anyone already damned need not fear being damned. In Elisabeth M. Klocker´s film Different Faces of an Anti-Diva, the artist Mara Mattuschka tells how one of her Bulgarian ancestors made a blasphemous speech for which he and the next nine generations of the family were cursed. The way Mattuschka tells it, this fate almost sounds like fun. In any case, she lives out her fearlessness with pleasure." – Eve Heller
The film portrait on the artist by Elisabeth Maria Klocker, who accompanied Mara Mattuschka over a longer period of time, shows Mattuschka's complexity, her high degree of professionalism and the enthusiasm she brings to all her work – as well as her irony and humour and her courage in taking on new and different roles. Despite her success and international acclaim, Mara Mattuschka has remained unassuming; she calmly talks about her penchant for imperfection. Klocker's film is a kaleidoscopic snapshot of a unique artistic oeuvre and talent.
---
This programme is kindly supported by the Austrian Cultural Forum London: https://www.acflondon.org/